Transformers
Dark Side Of The Moon
Megatron Special Edition (UK)
Features: Megatron "transforming" figure which is the packaging for the Blu-ray disc and DVD disc of the movie.
Codec / Resolution: MPEG-4 AVC / 1080p
Distributor: Paramount Home Entertainment
Region: Region Free (Blu-ray disc)
This Release: November 28, 2011
BBFC Rating: 12
Aspect Ratio: 2.40:1
Running Time: 154 mins
MSRP: £39.99
Current Price: Check Price / Purchase

This is the third installment of the resurrected Transformers franchise. The first movie was incredible, and the fact we have a third round of transforming robot delight, makes this apparent. The second movie, was not so bad despite a lot of criticism. However, let's get a few things out of the way right now before we go on. We need LESS Tartsy Fartsy models as girlfriends in these movies. These women/girls make the movie worse. We need a more down-to-earth girl, who kicks ass right alongside her friends, and isn't worried about how her hair looks every morning or even better — how her butt looks in jeans when she's being attacked by a Decepticon. Unfortunately, Dark Of The Moon suffers from this same issue, so I'm hoping the fourth installment is much better and more realistic when it comes to humans. Because let's face it folks...a long-haired model couldn't make it outside of a building without tripping on her high heels.

So, unrealistic girlfriends aside, Transformers delivers. Dark Of The Moon kicks things up a notch, and I have to say, I haven't seen such amazing Autobot vs. Decepticon fighting since I was a kid watching the cartoon series.

Megatron Special Edition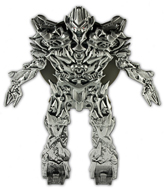 This particular edition of Transformers: Dark Of The Moon, is a UK import. Pretty much a bare bones release, but you're getting one hell of a quality release in this edition. The film itself barely fits on a BD-50 disc, and I even suspect the video bitrate was capped from looking more closely at the bitrate graph. But this is not a problem, as the bitrate cap has been done basically at the maximum a Blu-ray disc can deliver as far as quality (and as far as this title is concerned, given the filtering used). Bitrates aside, the Megatron figure is made of plastic, but seems to be a different quality than from others initially received by consumers. This is actually a good thing, as the texturing has been done better, delivering a more metallic look. Do be careful sliding the two feet out in order for the Megatron figure to stand up on its own, and do not apply too much pressure, as these could crack.
The Plot
One of the more simple plots to grasp, and yet it's the simple plots that keep us coming back, don't they. Unknown to the current Autobots, Sentinel Prime crash landed on the dark side of the moon during the great war of the Autobots & Decepticons — possessing a rather special collection of devices. What's even more embarassing for the Autobots, is certain key members of The United States Government knew about it ever since the eary 60's crash. And of course, it was top secret. Until now.