Game Of Thrones: Season One
with Targaryen Slipcover & Stark Keychain
Features: Reference audio and video.
Codec / Resolution: MPEG-4 AVC / 1080p
Distributor: HBO Pictures
Region: A
This Release: March 2012
MPAA Rating: TV-MA
Aspect Ratio: 1.78:1
Running Time: 561 mins
MSRP: $79.99
Current Price: Check Price / Purchase

I will have to admit, Game Of Thrones was a television series I hadn't heard about. All I knew was it had a good list of actors once I started to do a little research, and was based on George R. R. Martin's A Song of Ice and Fire series. I will also confess, I'm a sucker for medieval stories. Not having seen the series at all when it was televised on HBO, I decided to officially do the Blind Buy routine. From the first episode, I was hooked, and I can't wait for the second season to be available. This is a rich and captivating series, that has a lot of forks in it to keep you entertained.

Best Buy's Exclusive Game Of Thrones Slipcovers & Key Chain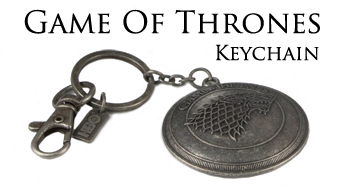 At the time Game Of Thrones was being pre-ordered, Best Buy was offering some special editions, which let the consumer have the choice of two different slipcovers. A House Stark or House Targaryen slipcover. I'm sure you can figure out which one I chose. Also, there was a House Stark key chain included. The keychain itself is quality, and if you couldn't get your hands on one during the pre-order frenzy, find comfort in knowing the HBO Store has them still available (as well as House Targaryen and others). Also worth noting, they have the Dragon Egg paperweight (available for around $45), which will be shipping in the re-packaged Game Of Thrones Gift Set, initially selling for around $100 in November 2012. Yeah, I can already hear the comments about double-dipping. Well, as a consumer, we really shouldn't be surprised. For those who didn't purchase the first season in the first quarter of 2012, it will be worth the wait for this gift set coming later this fall.
The Plot
The plot is simple...but yet so complex. And that's maybe why Game Of Thrones is so interesting.
Seven ancient kingdoms — all intertwined by blood, love, hate...or all three. The series begins by letting us observe the moments just before a winter is about to take hold. How long this particular winter is going to last, is anyone's guess. And that's the problem which is looming in the background — how long is the winter to hang around and who or what is going to take advantage of the weather and will the territories be breached? In the first few scenes of GOT:S1, there is certainly a force which has abnormal strength.