Game Of Thrones: Season One
with Targaryen Slipcover & Stark Keychain
Features: Reference audio and video.
Codec / Resolution: MPEG-4 AVC / 1080p
Distributor: HBO Pictures
Region: A
This Release: March 2012
MPAA Rating: TV-MA
Aspect Ratio: 1.78:1
Running Time: 561 mins
MSRP: $79.99
Current Price: Check Price / Purchase

Below are screencaps from Game Of Thrones: The Complete First Season on Blu-ray. Game Of Thrones is featured in a 1.78:1 aspect ratio (1920 x 1080 pixels), with an MPEG-4 AVC Transfer. This series is just gorgeous. And you'll probably hear that from me within this review often. I'm just so impressed with how HBO has handled this entire presentation. All I can do is merely grab a few scenes from the first disc and demonstrate how awesome it looks. This gives me so much anticipation for the second season, that I'm watching the first season again. It's that good.

Too Bad It's Not A Digib — Well, It's Just Too Bad...

Here's another packaging nightmare: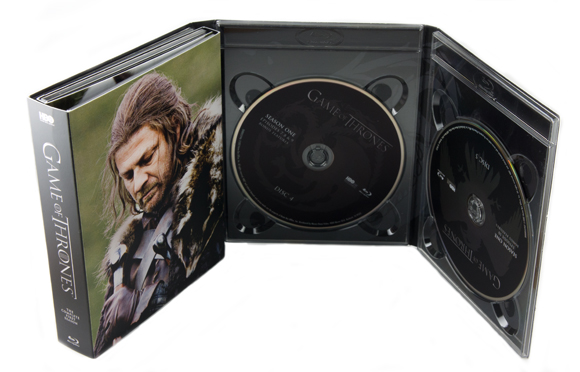 Don't get me wrong. I love the images on the disc housing, but the packaging itself is cheap, an extreme waste of plastic, and I have to fold the damn thing out so far, it takes more than just two hands — so I have to put the sucker down somewhere and extend the Massive Frustrating Thing From Hell (maybe George R. R. Martin can help me out with paragraph — or two — of descriptions), just to get a single disc! Come on! I just want to open a case, pop a disc out, and get back to the show. This gives me PTSD from the US Foldout Alien Quad Set I owned on DVD a few years ago.
Screencaps
Let's take a look at the first screencap from Game Of Thrones: The Complete First Season below. One of the common perceptions I have when watching a series...is that it ISN'T REAL. Viewers tend to forgive in lieu of entertainment, laughs, action, gore, sex, and whatever else, but I have to say in this case, the scenes LOOK REAL.
All of these screenshots are best viewed downloading the full resolution versions. In any case, detail is priority.
What's also complementary to Game Of Thrones: The Complete First Season, is particular color tones for certain characters and scenes.
In particular, see how Emilia Clarke's character, Daenerys Targaryen is portrayed below. We have great skintones, however, we see just a tad of red — revealing ever so slightly, her ancient lineage.
Catelyn and Eddard Stark (Michelle Fairley and Sean Bean) shown below, with traditional earthly colors.
Screencap Conclusion
Summing up the screencaps, they look fantastic. Typically, a person would find several screenshots which are a little blurry due to expected bitrates. However, I didn't have this problem with GOT:S1, and they accurately represented what I saw.