Jeepers Creepers
"Single Side" Edition
Features: Dolby Digital 5.1. Stripped-down MGM edition. Contains only the Victor Salva audio commentary as a feature.
Distributor: MGM
Movie Release: August 31, 2001
MPAA Rating: R
Running Time: 1 hr 30 mins
Official Website: http://www.jeeperscreepers-themovie.com/index.html
MSRP: $11.99
Current Price: Check Price / Purchase
One of my favorite horror movies which never seems to get old, is Jeepers Creepers. Just a little over 6 years after its initial release date, Jeepers Creepers is an often overlooked title which is surprising, given the quality of this horror flick. This particular edition of Jeepers Creepers is not the Special Edition released by MGM, which has the deleted scenes, nor is it dual-sided for the added features and other extras the special edition has. This MGM edition only has director Victor Salva's audio commentary as a "special feature", is single-sided (with artwork on the "B" side), and contains the Dolby Digital 5.1 soundtrack, but not the DTS 5.1 soundtrack. The Special Edition appears to be more limited than once thought when conducting a quick search online.

If you're not too familiar with Jeepers Creepers, I'll try not to spoil it for you. The movie starts out with Darry (Justin Long) and Trish (Gina Phillips) coming home for the summer from their first year in college. In a few moments, a rather mobile rust trap comes screaming down the highway, almost forcing the frightened Freshmen off the road.

Just when brother and sister think they've seen the last of this road rage freak, they spot him dumping something down a large water pipe.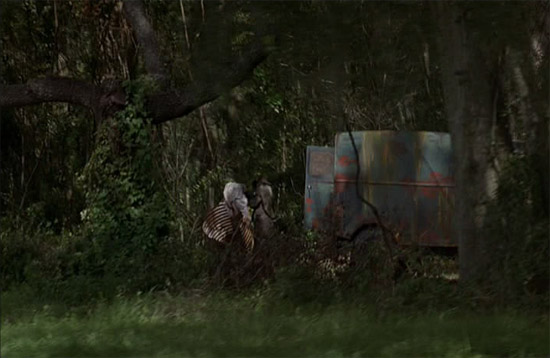 What's more scary about this particular monster (more so than your typical ordinary monster), is it can be just as vicious in the daytime as it can at night. Of course, once The Creeper left the scene, the temptation to find out just what was dumped down the pipe, is too much to resist. Darry and Trish go back to where they saw the freaky man, and Darry decides to take a closer look at that water pipe.

Suffice it to say, this wasn't a bright idea. Darry finds out just what exactly is at the bottom of that large pipe, and The Creeper finds out a few inquisitive kids need to be dealt with as they found out what he's been up to for the last...few centuries...