JumpStart Travel Charger
by DigiPower
Features: One charge lasts for up to one year. Extremely lightweight and compact but yet having a very heftly power supply for demanding digital devices such as cell phones, PDAs, enhanced cell phones, MP3 players, GPS devices, and more.
Official Website: DigiPower
MSRP: $49.99
Current Price: Check Price / Purchase

Let's take a closer look at the DigiPower JumpStart. There are several (over 9) different types of colors and patterns available for the JumpStart, and my guess is you won't have a say on just what particular pattern you get (solid colors, camouflage, or plaid) unless you are physically in a retail store. Luckily, DigiPower sent DigitalDingus the perfect pattern I was looking for. I'm doing more outdoor activities now, and having a nice camouflage JumpStart is the perfect match.

The JumpStart Sport By DigiPower

Shown below is the DigiPower JumpStart Sport. As noted above, I like this particular pattern. It goes great with a pair of matching camo pants or any kind of rugged outdoor wear. What I also like is the JumpStart's extremely lightweight feel. I was really expecting a heavy battery inside the case but once I picked up the JumpStart, I was excited to discover how light it is.

Below can be seen the front of the JumpStart with logo, as well a view of the loop where a provided clip attaches, providing a secure restraint.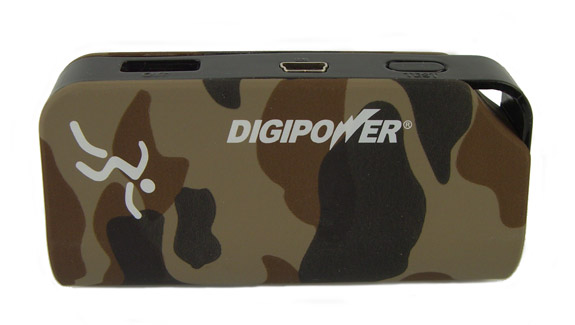 The front of the DigiPower JumpStart
Here we can see the four individual segment green LED display, which informs you of the amount of charge left. Pressing the TEST button (shown in Image 3 below) activates the LEDs.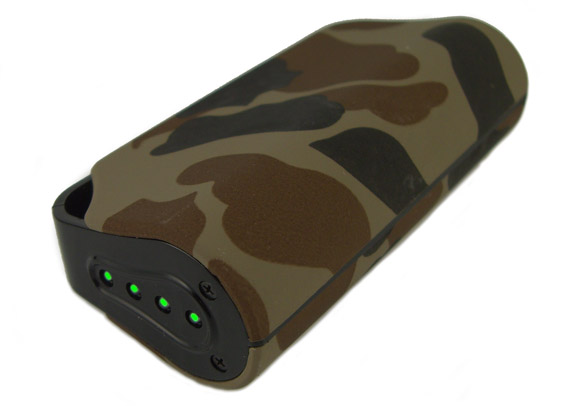 Side view showing battery level remaining indicator
There are two types of USB ports on the JumpStart. The first one on the left, is where you attach the provided cable with the appropriate adapter, to your digital device. The mini-USB port (in the center), is for charging the JumpStart itself. Finally, you can see the TEST button which allows you to view how much charge is left. You cannot clearly see the OUT, IN, and TEST bezzled lettering situated around the respective ports and button, but they are there. Due to manufacturing costs, I'm sure having these words with a slightly different color would have been an issue, but I would have preferred it as some consumers might get confused.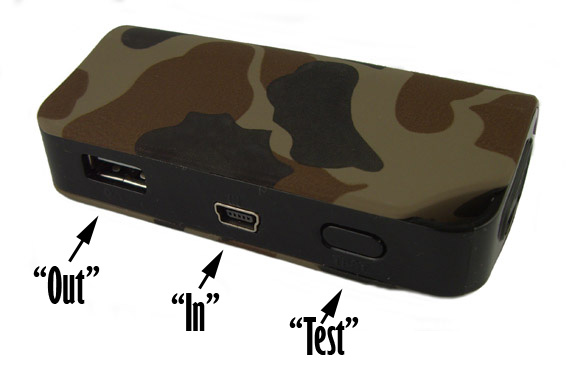 Output, Input, and Test button
The Accessories
The JumpStart comes with a power cable which as the familiar USB plug on one end, and a typical AC adapter female plug on the other. The design of the power cable is really convenient as it has a self-retracting spring. As you can see below, there are a variety of plugs which fit many different digital devices.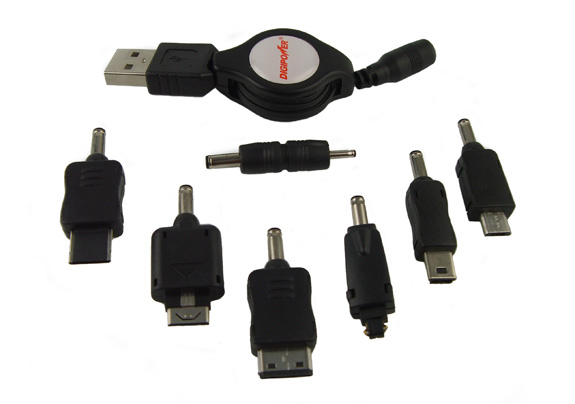 Power cable with additional adapters
That rather hearty black clip in back of the carrying case is perfect for attaching to your belt or backpack. It's high-quality, and isn't a cheap clip you find being offered with devices these days. The carrying case itself is of an extremely soft neoprene material which makes toting it around even easier. If you wear short shorts or whatever, this carrying case rubbing against your skin won't be a bother. There is an additional clip provided as well.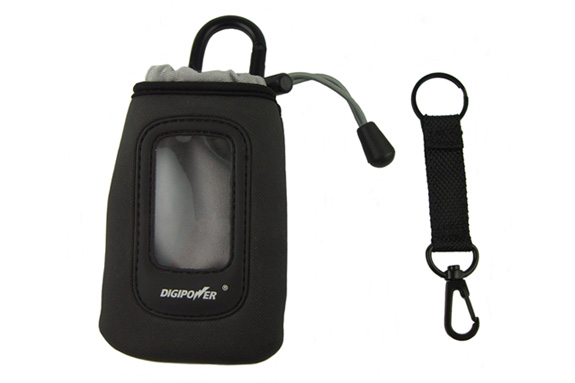 Carrying case with clip and additional clip
The AC Adapter
You've probably never seen an AC adapter like this. DigiPower made this proprietary but since it serves to power so many different devices, I give them a pass. Using a USB cable to transfer the power current is rather ingenious. I haven't confirmed if a person could just buy a USB extension cable to extend the charging cable supplied, but I don't see why this wouldn't work. However, I DON'T RECOMMEND doing this as I don't want people emailing me, saying I owe them a new JumpStart. I sent DigiPower an email about this and hope to get a response shortly after this review is online, so this possibility will be updated.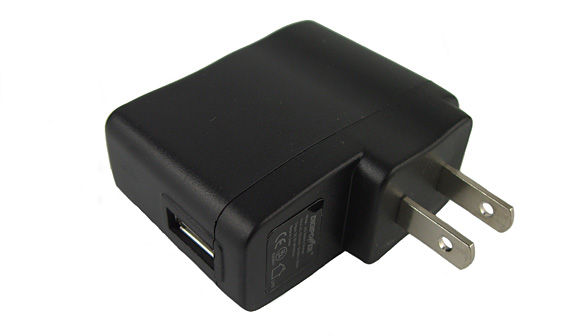 AC Adapter