Phoenix Wi-fi Radio
by Com One
Features: A Wi-Fi radio, capable of delivering thousands of radio station broadcasts from all over the world, in addition to playing local musif files on your PC and via an on-board USB jack on the back of the Phoenix. Stereo output is also offered for connecting to a home theater.
Official Website: http://www.com-one.biz
MSRP: $199.00
Current Price: Check Price / Purchase

The Phoenix Wi-Fi Radio was rather simple to install. What I like about the installation, is everything is pretty much automatic. If you let the Phoenix connect automatically, you simply enter in your required Wi-Fi key, and you're up and running. For me personally, I was up and running within about 5 minutes. This is really good, as Wi-Fi connections can get troublesome in electronic devices. Com One does a great job at making its Phoenix Wi-Fi Radio as easy to use as possible. Another nice feature is you probably will not need your user manual sitting next to you. Everything is self-explanatory within the Phoenix itself, and you simply follow the steps shown on the LCD screen.

The Design Of The Phoenix

I was going to overlook this but I had to comment. While I really like the white color of the radio...the entire radio is colored in white. In a bathroom, it would look great. In a dental office, it would be a great conversation piece. But on my desktop and in my home, I'd like something with a few colors.

The Front Of The Phoenix

The front of Phoenix is a simple design, with minimal buttons. Just like a high-tech radio, it's not how many buttons are on the device, but the brain inside it which counts. And the Phoenix does have a brain, and we'll get to that shortly.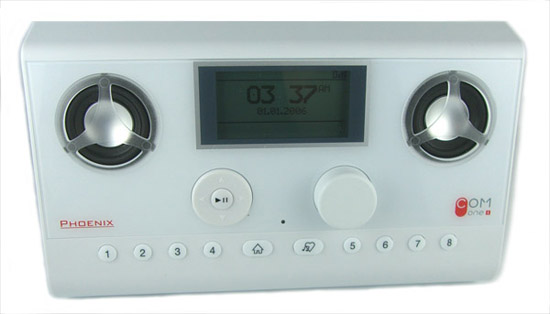 The two speakers on the Phoenix are rather powerful. They do have "reflex" material, which can put out some mids rather well. Obviously, low bass is out of the question, but the sound levels and clarity coming out of the two speakers will rival many radios.
You have a basic mono-chrome LCD display. It would have been nice if Com One had something which was more colorful. In any case, the LCD display does pretty well, and you can view the time from a reasonable distance.
Located below the LCD display is a basic D-Pad (4-way directional pad) and in the center of it, a PLAY/PAUSE button. There is no STOP button, which can seriously become irritating if you don't want to listen to the song and want to skip to another one. A person is forced to navigate through the menu to select another radio station. If you're using a USB Flash device or if the Phoenix is connected to your computer, you'll have to navigate through the menu as well, and select a new song. There needs to be a STOP button, so you can then navigate in the current folder where the songs are. Just doesn't make much sense to me, and I have to frown on this a bit.
To the left of the LCD display is an analog rotary knob. I'm not sure why Com One favored this over an UP/DOWN digital button, as the digital buttons will last longer. I'm assuming Com One wanted to convey the analog radio style here, but I would have preferred a digital rotary knob which would have solved the problem.
Com One gives you the essentials which I appreciate. Eight favorite buttons which will go directly to the station you select for each button. This is actually more convenient than your typical radio favorite button, because in this case, we're talking about radio stations available throughout the world, not just locally. So, you might like a radio station that is being broadcast out of an area in Italy, or some really hip music out of Belgium. In some regard, I wish the Phoenix had more favorite buttons, but eight is a good start.
The Back Of The Phoenix
From left to right, you have the AC/DC adapter jack, audio out, inset RESET button, and USB port. The power jack uses. The audio out jack is very convenient for connecting to a more powerful stereo system. The RESET button will probably never be used, but just in case you managed to tweak the settings beyond your control, you can set the Phoenix back to its original manufacturer settings.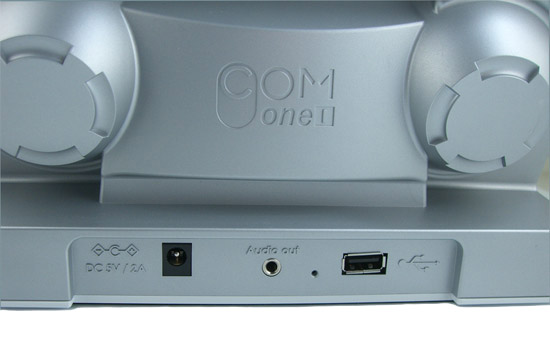 Other than the Wi-Fi feature, the USB port is probably the most important on the Phoenix because it expands the Phoenix's playing capabilities immensely. This is where you can play music files (MP3, WAV, Real Audio, and WMA) from a USB Flash device or any USB device with storage capacity, containing the previous file formats.
Phoenix users should note you can connect to your PC naturally through the Wi-Fi connection. As an experiment, I tried to connect the Phoenix to an external hard drive. Since the hard drive had a USB port to connect to the computer, I simply connected it to the Phoenix instead. Success! It works. So, your external hard drive (as long as it's USB) can be one large "USB Flash device" to play your music files from.
The Side Of The Phoenix
The Phoenix uses 4-AA NiMH rechargeable batteries. Be sure NOT to use anything else, such as Alkalines. The Phoenix was specifically designed for rechargeable NiMH batteries. When the AC/DC adapter is used, the batteries are charged.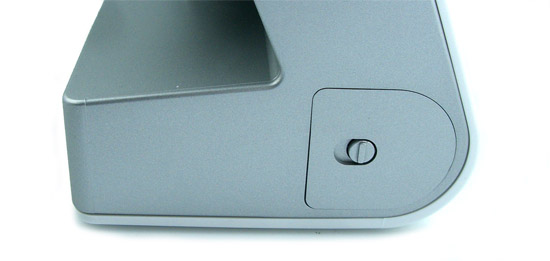 Com One states the Phoenix lasts for about 2 hours without the AC/DC adapter. I got a little more time out of it because of my higher-rated Maha 2700mAh batteries.
Connecting To Com One's Wi-Fi Website
Com One says when registering on their website, expect an email within 10 minutes. Well, it took several hours. I would imagine Com One's Phoenix is getting more popular than what they initially realized, and I would recommend allowing more connections from additional servers. Of course, I also realize this may not be entirely 100% their problem, but I had to report what I experienced. Regardless of the registration delay, once in their website, things were going well.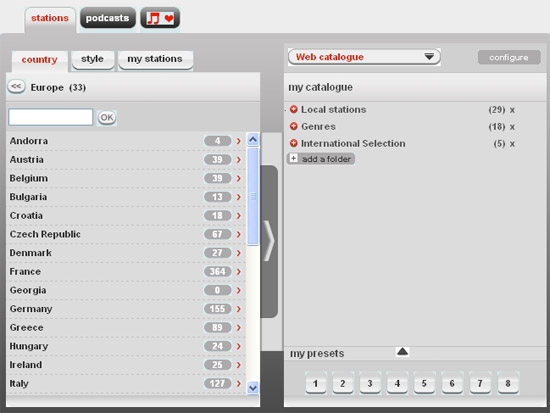 From a perspective of portability and mobility, having Com One's website function as the online brain of the Phoenix, is a good idea. Setting aside my own preferences of on-board storage of basic information, I do like this feature, and it reminds me of Logitech's Harmony website, where you simply connect and download settings to the product if settings are somehow deleted, erased, or just screwed up unintentionally.