New DigitalDingus Colors!
August 24, 2004
If you're a regular DD viewer, you will see a change in the colors of the DD website. I hope you like the new colors. Feel free to email me about them. Web pages will be updated over time and I have already begun updating the newer pages with the style you see on the main page.

Canon Announces The 20D
August 19, 2004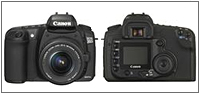 As if the 1D MK II didn't leave enough fire and smoke over the past several months in the digital camera world, Canon has now released information on the 20D. Having an 8.2MP sensor, lightning-fast start-up times, 23 JPEG buffer (6 RAW), the 20D is going to make even more DSLR owners salivate over the next several months. This information comes after a "Mysterious Leak" from one of Canon's websites. Another interesting note, is that the 20D has a pixel size (i.e., Pixel Pitch) of 6.4 microns. This is the smallest pixel size of any DSLR, and from the photo samples available, it looks like the 20D's sensor is a brand new weapon on the War on Noise. Click here to see a preview of the Canon 20D. MSRP is $1500.
Sigma announce iD-TTL and E-TTL II flashes
July 29, 2004
Sigma has announced 2 new flashes for Nikon and Canon's latest flash technology. The EF 500 DG ST and the EF 500 DG Super will certainly be welcome additions to Sigma's line-up of new products.
Nikon D2h Firmware Update
July 22, 2004
Only 14 days after the Nikon D70 update, Nikon has announced a firmware update for the Nikon D2h. The D2h Firmware Update has quite a list of updates and Rob Galbraith's website has a great review of the update process.
Chuck Westfall on 1D MK II Low-Light AF Performance
June 11, 2004
Chuck Westfall has made a very important post on Rob Galbraith's forums regarding 1D MK II Low-Light AF performance. If you own a 1D MK II or plan on getting one, I highly recommend dropping by and reading what he has to say. Chuck Westfall's EOS-1D Mark II Low-Light AF post contains a lot of information you should know.
Nikon D70 Receives TIPA Award
May 28, 2004


Nikon's D70 has won the TIPA 2004 Award. The Best Consumer Digital SLR Camera in Europe 2004 is the Nikon D70, says TIPA.


DP Definitions
May 28, 2004
I am continually adding to this area, and in the meantime, DD Definitions is now online. Many of you ask about particular terms and definitions in some of my articles, and I decided to create a section where you can look up those words and definitions.
My Photos Aren't Sharp!!!
April 25, 2004
Believe it or not, DSLRs are NOT meant to sharpen photos for you (unless you jack up the sharpness setting in the camera and then the image looks like a picasso painting). It is up to you and your processing skills. In the latest article My Photos Aren't Sharp!!!, I discuss this and a few other things.
New Versions of C1 in May
April 23, 2004

In May (corresponding to Canon's online date of DPP maybe?), Phase One will release three new versions of C1 RAW workflow software for Mac and PC: PRO, SE, and LE. These versions will contain new support for DSLRs. In addition, C1 Rebel is discontinued as of May, but all of the new versions of C1 will support the 300D.
Since C1's release, it has received many praises from professional photographers, and is currently regarded as one of the best (if not, the best) RAW workflow programs available. More information can be found at http://www.c1dslr.com.
New 1D MK II Ship Date: NOW
April 22, 2004
1D MK II's are now starting to ship worldwide, and they are now in the US (actually, they were in the US a while ago). If you have an order placed with a major camera dealer, get ready for a phonecall from them or expect a knock on your door from a FedEx employee, or an overstressed UPS delivery man. Obviously this depends on how early you ordered your camera, but it does appear many shipments are on the way, and if you ordered your camera around the middle of March, you should be fine.
Pixels
April 16, 2004
What are pixels? Are all pixels the same? Are more pixels better? These are the questions I will be answering in What Are Pixels?.
Do You Have Enough Storage?
April 2, 2004
If you've come to DigitalDingus looking for 1D MK II info, thanks for dropping by. You may want to consider a few purchases before your camera arrives, so you will have a pleasant and trouble-free experience. One of these purchases I highly recommend, is more media storage.
1D MK II Ship Date: 4/30/2004
April 2, 2004
Shipping dates of the 1D MK II have widely varied over the past few weeks, but the dates have been straightening out over the past few days to one period, which is the end of this month, April 30th, 2004. Dates can change, and there is still the possibility of a few small shipments of 1D MK II's coming before the end of the month, but I'm officially expecting 1D MK II's to cross US borders around April 30th.
1D MK II Reviews
March 29, 2004
1D MK II reviews are beginning to surface and Luminous Landscape has a to-the-point 1D MK II Review. There is now an English version of www.dforum.de's 1D MK II review, available as well.
New Sigma Lenses
March 15, 2004
Sigma has announced 2 new lenses for the 4/3 system. The first two lenses, 18-50mm F3.5-5.6 DC and the 55-200mm F4-5.6 DC are for the Olympus 4/3 system and the 18-125mm F3.5-5.6 DC, is for use on APS-C sized imagers. Stay tuned for more details.
LowePro DryZone 200


March 10, 2004


LowePro's response to photographers who need the maximum protection from water and other environmental perils should consider the DryZone 200.
I used this backpack personally on a few hikes and it performed flawlessly.
Picasa Receives 2nd DIMA Award
February 23, 2004
Picasa has received their second DIMA Innovative Digital Product Award. I recently reviewed Picasa, and found it to be a very easy and pleasant experience. Thousands of my own photos were viewed quite easily and I even found some photos I had lost on my hard drive several months ago.
For The Connoisseur...
New Alpa 12 Lenses & Accessories
Pre-Photokina 2004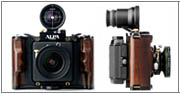 You probably won't see a camera like this at your local retailer, but it does deserve mentioning. If you have a taste for the exotic, look no further than the new Alpa 12 series, a Medium Format "viewfinder camera", capable of film or digital photography. Alpa is to debut additional accessories at Photokina for the Alpa 12. A preview of this very unique masterpiece will be featured on DigitalDingus during Photokina.
DSLR QuickView
Nikon D70
Update: May 28, 2004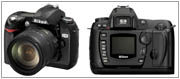 While Canon loyalists are celebrating, there is a lot of excitement in the Nikon camp, even though a D2x has not been released. The D70 is a much more affordable DSLR, and still has features of its brother, and some the D100 does not.
Announced May 28, 2004, Nikon has received the 2004 TIPA Award for the Nikon D70.
PROS
Same D100 resolution: 6.1eMP
1/8000sec
i-TTL - Nikon's latest flash technology
1/500sec sync
Larger buffer
ISO 200 - 1600 (3200, 6400 via manual control)
40 JPEG / 20 RAW buffer
2nd generation CCD sensor
1,005-pixel WB RGB sensor
Faster write times than D100
Price: $1000
CONS
RAW+JPEG (JPEG is only written in BASIC...?)
Moire in certain images
No MB-D100 equivalent


PMA 2004 Summary & Final Thoughts
February 16, 2004
A summary of the major and not-so-major events that took place during PMA 2004, is now online, as well my final thoughts on the event.

3 New Companies Join The Oly 4/3 System
February 13, 2004
Matsushita Electric Industrial Co., Ltd, Sanyo Electric Co., Ltd., and Sigma Corporation, have signed on with the Olympus 4/3 system. The total number of supporting companies of the 4/3 system is now up to five. This should be great news for E-1 users. Click here for the full press release.

Fuji S3 Pro
February 5, 2004
Fuji has announced the very much anticipated S3 Pro. The S3 Pro contains Fuji's SR sensor, providing two photodiodes per pixel.

Picasa


February 1, 2004


Picasa is a fast, simple, and easy way to view your complicated life of images on your computer. Click here for the Picasa review. If you have a digital camera, I think you should give Picasa a try. It also features an online photo-sharing client called Hello, which is reviewed as well.
Canon 1D Mark II
January 29, 2004
Canon has announced the 1D Mark II, an 8.2eMP DSLR, capable of 8.5fps. Click here for the Pre-PMA 2004 news release.
Nikon Announces Several New Products
January 28, 2004
Nikon has released specs of several of their upcoming products, including the D70 and Coolpix 8700 (8MP). Click here for PMA 2004 news and updates which cover the latest releases.
Nikon D70 Update
January 19, 2004
Apparently, Nikon Japan is holding some kind of event on February 13, 2004 for the D70. This could be, and probably is, more info on the specs of the D70. Nikon Digital Live 2004 is the name of the program being held, and I assume we will have more info then.