There are places where you want to bring your camera equipment, and sometimes those places are not as welcome to electronics as you may want them to be. There are also times when a basic camera bag, is not going to protect your equipment from severe conditions. The DryZone 200 is a waterproof barrier that keeps your valuable investment, safe. The Dryzone 200 has a lot of room, and can carry several lenses and accessories for a very productive "wildlife" shoot.

In case you haven't been aware of Lowepro, they take equipment protection to the extreme. Which is good. The color of the backpack is also great for identification. This would be very hard to miss, in the unfortunate situation you had the pack fall into the water, and it floated downstream. Those other military camouflaged packs are great, and they blend so well into the surroundings. So well, in fact, it could get lost. Yellow and black are good colors for going on trips where there is water around. There are also self-draining mesh pockets on the outside, meaning you wont have large pockets of water sectioned in certain areas.

The Ultimate Protection: The DryZone Series

Indeed, the DryZone 200 is waterproof. And when we take a look a closer look at what makes the DZ 200 waterproof, you'll understand why.

Shown to your right is the first layer of the DZ 200. You would normally put items that are innately waterproof, such as plastic items and other necessities which can fit easily in the various pouches. Do note, you can simply purchase some heavy-duty plastic bags, put your smaller items which you don't necessarily want wet into that bag (such as business cards), and then insert the plastic bag into the pouches.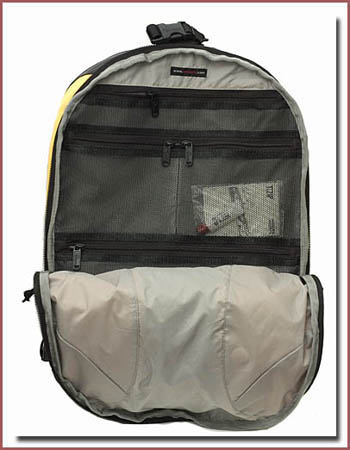 The first layer...

I've seen some backpacks that have open pockets. This a big NO-NO. I won't mention the brand, but you can find it in any Sporting Goods store. It was a brown pack, and the pockets didn't have zippers. Yes, it was nice to put your pens in them and it made for a great pen holder, but I soon came to find out, I needed something to keep my things contained, if I was to go on any kind of serious hike or outdoor shoot. In case you haven't noticed, the DZ 200 compartments all have zippers on them, so if you put it in there, it's not going to walk out by itself.

No Water In Here

As you can see by the photo, there is a rather heavy-duty layer of water-proof material which protects your hard-earned investment. Waterproof plastic-coated nylon is what you are seeing. The DZ 200 is basically a waterproof "pod", where your lenses and accessories are housed. You can't really tell this pack has such a feature without actually unzipping it and looking at the very thick rubber housing, and I do mean thick.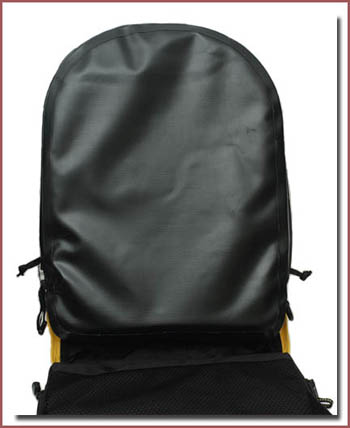 The second layer...

When you look at the inner zippers of the DZ 200, they are big, and there is a reason. The major reason, is so you can unzip the very thick and durable plastic-coated nylon. The zippers are waterproof, and are called TIZIPTM zippers. A small zipper would render your wrist useless for a few weeks, and one that was not waterproof, would rust and eventually break off, due to opening and closing after a period of time. It may seem kind of tricky to unzip this pod at first, but this is part of the entire design of the DZ 200. It is designed to be waterproof, and resist water in areas where it's not waterproof.

Dividing Power

Lowepro is one of those manufacturers that understands people like us need segregation with our lenses and electronic goodies. Why? Because electronics and their outer casings can easily wear over time by simply rubbing against each other on a regular basis. More importantly, you don't want to accidentally forget about putting your $7 lens cover on your $2000 lens, only to discover when you get home, the front of your lens was enjoying a nice ride with your AA batteries, making wonderful and cute little marks on the front element.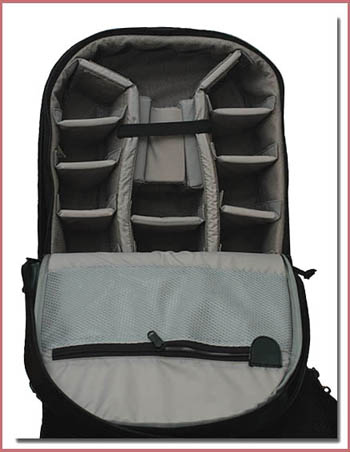 Inside the "Pod"

Dividing compartments really come in handy when you travel with your camera, lenses, and accessories. What's nice about the DZ 200's divider compartments, is that there are so many of them, and you can taylor the dividers to meet whatever kind of setup you may need. And guess, what, you can re-arrange the compartments again if you want. The velcro dividers are strong, and they maintain their form for a very long time. I can say first-hand they do because I own a ProMag 1 AW, and the dividers have still maintained their shape and form, and durability.

The Back Of The Pack

When you put your equipment in the DZ 200, and strap the pack on, you might anticipate an uncomfortable fit, but Lowepro knows packs, and they have put extra padding in all the right places. Lowepro knows the average photographer is not going to buy this kind of equipment, and they understand you're going to be wearing this like a shirt for several hours. I can say from personal experience on a few hikes of using the DZ 200, it feels nice and comfortable, and is not intrusive when I walk around with it attached to my back.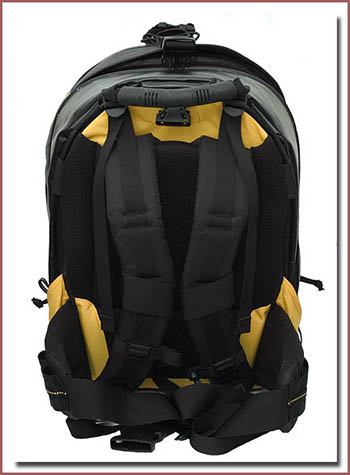 The back of the pack - a comfy fit
Conclusion
If you need something waterproof, get the DZ 200. If you need the ultimate protection against a really vicious environment...get the DZ 200. I should mention the DZ 200 is also great for non-aquatic adventures. If you ever take any trips out to the desert or places where winds can stir up some dust, I would consider this pack as well. Another place to consider using the DZ 200 with, is for high-altitude hiking. Remember moisture can easily accumulate on your equipment, if it's not sealed from the environment. And camping overnight will make this situation worse. The DZ 200, since it is waterproof, can protect your equipment from many other problematic encounters besides water.
Note: The DryZone 200 also comes in Black on Gray, in case you want a less-conspicuous look.