MēConvert Professional
by M2Solutions, Inc.


May 6, 2007; 11:07am PST


MēConvert Professional is a powerful application which can convert your current audio and video file formats to a wide variety of other formats so they can be played on PMDs (Portable Media Devices) such as an iPod, PSP, Zen, Zune, and more.
MēConvert Professional

Machspeed Trio TV5


March 31, 2007; 11:55pm PST


Machspeed's Trio TV5 is an all-in-one compact multimedia device which also features a 5MP camera. Record movies, record voice and music with the built-in microphone, as well as convert your audio and video, are some of the features of the Trio TV5.
Machspeed Trio TV5
NXPowerLite 3
by Neuxpower Solutions Ltd.


March 24, 2007; 10:31pm PST


NXPowerLite 3 is an amazingly small application which has the power to compress your Microsoft Word, Excel, and PowerPoint files to several times their original size. The file sizes are reduced exceptionally when you have several images within the files. In addition, NXPowerLite 3 can be embedded within your MS Office applications for easy conversion, and those on the receiving end only need MS Office--not NXPowerLite 3.
NXPowerLite 3
VHS to DVD 3.0 Deluxe
By honestech


February 24, 2007; 9:16pm PST


honestech's VHS to DVD 3.0 Deluxe enables novice and amateur users to transfer video from analog content such as VHS tapes to DVD. Having a nice interface to work with and having few buttons for confusion, VHS to DVD 3.0 Deluxe might be your solution for transferring those video tapes which are collecting dust in your closet.
honestech VHS to DVD 3.0 Deluxe
URA-350SA External Enclosure
By Vizo


February 18, 2007; 4:09pm PST


Vizo's Uranus 3.5" USB2.0 and eSATA external enclosure provides a one-button backup of files and operating system files. Installation is easy and includes PCCloneEX. All cables and accessories are provided for a complete external enclosure package.
Vizo URA-350SA 3.5" External Enclosure
Verilux Rise & Shine Deluxe


February 4, 2007; 11:21am PST


Need a nice desktop lamp to illuminate your desktop or room? The Verilux Rise & Shine Deluxe is an advanced lamp which not only gives you the benefits of Full Spectrum lighting, but includes 8 nature sounds with an alarm clock to wake up to. The lamp will also automatically dim to off when going to sleep, and gradually increase in brightness when waking up.
Verilux Rise & Shine Deluxe
Photo Retouching
with Adobe Photoshop Elements
by Jane Conner-ziser


January 28, 2007; 9:56pm PST


Jane Conner-ziser brings her 25 years of imaging experience to Photo Retouching with Adobe Photoshop Elements. This DVD deals with the basics of Adobe's PS Elements which caters to those who aren't quite ready for the full Photoshop exposure. Still, Elements has included more and more features over the years, and Jane demonstrates how to get the most out of the application.
Photo Retouching with Adobe Photoshop Elements
by Jane Conner-ziser
Adobe PS CS2 Advanced Techniques
by Julieanne Kost


January 21, 2007; 10:48pm PST


Julieanne Kost narrates Adobe PS CS2 Advanced Techniques DVD by Software Cinema. The DVD is a follow-up to the very popular Fundamentals DVD which contains advanced techniques not covered or briefly mentioned in the first DVD. Over 12.8 hours are featured and range in topics from protecting your images to special layer masks for your images. Many more techniques and subjects are covered for a solid base of information.
Adobe Photoshop CS2 Advanced Techniques by Julieanne Kost
Adobe PS CS2 Fundamental Techniques
by Julieanne Kost


January 20, 2007; 11:55pm PST


Julieanne Kost narrates Adobe PS CS2 Fundamental Techniques DVD by Software Cinema. The DVD contains a massive amount of information for Photohop users who want to get the most out of the application. Over 12.5 hours are featured and range in topics such as basic organization to more professional techniques which involve RAW images and filters.
Adobe Photoshop CS2 Fundamental Techniques by Julieanne Kost
Dell / Futuremark
Performance Shootout
January 17, 2007; 1:55am PST


Dell and Futuremark are sponsoring a contest to see who can score the highest 3DMarks with their video card(s) and computer system configuration. Dell's XPS "benchmark" computer system currently has the highest score but the contest is receiving some serious competion.
Dell/Futuremark Performance Shootout
Maha MH-C9000
Battery Charger & Analyzer


January 7, 2007; 1:55am PST


This time around, Maha's latest charger is more than just a charger. The 4-slot AA/AAA MH-C9000 has the ability to accept various currents for charging and discharging, which allow the user to control just how much current their batteries should recieve. The MH-C9000 also provides a very resourceful mAh capacity rating of each battery and elapsed time indications.
Maha MH-C9000 Battery Charger & Analyzer
Snap Art
by Alien Skin


December 26, 2006; 10:06pm PST


Snap Art is the latest plug-in filter released from Alien Skin and brings a new dimension of creativity to your images. Snap Art provides 10 filters with hundreds of predefined settings for those filters. Saving your own unique setting is simple, and as with Alien Skin plug-ins, can be named and recalled at any time.
Snap Art by Alien Skin
PowerSquid Surge 3000
Calamari Edition


December 19, 2006; 1:01am PST


The Calamari Edition of the PowerSquid Surge 3000 series is Flexity's top of the line surge protector, which provides the latest power current protection technology for your digital devices. It's also much unlike your typical surge protector.
PowerSquid Surge 3000 (Calamari Edition)
ColorVision Spyder2PRO


December 17, 2006; 1:31am PST


The ColorVision Spyder2PRO is a monitor calibration system which now includes PrintFIX PLUS, an application where the user selects the printer from a list versus creating their own profile which could be a tedious process. The Spyder2PRO can be used with CRTs, LCDs, and front projectors.
ColorVision Spyder2PRO
GretagMacbeth Eye-One Display 2


December 4, 2006; 11:45pm PST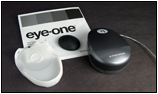 GretagMacbeth's Eye-One Display 2 is a very simple calibration system for your monitor and overall enhancement of your digital workflow. The EOD2 can be used with CRT or LCD monitors, and is vastly improved over the original model.
GretagMacbeth Eye-One Display 2
Eizo ColorEdge CE240W


November 24, 2006; 5:15pm PST


It is with great excitement DigitalDingus presents the Eizo ColorEdge CE240W review. The CE240W is a 24" widescreen, 16:10 LCD monitor and comes with Eizo's own ColorNavigator CE software for calibration. The CE240W also has 1000:1 contrast ratio, 450 nit brightness, and supports 10-bit monitor calibration for CAD, graphic design, and photographers who want the best image display possible.
Eizo ColorEdge CE240W
Maha MH-C800S


November 19, 2006; 8:24pm PST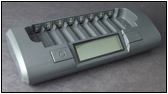 Maha's MH-C800S is much akin to the MH-C801D. Now there is a model which has a lower price tag, with virtually the same features. The MH-C800S has the same styling as its big sister model. The differences are 2-hour charge times, and a smaller AC adapter.
Maha MH-C800S
Samsung SyncMaster XL20
November 2, 2006; 5:54pm PST


Samsung has announced an LED backlit LCD monitor (LED BLU) for under $2,000, which Samsung says is 114% of the NTSC color gamut. Samsung also states most LCD monitors have only 82% NTSC color. LED backlit monitors have been the LCD Holy Grail this year, and with Samsung introducing a 20-inch at just under two large, is pretty competitive.
Samsung SyncMaster XL20 Press Release