NXPowerLite 3.0
Application: Compresses Microsoft Word, Excel, and PowerPoint files to several times smaller than the actual file size
Official Website: NXPowerLite.com
MSRP: $45.00

For those who create Microsoft Word and PowerPoint files with multimedia attachments such as pictures, the size of the collection can increase rather quickly over a period of time. Neuxpower Solutions Ltd. has created an application called NXPowerLite, which compacts the internal contents to many times smaller than the original file size. What's even more interesting, is NXPowerLite is not needed for those on the receiving end of the compacted file. The only requirement, is the installation of a Microsoft Office product (which most users of Word, Excel, and PowerPoint would have anyway).

NXPowerLite (Version 3.0.1)

Installing NXPowerLite is very easy and when initialized, the following screen appears: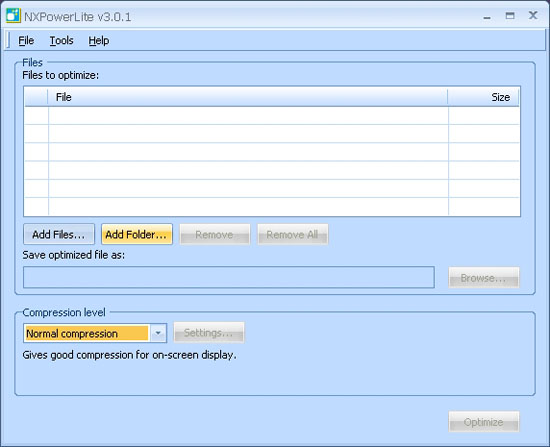 Figure 1

All that's left to do is selecting the files to be compressed. It is also possible batch process multiple files of multiple different formats, which adds to the convenience: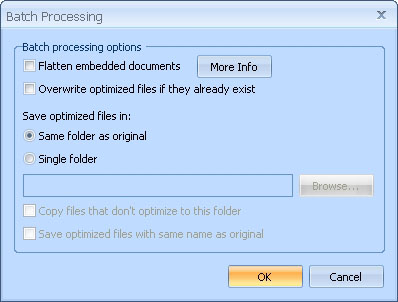 Figure 2

Many different compression settings are available for your particular preference and they are:
Normal Compression
Extra Compression
High Quality Compression
Mobile Device Compression
Custom Compression
Be sure when using Mobile Device Compression, the intended destination is for a mobile device exclusively because the maximum viewing size is 320 x 240 pixels. You could still view the file on a typical monitor, but the viewing window would have to be resized to 320 x 240 to view it without severe compression artifacts.

Customized Compression Settings

A great feature of NXPowerLite 3 is the ability to customize your compression settings for JPEG images: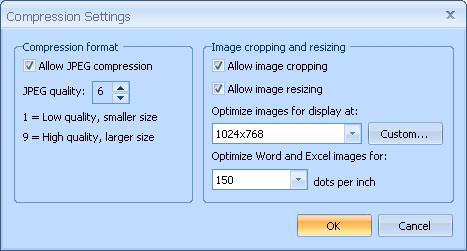 Figure 3
Pros
Optimizes Microsoft Word, Excel, and PowerPoint files
Files retain their original format and functionality
Files can be opened with anyone using Microsoft Office on their computer system
Unzip programs are not necessarily
Reduced files do not need a copy of NXPowerLite to be opened
Embedded graphics can be reduced dramatically but still retain good image quality
Batch processing
Custom compression for JPEG images
Cons
Observations
To maximize the compacting capabilities of NXPowerLite, the more images
When "Typical" or "Complete" installation is selected, NXPowerLite will be embedded into your MS Office applications automatically. Select "File" from your MS Office application window and you will see an "Optimize with NXPowerLite..." option.
Conclusion
NXPowerLite 3 performed very well and I was impressed with how simple the application really was. Batch processing is a nice feature which is essential, and the added convenience of customizable compression settings for JPEG images is certainly appreciated.
HIGHLY RECOMMENDED
DigitalDingus found no Cons within NXPowerLite 3 but did observe the following. In order to take advantage of an application like this, the more images the better. If you have a Word or Excel file with few images, there will be less to compress. The more images you have in your Word, Excel, and PowerPoint files, the more you will see the difference in your file sizes.
As of the date of this review, Neuxpower Solutions Ltd. offers 10 "optimizations" of NXPowerLite using Word, Excel, or PowerPoint files, to make sure you can take full advantage of the program before you purchase it. I highly recommend you take a test drive of NXPowerLite, especially if you use Microsoft Word, Excel, and PowerPoint files as a part of your daily communication with the world.