Origin Of News Release: Englewood Cliffs, NJ
Date: June 19, 2006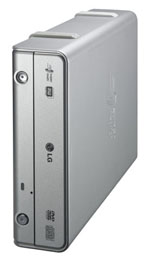 LG Electronics, the largest optical storage manufacturer in the world and leading supplier of drives in the U.S., today released the latest addition to their line of award winning Super-Multi Drives - the GSA-5169D. In addition to the ability to read and write in all DVD formats including DVD-RAM, the GSA-5169D has reached a new level of functionality by offering users the ability to capture video and images directly from a DVD-video player, camcorder, digital camera and even a television with simple "One Touch" recording.
"In today's digital world everybody is looking for an easy way to transfer and archive their home videos, photos and important data," said Chris Neff, Director of Marketing LG Electronics IT/Commercial Products Division. "Our new GSA-5169D and its "One Touch" video to disc recording is a very user-friendly, reliable way to save your favorite family treasures."

With a USB port, S-Video, RCA Video and Audio inputs the Super-Multi GSA-5169D also allows for easy connectivity to your camcorder, VCR or digital camera or television. The unit comes bundled with the Honest Technology One Touch DVD video capture and editing software. Novice users will find the software very easy to use and more advanced video editors will enjoy its power and versatility.
In addition to DVD+-R write speeds of 16x, the GSA-5169D features write speeds of 8x DVD+RW, 6x DVD-RW, 8x DVD+R Double Layer, 4x DVD-R Dual Layer and 5x DVD- RAM.
LG was the company to first introduce a multi-format reader/writer and they are continuing to challenge themselves to provide users with product that is innovative and reliable. Equipped with the latest Double and Dual Layer writing technology, the GSA-5169D offers consumers the ability to store up to 8.5GB of data on a single DVD.
Without the limitations of offering only one or two of the three available DVD formats, the Super-Multi removes any worry that consumers will select a media that will make their data obsolete over time, while eliminating the hassle often found in having to select the proper DVD media for a less versatile drive.
With an estimated price of $179, the GSA-5169D comes with a one-year "Peace of Mind" warranty and cross-ship two-day advance replacement service is also available. LG drives are consistently recognized for their superior performance and value and exceed all ISO 9000 standards. To find the LG retailer nearest you, visit http://www.lgusa.com and select "Computer Products."
---
The LG GSA-5169D has been previously announced at this year's CES Electronics Show, but has only been available the latter part of Spring 2006. DigitalDingus will be reviewing the GSA-5169D soon, and is very excited about reviewing such a multi-featured media drive.
- DigitalDingus
---
NOTE: LG GSA-5169D Review