Installing the SilverStone FP34 is rather simple. All you need is:
An unused/empty 5.25" slot in your computer case
Screwdriver
5.25" to 3.5" conversion kit
A motherboard which supports internal USB2.0, Firewire, and audio hookups
You can find conversion kits anywhere and usually no more than $20, so what kind you want depends on where you shop and if you're concerned about the design to match your case. I happened to purchase a Lian Li 515-B kit for my PC-V2100B Plus II case because I wanted a consistent look. SilverStone does sell conversion kits as well, and their types of finishes on the faceplates are similiar to Lian Li and are very professional looking. If you do not have Lian Li cases and do not want the Lian Li design, I highly recommend SilverStone's FP51 faceplates instead.

Now the reason why I highlighted the last requirement, is because you just might overlook it. There's nothing more depressing than purchasing a motherboard and purchasing a cool new product, only to find out your motherboard does not support such a product. One of the factors in purchasing a motherboard, is how versatile it is in areas like these. So, before you jump up and purchase this very nice product from SilverStone, verify you have similar headers on your motherboard. DigitalDingus has provided an example for you below to take a look at. Also, consult your motherboard's user manual (either online or the physical version) which is the best place to find out if you have the necessary headers to operate the FP34.

SilverStone FP34 and The Iwill DN800-SLI

The following are images of an Iwill DN800-SLI motherboard and the respective headers which the FP34 will plug into. The reason I provide these images, is so that you will become familiar with noticing headers on a motherboard. Headers are those thin pins which stick out of the motherboard. Headers provide an even more featured motherboard than stock, and can even extend the life of the board by simply allowing more devices being attached to it.

Iwill DN800-SLI USB2.0 Headers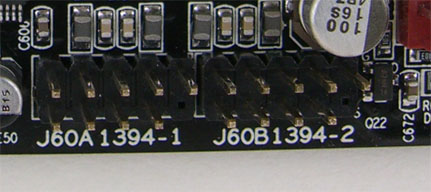 Iwill DN800-SLI Firewire (IEEE 1394) Headers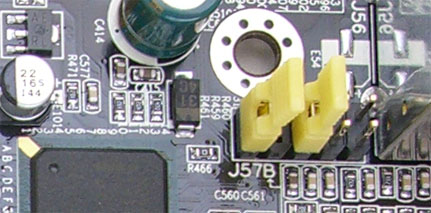 Iwill DN800-SLI Audio Headers
SilverStone FP34 Connectors
Here are images of the connectors on the FP34 itself. As you can see, they are clearly labeled and leave little room for guesswork:
| | |
| --- | --- |
| FP34 1394 Connector | FP34 USB2.0 (& AC'97) Connector |
SilverStone FP34: High Quality Design
If you observe the cabling of the FP34 in the images above (and on the next page), you'll notice this is just not some generic media reader with cables slapped inside it. Definitely not. This is a high-quality design, as evidenced by the cables themselves. The FP34 is consistent in professional quality, both outside and in.
In the next installation section, let's take a closer look at what a typical setup will look like...