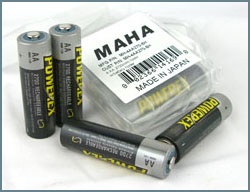 On May 1st, 2006, Maha announced their latest high-power AA NiMH offering. The 2700mAh AA battery is one of the most powerful AA batteries found on the market today. Yes, there are those companies which claim more power, but Maha does not feel rushed to bring out their latest product. They release more powerful batteries when they feel the product is ready to be released.

AA batteries still have a large prominence in the electronics industry and the products being sold on the majority have AA power cells. A good handful of camera manufacturers have moved away from AA batteries and instead are making their own proprietary Li-Ion batteries. This isn't a bad thing, but what's interesting, is camera manufacturers still make their flash units to take AA batteries. Why they don't make Li-Ion battery packs to replace the AAs inside the flash unit is still a mystery. Until there are Lithium Ion alternatives for in-flash use (because there are external Li-Ion battery packs you can buy but they add to the weight of the flash unit), having a reliable source for AA batteries is important. Maha has consistently come out with high quality batteries for professionals who need them without compromise and putting them in your speedlight or flash unit is the best AA option.

Even if you're not a professional or have a camera system which uses AA batteries, chances are you have several digital devices around the house which require AAs. Remote controls tend to wreak havoc on the power drain of a battery. The consistent pushing of buttons can easily take the life out of a battery within a month. Maha's 2700mAh NiMH batteries are the perfect fit for your remote controls.

Staying Cool & Retaining Power

Two things I liked most about the Maha PowerEx 2700mAh batteries. They stayed cool. The battery life was better than ever. I used the batteries in three Maha chargers: Maha C401FS, Maha MH-C801D, and the Maha MH-C808M. In all three chargers I had great results, but the latter two chargers displayed excellent charging characteristics. In the C401FS, the batteries were a little warm, but certainly less than any other charger in its class. In the Maha MH-C801D and Maha MH-C808M, the batteries were cool to the touch after charging. I simply cannot recommend these chargers enough. If you're going to spend money on the latest technology inside these high-power rechargeable NiMH batteries, then it only makes sense to invest a few bucks in a high-quality charger.

Pros
Consistent high quality design
Stayed relatively cool using the Maha C401FS
Remained MUCH COOLER in the Maha MH-C801D and Maha MH-C808M chargers
Approximately 1% to 1.5% extra power (30mAh - 41mAh)
Cons
Conclusion
Maha's 2700mAh NiMH batteries performed very well and especially cool in their latest flagship chargers. Just like their previous batteries, they remain cool when used with the appropriately matched Maha charger. Maha has a wide variety of chargers, so choosing one which is right for you is certain.
HIGHLY RECOMMENDED
From the average user to the professional, Maha's 2700mAh batteries are a wise choice for whatever device you're going to be using them in. To expoit the power of Maha's latest batteries, their flagship chargers are the best option for a complete power solution.
If you would like to purchase the Maha 2700mAh NiMH batteries as well as other Maha needs, I Highly Recommend you purchase your power accessories from Thomas Distributing. Their staff is excellent and knowledgable, and the owners of Thomas Distributing are dedicated to providing you with the best prices for anything power-related.