In previous reviews of macally products, you will know that macally is a manufacturer of MAC and PC accessories worldwide. While MAC users will probably be more familiar with the name, PC users can still use many of the products macally offers. In this review we'll take a look at the IceKey USB Slim Keyboard.

Please visit macally.com for a vast assortment of other peripherals, which include a comprehensive selection of (and certainly not limited to) mice, keyboards, internal and external hard drive enclosures, including a large assortment of iPod accessories.

Your Average Keyboard

Keyboards are the most used computer peripheral, yet they are one of the last peripherals to be replaced. Myself included, keyboards are used until the keys become missing or the thing is so dirty and the keys are so sticky, the keyboard is tossed into a box for a "backup". Cleaning the average keyboard is pretty much non-existent. There are deep crevices which have a nasty way of retaining dirt and food, even when using a can of compressed air. And if you think you're pretty good at putting electronics back together, you take a part the keyboard, clean it thoroughly, and put it back together, only to find out the key pads just don't have the same reflex like they used. In fact, the keyboard will often perform worse than when there were bread crumbs, Pop Tart remains, coffee solids, and muffin pieces in it. Why? Well, it has to do with the design of the keyboard. Manufacturers certainly do not make it easy to open them up, clean them thoroughly, and then put them back together without any headaches. Currently, most keyboards are not made to be cleaned--at least not by the typical user.

Not Your Average Keyboard: The macally IceKey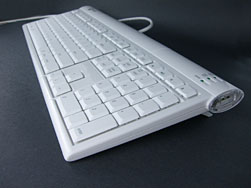 The macally IceKey is an extended "108 Keyboard", which features a USB port on either side. The two USB ports can come in handy for a USB Flash drive, digital camera, and just about anything that requires a USB port. The keys themselves are referred to as "scissor keys". In case the overall look and thinness of the keys might look familiar, they should. Many laptops have the same style of keys as the IceKey, which can be a major feature and convenience. One of the peculiar irritations of using a laptop, is your keyboarding style changes when going back and forth from computer to laptop. Having a consistent keyboard style can help reduce the fatigue in the different keyboard styles, because the keyboard itself is very similar to laptop keyboards. The design of the keys on the IceKey are meant for minimum finger travel and wrist pressure, so the fatigue is reduced by a good amount.