Previously discussed in my D RES 6 review, I mentioned that traveling light is on the minds of many photographers. Every photographer has their favorite lens, and keeping that lens in a safe and secure environment, makes for a trouble-free and a worry-free shoot.

I had the chance to recently use the LC 3 with my AF-S 80-200mm lens. I normally shoot with my camera bag, but this time, I decided to try shooting without it. The LC 3 is one of several lens cases that Lowepro makes for the serious photographer.

Shooting with the LC 3

Locally, there were several protests both for the Iraq war, and against it. The crowds tended to gather rather quickly, and disperse just as fast, in a matter of moments. Small incidents would breakout in seconds, and it was very difficult to get to a scene with all of your gear in a typical camera bag. I should say that my Pro Mag 1 AW is rather compact, and I can deal with it, but I also wanted to try a shooting method that required even less effort. Kind of tough to do since the Pro Mag 1 AW is a very compact bag.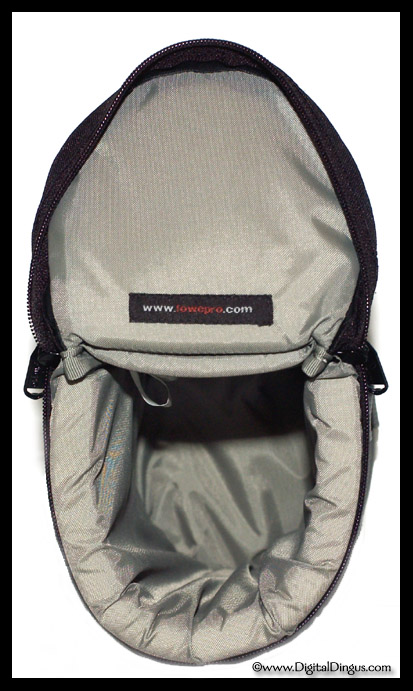 You can see how thickly-padded the LC 3 is, protecting your valuable investment
As noted above, the LC 3 is padded very well, and no compromises are made in lieu of protecting your expensive lens. The LC 3 is made for lenses that are no longer than a 80-200 range. Larger sizes are available, such as the LC 4, which enable you to keep your lens hood on (without the need for reversing it).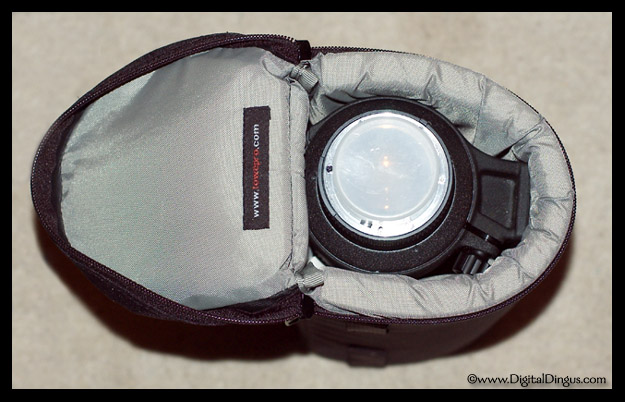 Your tripod collar can fit in the LC 3 with your 80-200 lens

The LC3 has room for your tripod collar, as well as the lens hood supplied with your 80-200mm. I should note that the lens hood makes for a very tight fight, however, by leaving the lens hood on the lens for a period of time inside the LC 3, will gradually lessen the tightness, but still retain a firm fit.

Backside view, displaying the large velcro attachment

As you can see, there is a rather large Velcro fastener on the back of the LC 3, as well as another smaller fastener "lip". This is to ensure your LC 3 will not get loose while you are hiking or doing any kind of activity while in motion. In order to best take advantage of this, have a wide belt so the there is little play when you fasten the LC 3 to your waist.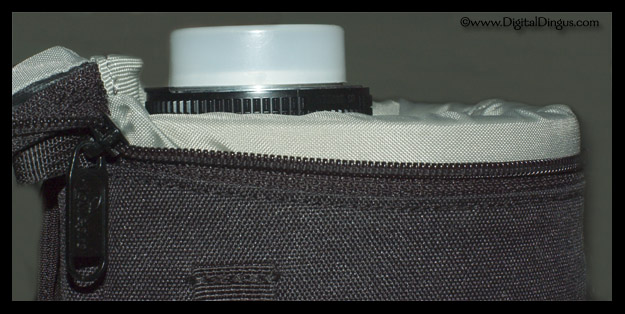 Side view of LC 3 with AF-S 80-200mm Nikkor

The Nikkor AF-S 80-200mm lens sticks just a little bit out of the top. The flap easily is zipped over it. Some may want to get the LC 4, which has an extended depth and wider width. I had no problems using this lens when out in the field on the day I used it.

In The Field

Since I had the MB-D100 with my D100, extra battery power was not a concern of mine. I only took the AF-S 80-200 in the LC 3 strapped to my waist on a belt, and the handy 50mm f/1.4 was in my jacket pocket for more of a wider perspective. Shooting was very nice, and very portable. The LC 3 straps kept the case secure to my side. I will mention it was a little heavy (hey, it's the AF-S 80-200), but more comfortable than having a strap over your shoulder. If you have a lighter lens to put in the LC 3, you won't notice any weight tendencies at all.

Conclusion

Summer is coming, and traveling as light as you can, makes for a much more comfortable photo shoot. The LC 3 is going to be something that comes along with me on hikes, and in any situation where I want to travel expediently. Once again, I give a 5/5 on this Lowepro product. It's well-padded, has a double-zipper for reduced strain on the top opening, and it has a water-resistant outside lining.