Lowepro has a very nice selection of quality products. After using their Pro Mag 1 AW for about 2 years, I had to investigate their other cool stuff.

Ever wanted to leave your rather heavy camera bag at home and just take the essentials on a "light" shoot? I sure do. Lugging around 25-30lbs of gear on a nice summer day, is not my idea of a "fun" shoot. If I had to take all of my equipment, sure, I would do it. However, if the opportunity comes up where I can take only a few items with me, I sure won't pass it up.

Protect Your Equipment

A photographer needs something to protect their memory cards and batteries. There's no exception. Stuffing batteries and memory into your pants pocket or jacket is great if you don't have anything, but not recommended. Lint, dust, hair, and whatever else I won't mention, reside in your pants and jackets. These things can easily work their way into the holes of CF (CompactFlash) cards. With SM (Smart Media) cards, you can rub the contacts away by continuing to put the cards in your pocket. Batteries? Well, this is potentially dangerous. If the batteries make contact, not only can you drain them, and just when you need them most, they will fail you miserably, but also, there is the possibility of a leak. Sounds strange, but it can happen. It's not like you only have a few batteries to go along with you on a shoot. Currently, flash units for all major camera manufacturers are AA-driven, and usually take 4 AAs. Just as a bare minimum, you should take 8-AAs with you, in case you need a backup. Flash units are to batteries, what vampires are to blood. They love them dearly, and will suck every little bit they can get.

The D RES 6 also has a strong Velcro fastener, so you can attach it to your existing camera bag, belt, etc.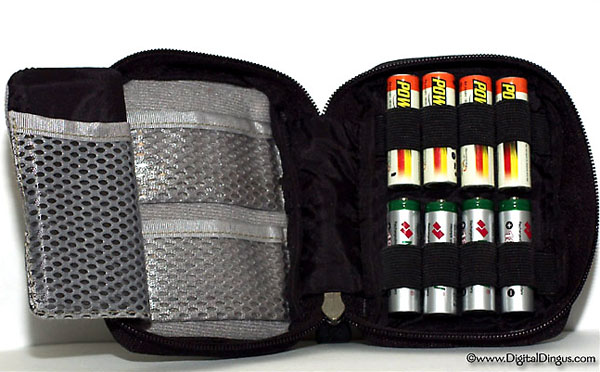 Inside the D RES 6: Lots of room for such a little thing
The D RES 6 is not an ordinary "Memory Wallet". It holds up to 8-AA batteries, as many memory cards you can fit in the middle two pockets, and a slot for a PCMCIA adapter. If you don't use a PCMCIA adapter or prefer to carry it somewhere else, this pocket can also be a nice little place to store your business cards. The D RES 6 is also small and portable.
Laminated
Notice above that the D RES 6 has a lamination. This lamination is put on extra-thick. I was on a local shoot recently, and when I came home, noticed my hands were dirty, as well as a few areas on my equipment. When you are busy shooting, you don't have time to clean your hands or wash yourself from the event you are at--especially if it is outside. You just concentrate on taking the shot. What's nice about the D RES 6, is that it is heavily laminated so you can wash away any dirt from where you made the most contact. Shuffling memory cards back and forth between camera and storage unit, can easily result in a need for cleaning. Lowepro makes it very easy to do this.
Soft Is Good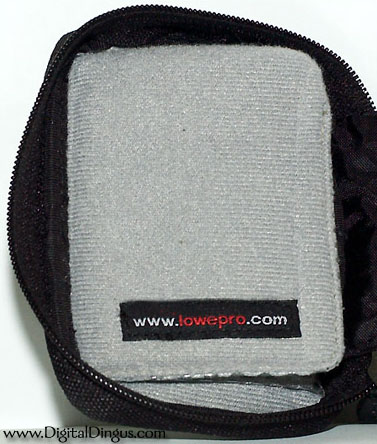 Shown above is other side of the PCMCIA flap
Tricot is lined on the outer PCMCIA flap. Tricot is a fabric that is inherently soft. It is made of micro-thin nylon fibers that are brushed. Since this outer flap will be resting against your batteries, a soft material that is non-abrasive is the way to go. It's also a good idea in case you want to put other somewhat fragile objects in the D RES 6.
Water-Resistant
Did I mention the D RES 6 is also water-resistant? Yep. The outer material of the D RES 6 is made from a nice heavy-duty and tough material to resist exposure to water.
Conclusion
Lowepro's D RES 6 is compact, convenient, and has a lot of room for such a little storage unit. It's built to last a long time, and will certainly outlast your current DSLR, and more than likely, several DSLRs.