Transformers: Age Of Extinction

Codec / Resolution
: MPEG-4 AVC / 1080p
Studio
: Paramount Pictures
Distributor
: Paramount Pictures
Theatrical Release
: June 27, 2014 (USA)
This Release
: September 30, 2014
Region
: Region A/1
MPAA Rating
: PG-13
Aspect Ratio
: 2.35:1
Running Time
: 165 mins
Number Of Discs
: 3 (2 Blu-ray + DVD)
MSRP
: $39.99 USD
Current Price
:
Check Price / Purchase
Sometime ago when I reviewed Transformers: Dark Of The Moon, I mentioned a few things needed to change and at the top of the list...scrapping the model girlfriend script. Not sure if anyone reads my reviews, but I think I was not alone in making this observation, and in this latest Transformer release, we do see some sort of a compromise from Michael Bay. Thank-You! Transformers: Age Of Extinction is the fourth Transformers movie, and is beginning to take a different path as we'll see below.
Michael Bay's directing style for this series has not relinquished anything, and has once again, upped the effects and even the feature length to that of an epic. Clocking in at 165 minutes, be sure you grab some extra goodies from the kitchen as you'll be making a couch mold of your body from being there so long.
In Transformers: Age Of Extinction, Michael Bay still wanted a pair of sexy legs and long hair, so we have a rather odd Father-Daughter dynamic which is somewhat hard to believe. This is due to the father being Mark Wahlberg and Nicola Peltz as the daughter. Not entirely as bad as having a supermodel as the typical girlfriend, but raised my eyebrows a little. Mark, I didn't know you were so old!
The Plot
Cade Yeager (Mark Wahlberg) owns Yeager Robotics, and is barely making enough to live on. He's behind on his mortgage of the farm, and is in dire need of some extra income. Cade is also very protective of his teenage daughter Tessa Yeager (Nicola Peltz) and is also alone in looking after her, as his wife passed away when Tessa was a baby.
Since the Battle For Chicago, the Transformers (Autobots and Decepticons) have been hunted down by the US Government, with the help of a nebulous transformer (Lockdown) who is a ruthless bounty hunter and always gets his target (collateral damage is not an issue). Lockdown is a different kind of Transformer, in that he only pledges his allegiance to the Creators, an alien race who made the transforming machines.
Cade and his friend Lucas Flannery (T. J. Miller) find Optimus Prime in an old theater, while looking for discarded metal parts for his inventions. Optimus Prime has pretty much been blown to hell. Gone is the nice shiny exterior we saw in Dark Of The Moon and there are some fairly large holes in his body frame, which are from being ambushed by the CIA and Lockdown. Having OP transported back to the farm, Cade realizes what he has, and so does Lucas. Realizing the reward for the Transformer will bring $25,000 at least, he mentions to Cade this is the best option, and will save the farm. Cade does not agree but Lucas calls the hotline anyway, and brings the hunters with James Savoy (Titus Welliver) as the leader. Savoy's boss is Harold Attinger (Kelsey Grammer), who is the CIA's trusted man in dealing with the aftermath of the Chicago war, leaving the city in ruin.
Packaging
Packaging for Transformers: Age Of Extinction is packaged in a 3-Disc Elite Blu-ray case, and in my experience, came with a slipcover as well. YMMV.
Screencaps
Video
Video for Transformers: Age Of Extinction is consistent with previous Transformers movies. Colors are saturated in many scenes, while held back in others. The video is rather crisp and clear, but more importantly, the special effects are flawlessly integrated with live action. Michael Bay and his special effects team have perfected this over the years.
Additional Screencaps
Extras
Extras for Transformers: AOE, are on the second Blu-ray disc. The first Blu-ray disc, has only the movie, and justifiably so, as it's almost 3-hours long, with a beefy soundtrack. As advertised, there are indeed over 3-hours of extras.
Disc 1 (Blu-ray)
Disc 2 (Blu-ray)
Evolution Within Extinction (2:02:50) HD
- Generation 2 (15:54)
- Drive Like Hell (13:32)
- Small Town, Big Movie (11:23)
- Shadow Protocol Activated (28:43)
- The Last Stand (11:03)
- The People's Republic (13:01)
- Rise Of The Dinobots (6:05)
- The Finishing Touch (22:20)
Just Another Giant Effin' Movie (10:03) HD
A Spark Of Design (15:24) HD
T.J. Miller: Farm Hippie (19:43) HD
Trailers HD
- Trailer 1 (2:34)
- Trailer 2 (2:34)
- KRE-O Transformers: Take Us Through The Movies (3:42)
- Angry Birds Transformers: Origin Story (1:16)
Disc 3 (DVD)
Specifications
Aspect Ratio
Active Pixel Area: 1920 x 800 pixels
Inactive Pixel Area: 1920 x 280 pixels
Aspect Ratio: 2.40:1
Audio
Audio for Transformers: Age Of Extinction is very full of sound, and along with a Dolby TrueHD 7.1 soundtrack, there is a Dolby Atmos track. this is the first Blu-ray to have the Dolby Atmos soundtrack, and for those with a compatible receiver, you'll be in for a treat. On a side note, I did have a few issues playing the Blu-ray on my PC, but had no problems with my Oppo BDP-93. Obviously, Atmos is a new audio format, so it will take time for software developers to update their programs. But for those who aren't playing their movies on their PC, you'll more than likely be just fine.
Main Audio Track 1: TrueHD 7.1 (English) @ 4388 Kbps (48kHz/24-bit)
Subtitles: English, English SDH, French, Spanish, Portuguese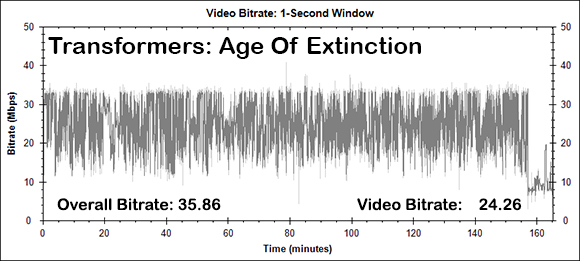 Transformers: Age Of Extinction Bitrate Graph
Transformers_Age_of_Extinction
Codec: MPEG-4 AVC
Resolution: 1080p
Blu-ray BD-50
Disc Size: 44,916,079,849 bytes (41.83 GB)
Movie Size: 44,406,982,656 bytes (41.36 GB)
Overall Bitrate: 35.86 Mbps
Video Bitrate: 24.26 Mbps
Rating
| | |
| --- | --- |
| AUDIO | |
| VIDEO | |
| CONTENT | |
| EXTRAS | |
| PACKAGING | |
RECOMMENDED PLUS
Conclusion
Michael Bay and his special effects team have presented Transformers: Age Of Extinction as probably the best Transformers movie yet. Reviews aren't flattering, but I have to ask, what exactly do critics expect? And would we want Transformers to be some tear-jerking romance, with a little bit of action thrown in? Not really. Transformers has a particular audience because it's particular about the content. For sure, there are some inherent flaws in delivery of the franchise, such as supermodels and an unrealistic father-daughter relationship, but the Transformers: AOE has done rather well in keeping fans wanting more.
An amazing 4th installment of the Transformers series which does not disappoint in the video quality and special effects, Transformers: Age Of Extinction gets a RECOMMENDED PLUS.
It was initially rumored (November 2014) Mark Wahlberg was not going to be in any additional Transformers movies, but the rumor was put to rest recently as Wahlberg commented he's on for the Transformers: AOE sequel. Very good news, as I don't think the continuity of another movie would have been the same without him. Also, it was rumored Bay wasn't going to be directing, but it appears that rumor was premature as well, and so far, Bay is going to be directing.