Jeepers Creepers
Features: Deleted scenes, audio commentary by Director Victor Salva, and a 1-hour Behind The Peepers: The Making Of Jeepers Creepers feature.
Codec / Resolution: MPEG-4 AVC / 1080p
Distributor: Focus Features
Theatrical Release: August 31, 2001
Region: Region A
This Release: September 11, 2012
MPAA Rating: R
Aspect Ratio: 1.85:1
Active Pixel Area: 1920 x 1040 pixels
Running Time: 105 mins
MSRP: $19.98
Current Price: Check Price / Purchase


Many years ago, DigitalDingus reviewed Jeepers Creepers (DVD). I was very impressed with it, as finding a horror movie with originality is so hard to find these days. It is a shame that Director Victor Salva has had a past which most undoubtedly has prevented him from making more films, but it does seem as if Jeepers Creepers 3: Cathedral will be released sometime this year. I'm still waiting for JP2 on Blu-ray to appear, but haven't seen anything just yet.

The Plot

Darry Jenner (Justin Long) and sister Patricia "Trish" Jenner (Gina Philips) are on a road trip and going home to see their parents during Spring Break, when they happen to pass an old, deteriorating house. Nothing out of the usual as far as old homes go, but there's a large pipe sticking out of the ground in the back yard, and a rather tall man in an overcoat, shoving a wrapped body down it...

As the curious brother drives by with probing eyes, he notices the man has noticed him.

Packaging

Packaging for Jeepers Creepers is the irritating Elite Blu-ray Eco-case chosen by MGM.

Screencaps

The video mastering for the DVD version of JP was nicely done, and in this Blu-ray version, we have another good transfer. Much more detail is realized, and it's probably a Too Honest transfer, as I can see the effects much more clearly, and it dates the technology at the time. It's hard to believe it's been over 11 years since this movie was released in theaters.

Daylight scenes demonstrate the clarity and crispness of the film being used, and Gina Philips looks gorgeous.

Extras

There are some deleted and extended scenes in addition to an audio commentary by Director Victor Salva (which I still recommend to listen to as it's very informative). The 1-hour long Journey To Redemption: The Making Of Jeepers Creepers is also a nice treat, and is from the Special Edition DVD. Unfortunately, it's not in HD.

Specifications

Main Audio Track: DTS-HD Master 5.1 (English) @ 3903 Kbps (48 kHz / 24-bit)
Audio 2: Dolby Digital 2.0 (Spanish) @ 224 Kbps
Audio 3: Dolby Digital 2.0 (French) @ 224 Kbps
Audio 4: Dolby Digital 2.0 (English) @ 224 Kbps
Subtitles: English SDH, Spanish, French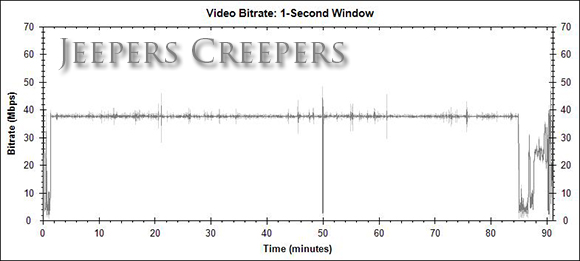 Jeepers Creepers Bitrate Graph
JEEPERS_CREEPERS_BD
Codec: MPEG-4 AVC Video
Resolution: 1080p
Blu-ray BD-50
Disc Size: 36,049,419,196 bytes (33.57 GB)
Feature Film Size: 29,106,935,008 bytes (27.11 GB)
Overall Bitrate: 42.65 Mbps
Video Bitrate: 35.92 Mbps
Download: Jeepers Creepers BD Info File
Rating
| | |
| --- | --- |
| AUDIO | |
| VIDEO | |
| CONTENT | |
| EXTRAS | |
HIGHLY RECOMMENDED
Conclusion
This is one of my favorite horror films, and delivers as much high-def content as it possible can. With a mid-30's bitrate, I seriously doubt we'll see anything better. In any case, it does much better than the DVD. There are many scenes on the DVD version which were indiscernable, but with this Blu-ray release, you see everything you're supposed to — and maybe even more clearer than what you're supposed to. For example, a lot of the "victims" are obviously dated and makeup can be sometimes seen too well. But I'd rather have this than the DVD version, any day.
For some genuine action horror you simply can't pass up, Jeepers Creepers (Blu-ray) gets a HIGHLY RECOMMENDED.
Be on the lookout for JP2. Since Jeepers Creepers 3 is slated for this year, I'm hoping we'll see a JP2 Blu-ray release.