The Town: Ultimate Collector's Edition
Features: 3-Disc edition, Theatrical Cut & Extended Cut on one Blu-ray disc, Extended Cut with Alternate Ending on one Blu-ray disc, English DTS-HD Master Audio 5.1, film prop replicas, and more.
Codec / Resolution: MPEG-4 AVC / 1080p
Distributor: Warner Brothers
Region: A
This Release: February, 2012
MPAA Rating: R
Aspect Ratio: 2.40:1
Running Time: 125mins / 153 mins
MSRP: $49.99
Current Price: Check Price / Purchase

The following are screencaps from The Town (Ultimate Collector's Edition) on Blu-ray. The Town (Ultimate Collector's Edition) is featured in a 2.40:1 aspect ratio (1920 x 800 pixels), with an MPEG-4 AVC Transfer. The 35mm film looks gorgeous. The overall colors are matched to the tones of the scenes, and this is one of the few reference movies for how filming should be done. A lot of times, I see a High-Def picture that is just too bright, shows way too much sharpness, and comes off as unreal. This is certainly not the case with The Town. Although, I need to mention, the screencaps below are from Disc Two, which has the Extended Cut with Alternate Ending on one disc, exclusively, with only a 30mins documentary. The entire BD-50 disc is dedicated to presenting The Town at its best.

Too Bad It's Not A Digibook...

It's unfortunate most editions are paradoxical. And Warner Brothers is no exception to the rule. The Ultimate Collector's Edition of The Town, has a quality scrapbook, but then the packaging for the 3-discs is rather skimpy: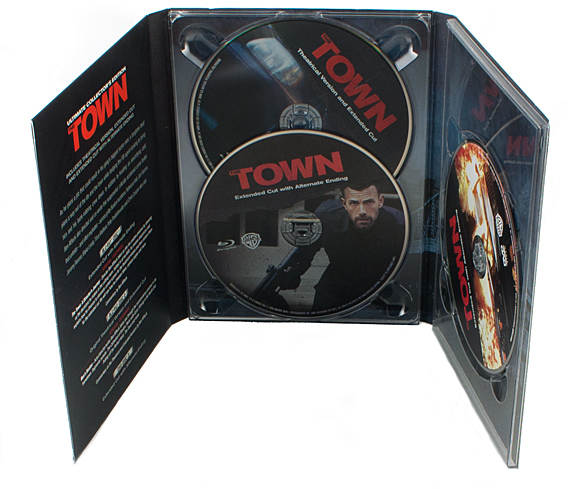 This could have easily been a Digibook and would have matched the scrapbook perfectly. I don't have enough fingers to count the number of Digibooks Warner Brothers has released. I have a few myself, and if The Town would have been packaged in a Digibook, this would have indeed been the Ultimate Collector's Edition.
Screencaps
Let's take a look at the first screencap from The Town (Ultimate Collector's Edition) below. The skintones are basically perfect. Warm but sharp. Rebecca Hall looks great.
The black colors have some very rich depth, as you can see below in the next three screencaps. The attire comes across as what it should look like, and what it does look like. While the blacks come out with full depth, lighter colors still retain their strengths and aren't compromised.
As an example below, we have a lot of black tones, but Ben Affleck and Jeremy Renner's characters have true skintones.
And finally below, we see Rebecca Hall's character opening the safe. Notice the depth of the black colors but her hand is still pronounced, and light is still retained enough to see the numbers on the dial of the safe.
Screencap Conclusion
I personally couldn't find anything wrong this time around, as The Town has been cut like Ben Affleck wanted, and put on a disc of its own to show the careful attention that was taken into filming it. I wouldn't normally recommend paying over $30 for a movie, but in this case, it's justified. This is one of those movies where it will be watched again and again. I've already watched it three times in the last 3 months.