The Walking Dead: Season 2
Features: Limited quantity Zombie Head statue, English Dolby TrueHD 7.1, 4-Disc Digibook packaging.
Codec / Resolution: MPEG-4 AVC / 1080p
Distributor: Anchor Bay Entertainment
Region: A
Series Release: 2011-2012
This Release: August 28, 2012
MPAA Rating: TV-MA
Aspect Ratio: 1.78:1
Running Time: 578 mins
MSRP: $99.99
Current Price: Check Price / Purchase

The following are screencaps from The Walking Dead: Season Two on Blu-ray. The Walking Dead: Season Two is featured in a 1.78:1 aspect ratio and as such, will fill your entire widescreen television completely, taking full advantage of it. "Grainy" has been mentioned occasionally, and season two is far from grainy. If you want grainy, go watch The Shield for a few episodes. What I observed for the second season, was some really consistent color palettes and very few scenes which made me notice any "grain" — and these were explicitly night scenes when grain did appear. This is the nature of High-Def cameras to date, so this should not be surprising and referencing any screencaps found online to prove a point for the Anti-Grainy Folk, would be foolish.

4-Disc Digibook

The Digibook included with this Zombie Head edition, is rather nice: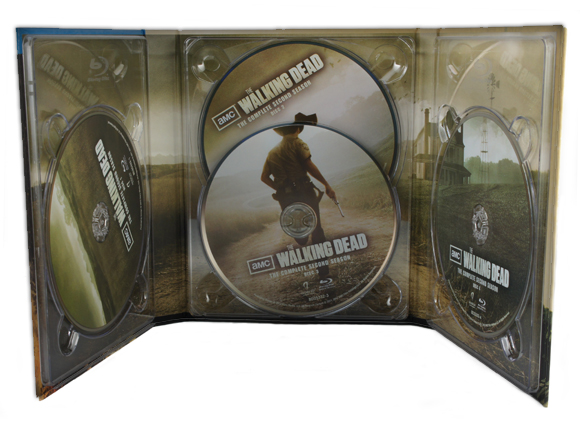 Normally, I don't prefer Digibooks, but for a television series, it's a perfect match. The artwork, is a little less than appealing. It reminds me of the revamped first season edition. If you look at the artwork on the discs above, a shot of Deputy Grimes on the front would have looked great. The usual zombie smiles would have been more preferred on a few discs.
The Walking Dead: Season Two: MPEG-4 AVC Transfer
An MPEG-4 AVC codec delivers the simple but harsh tones in a rather clean presentation. If you look at the bitrate graph on the next page, you'll see the flunctuating data requirements on a very regular basis. The AVC codec handles the demands very well.
Let's take a look at the first screencap from The Walking Dead: Season Two below. I'll address the comments regarding a "grainy" image. Almost all of the issues where grain is more prevalent than normal, is where there is the color blue AND we have compression. Don't think there is no compression when it comes to a "High-Def" release, because ALL HD releases have been compressed. We are still not at a point where an image is so clean, that we can fit it on a single disc or even two BD-50 discs. On top of this, the color blue tends to be problematic because it's neither dark or light — it's in-between, and shows any kind of compression rather honestly. When a scene such as below occurs, more gain is observed because the color easily exploits the type of film (or filter) involved AND the compression that was involved. However, this is not a bad thing entirely, because this is an exception. The type of film (or filter) being used for this series, is mastered for the darker tones and colors, so a more natural appearance happens.
Below we have a screencap of the rare appearance of the Super 16mm film used in The Walking Dead: Season Two:
And below we have screencaps of the typical appearance of the Super 16mm film used in The Walking Dead: Season Two:
Of course, I had to provide at least one image of a zombie critter, but the detail is done well.
I absolutely LOVE the type of colors here, and yet the image remains very clear. Not so clear we think it's a reality show, thank goodness.
A quick shot like this sun beginning to set, demonstrates how warm and real the entire series conveys. It also conveys something else.
Some just slightly-off-color flesh tones permeate the series, but it looks fitting to the environment. A barely visible green tint overlays skin colors at times, but not overdone. Below is a screenshot taken from towards the final moments of the season:
Screencap Conclusion
The color palettes and appearance of The Walking Dead: Season Two are done deliberately and with a keen eye for presentation. I can't wait to see how season three looks. Until then, I'll have to watch this season again. And again. In my opinion, this is pretty much a reference for anyone wanting to film a movie and especially a television series, watching how much consistency holds from episode 1, all the way to episode 13.