Kung Fu Panda
Features: An hour and a half of enjoyable entertainment. Over an hour of extras (viewing running time) and several games. Very crisp and colorful transfer for Blu-ray.
Codec / Resolution: AVC / 1080p
Movie File Size: 20.75 GB
Average Bitrate: ~21 Mbps
Distributor: Dreamworks
Region: Region-Free
Movie Release: June 6, 2008
This Release: November 8, 2008
MPAA Rating: PG
Running Time: 88 mins
MSRP: $39.99
Current Price: Check Price / Purchase (Blu-ray)

The following are screencaps from Kung Fu Panda on Blu-ray. Kung Fu Panda comes on a 2.35:1 aspect ratio. I have to wonder if it could have been on a 1.85:1 aspect ratio to fill the entire screens of our HD displays, because this transfer really shines. If you have a large HD Television, the better for you. The CG is crystal clear, and is basically perfect. I couldn't find any particular flaw which stood out. Colors were spectacular and bright, and the gradients were especially defined as well, with no trouble spots.

Kung Fu Panda on Blu-ray

Let's take a look at the first screencap from Kung Fu Panda below. Notice how we have a rather large gradient of shadow and darkness in the background, but we don't see any sign of posterization. This AVC encode is really good.

Let's look at those gradients even closer. Notice the red areas below and how they just flow into the surrounding colors. These types of scenes look awesome on a larger television with all the lights turned off.

Images look sharp, even in the dark as we've seen above, but what about images in daylight scenes. Well, these are even better.

The screenshot below reveals more than what you see here. Let's take a closer look at the fine detail when we take a section from the 1080p image.

In this particular screenshot, there is some magnificent detail. Smaller HDTVs (around 32") won't allow you to observe such detail as the images are moving so fast paired with a smaller viewing size. But on a larger television, you can see the detail much more clearly.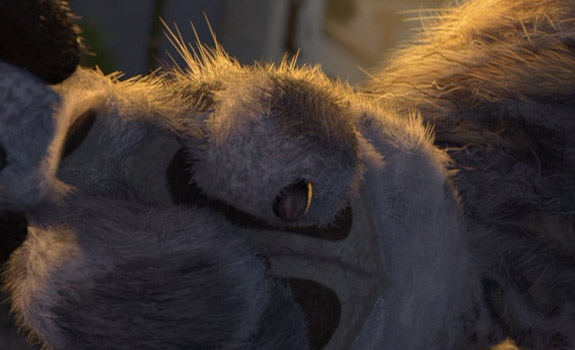 1:1 section taken from 1080p image