The Descent
Features: 6.1 PCM Audio (LPCM) soundtrack.
Codec / Resolution: MPEG-4 AVC / 1080p
Movie File Size: 23 GB
Average Bitrate: 21.56 Mbps
Distributor: Lionsgate
Region: A
Movie Release: August 4, 2006
This Release: December 26, 2006
MPAA Rating: R / Unrated
Running Time: 1 hr 40 mins
MSRP: $29.99
Current Price: Check Price / Purchase

The following are screencaps from The Descent "AVC Version" on Blu-ray. This particular transfer looks fabulous. Reading comments from viewers about it being "grainy", I barely noticed. There are scenes where the fine grain is noticeable but it didn't have a negative effect on the movie itself. The MPEG-2 version is supposedly less grainy, but honestly, I think I would prefer this version because as weird as it sounds, there is more detail in fine grain than in a film where the grain has been smoothed out.

Screencaps of The Descent on Blu-ray

Shown below are screencaps from the AVC Blu-ray version of The Descent. We have rather gorgeous screencaps to take a look at. But first, let's take a look at some screencaps which have more grain in them than the others. If you look at the full resolution image, you will see the fine grain. However, the grain is still subtle.

And now let's take a look at some screencaps which have less grain.

A Closer Look

Now here is an interesting screencap and let's figure out why one part of the screen appears crystal clear but the other part is grainy-looking.

If you're familiar with photography, we have two major characteristics going on here. The first is what's known as the "Rule Of Thirds". What this means is you're framing your main subject in one of 9 potential areas on your image — 3 sections divided in the horizontal space and 3 sections divided in the vertical space.

The second characteristic, is the framing will generally incur a symptom known as Depth Of Field. Now, this DOF will vary, depending on the director's lenses of the camera and the aperture the director is filming. If you want a particular subject to be the main point of interest at a certain spot in your film, you will focus primarily on that subject and everything else surrounding will be a little blurry. This makes your eyes focus more on areas which are clear and sharp, versus an entire picture which is clear and sharp, which results in the director's intent being lost or misinterpreted.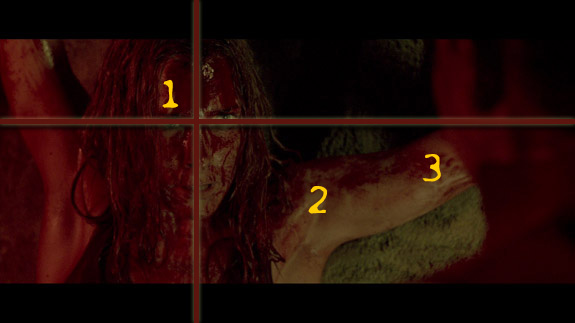 So, when we take these two characteristics into account, it makes sense we see more grain in the areas which are not in focus (Section 2 and Section 3 above) and the area which is in focus, Section 1, looks sharp and clear. In the case above, we have the director focusing directly on Sarah's face, which is in front of her body just enough to make the other parts of her body appear blurry and "grainy".