• • • • • • • • • • •
• • | Definitions: • • • • • |
• Archived Websites (Pre-DigitalDingus): • |
Sleeping Beauty
50th Anniversary Edition
Screencaps / SD vs. HD
December 8, 2008
Sleeping Beauty: Introduction / The Movie • Sleeping Beauty: Screencaps & Comparisons
Sleeping Beauty: Features & Specifications • Sleeping Beauty: Conclusion











Sleeping Beauty
50th Anniversary Edition
Features: DTS-HD MA soundtrack, new widescreen version of the film which reveals more screen never seen before, a bonus disc dedicated to extras, and a much-appreciated Bonus DVD Movie Disc, which contains the SD DVD version of the film.
Distributor: Disney
Movie Release: January 29, 1959
This Release: October 7, 2008
MPAA Rating: G
Running Time: 1 hr 15 mins
MSRP: $34.99
Current Price: Check Price / Purchase

The following are screencaps from Sleeping Beauty: 50th Anniversary Edition on Blu-ray. To sum it up, the picture looks great. I was really curious as to how an HD (i.e., Blu-ray) transfer would look because I had a lot of questions as to just how much more color could come from individually hand-painted ink cells dated 50-years ago. Well, I was quite surprised. Sleeping Beauty is an MPEG-4 AVC transfer, and the average bitrate is just a hair over 24Mbps. The file size of the movie is around 18.3GB, which is fairly large considering the film length is only 75-minutes.

Sleeping Beauty SD DVD & Blu-ray Screencaps and Comparisons

Shown below are screencaps from the Bonus DVD supplied with the Blu-ray version of Sleeping Beauty: 50th Anniversary Edition. I'm assuming this is the same transfer from the master where the Blu-ray came from.

SD DVD Screencap

Blu-ray Screencap

Now what follows, is an upsampled SD DVD section (to 1920 x 1080) and a non-upsampled Blu-ray section (because it's native @ 1920 x 1080) from the same areas on each screencap. Upsampling was done to match what it would look like on your HDTV screen.

We can observe a difference between the Blu-ray and SD DVD versions below. Colors are more vibrant, subjects are more defined, and of course, much less blur in the Blu-ray version. You may note there is a tad bit of aliasing on the red bird in the Blu-ray area (and there is in the SD DVD version as well but it's blurred so much it doesn't make a difference here), but this is normal because the image is so close to you as you're viewing it on your PC monitor, it would be the same as viewing it about a foot from your HDTV screen. So, nothing to worry about.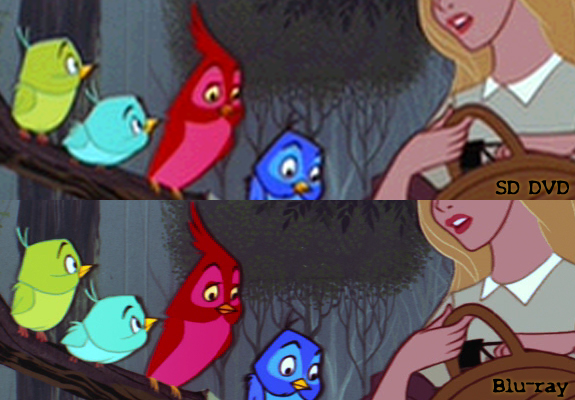 SD DVD Screencap
Blu-ray Screencap

What you see below is an example of how much more detail an HD transfer can provide you. And this is just a small section from the movie, so just imagine how much more detail and information you're receiving overall. For those who are curious and even daring, try to sharpen the SD DVD area in your favorite image editor. You can't create detail if it's not there.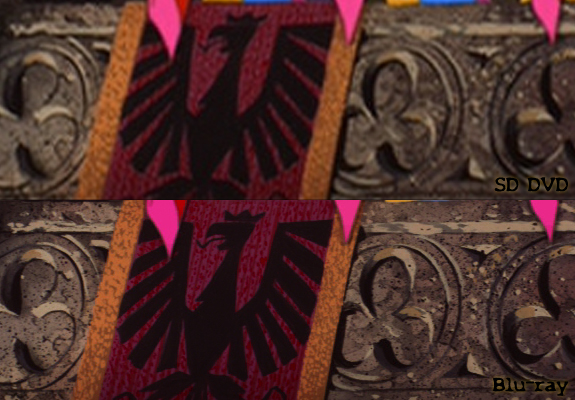 These are just a few examples of the SD DVD and Blu-ray version of Sleeping Beauty: 50th Anniversary Edition. But already, we can observe much more detail in images, and colors are more bold. What's interesting is this comparison is regarding an animated movie. We would certainly see more artifacts and compression issues with a non-animated movie. So yes, even HD can make an animated movie look better.
• • • • • • • • • • •
• • | Definitions: • • • • • |
• Archived Websites (Pre-DigitalDingus): • |