Available Audio Formats


English 5.1 Uncompressed (LPCM) (48kHz/24-bit)
English and French Dolby Digital 5.1
Subtitles


English SDH, Spanish, Chinese, Japanese, and Korean
Additional Features (SD)
The Making Of Kill Bill Vol. 2 — 26:03

Quentin Tarantino, Uma Thurman, and the rest of the cast discuss the second installment of Kill Bill.
Damoe Deleted Scene — 3:37

This is a deleted scene where Bill and Kiddo confront a samurai and his subordinate goons with swords. It's a rather odd scene, and I can understand why Tarantino took it out of the film.
Chingon Musical Performance — 11:32

I'm not sure why this nice musical performance was limited to 224Kbps, because it could have sounded most wonderful on a home theater system. Of course, I'm not entirely aware of the quality of the original recording, but certainly 224Kbps doesn't even match typical CD file quality (1.4Mbps). FYI, this performance is in 4:3 (fullscreen).
Advanced Specifications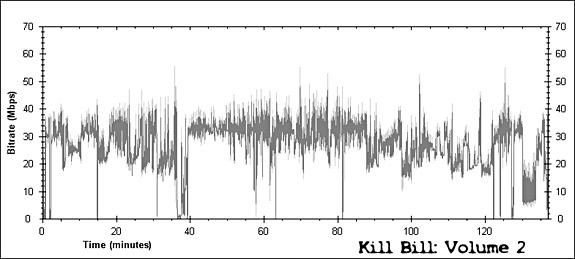 Kill Bill: Volume 2 - Bitrate Graph
Advanced Specs


Codec: MPEG-4 AVC
Resolution: 1080p
Blu-ray BD-50
Disc Size: 42,944,629,899 bytes
Feature Film Size: 28,003,650,615 bytes (Video only)
Average Video Bitrate: 27.26 Mbps
Region: A, B, C
Package Contents
Miramax Blu-ray Keepcase
Blu-ray Disc (BD-50) of Kill Bill Volume 2
Welcome To The Revolution insert