Enermax has a series of PC case fans which might grab your attention. They sure grabbed the attention of DigitalDingus which is why you're seeing it featured here. I will say right now, you may never go back to another form of PC case fan ever again after reading this review.

Enlobal "Warp" 120mm PC Case Fan

Enermax currently has 3 Enlobal case fans, and the one featured on DigitalDingus, is the UC-12AEBS (i.e., the "Warp Enlobal"). What's different from the other Enlobal fans is the addition of a knob to turn the speed of the fan up or down when desired. This results in CFM (airflow) ratings of 26.91 to 83.49. Depending on your particular computer setup at any given time, you may want to turn up your airflow during times of extreme gaming, or turn it down when just surfing the net.

The Warp Enlobal uses what Enermax calls Enlobal Magnetic Barometric technology. EMB is a new evolution in case fan hardware, but is also a revolution in technology.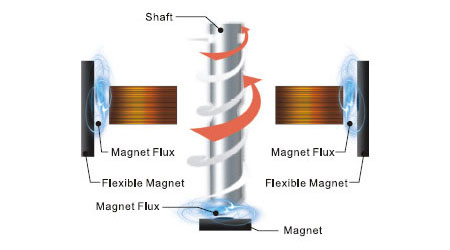 Without getting too technical, the Magnetic Flux is the magnetic field which is generated from the surrounding magnets interacting with each other on the fan casing. There are three magnetic fields produced which enable the fan to run without any ball bearings or hardware which touch each other.

Pros
Variable speed range: 1000-2400RPM
Up to 83.50 CFM of air travel possible on full-speed
Enlobal Magnetic Barometric technology
High-quality fan blade construction
Fan blade can be removed from fan housing for complete cleaning
Adjustable fan knob can be unplugged, leaving the fan to be controlled by another fan controller
Cons
Observations
Fan operates quietly and hardly noticeable
Enermax has a great product on their hands, and wouldn't surprise me if it meant the end of the ball-bearing fan. Using magnetics as a basis for the fluid rotation will certainly mean a longer fan life. But it's not only fan life we're talking about when discussing the conveniences and features of the Enlobal series. We're also talking about the less time and work involved when cleaning the fan as well. Now, I would imagine as you're reading this review, your computer fans are excessively dirty and haven't seen a damp cleaning cloth for quite some time--if at all. While the Enlobal series won't totally keep your fans cleans forever, it does make them much more easier to clean. This is good!

HIGHLY RECOMMENDED PLUS

Don't be surprised if you see similar designs appearing in the future from other manufacturers. While a ball-bearing fan system was certainly a great evolution several years ago, computer systems are becoming much more demanding. The Enlobal series meets that demand with extremely low friction, which results in less strain on moving parts. The less moving parts which actually touch each other, the better.

At a price of around $12 for the 120mm Enlobal Warp with variable speed control, it's quite affordable. If you currently have 120mm fans in your case, I highly recommend you replace them with a few Enlobal fans by Enermax if you want a much smoother and quieter computer system.

About Enermax

For USA enquiries about Enermax products, please visit www.coolergiant.com.

For inquiries outside the US, please visit www.enermax.com.