Robocop
20th Anniversary Steelbook Edition
Features: Dolby Digital 5.1 (English), DTS 5.1 (English), Original Dolby 4.0 Surround (English), Dolby Surround (French). Two-disc set, featuring Steelbook packaging, several commentaries and featurettes.
Distributor: 20th Century Fox
DVD Release: August 21, 2007
MPAA Rating: R
Running Time: 1 hr 43 mins
Official Website: robocop.com
Fan Website: robocoparchive.com
MSRP: $19.99
Current Price: Check Price / Purchase

Taking a closer look at the Steelbook packaging of Robocop, the subtle brushed steel is matched rather well with the theme of the film itself (just like The Day After Tomorrow). This steelbook holds two DVDs and an insert is included. The steelbook opens and closes firmly and I experienced no problems with this steelbook edition. The artwork on the case has a blend of the gradients of gold, brown, and black, with contrasts of white and gold gradients giving the steelbook a glow when light strikes it. This gives the steelbook more depth than the 2-disc non-steelbook edition (same discs, just a keep case version) which is also available in stores. The artwork on the steelbook appears more dimensional than what it really is when light hits it, as well as the glowing effect. Robocop is another steelbook edition which significantly benefits from this type of packaging.

Robocop: 20th Anniversary Steelbook Collector's Edition

Below you can see the front and back of the Robocop Steelbook.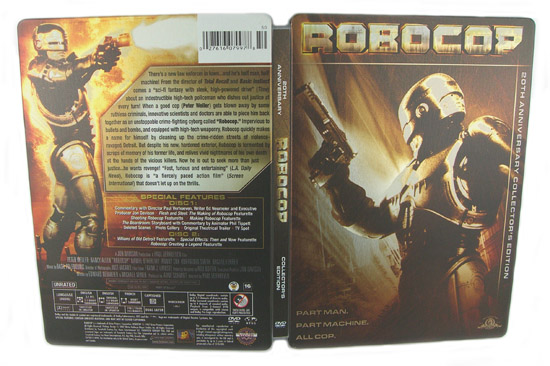 Taking a look inside the Robocop 20th Anniversary Steelbook Edition, we observe some new artwork for this steelbook of the movie, embedded into the case. Behind the two discs, is the ED 209.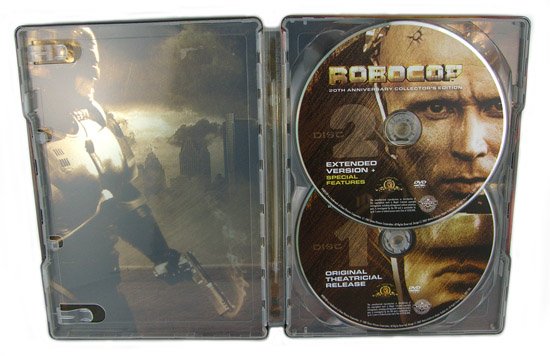 Overall, this is one of the best Steelbook editions available.