On January 5, Adobe announced it's new website which was formerly Macromedia Labs, http://labs.adobe.com. Adobe Labs has been around since October, but not a lot of attention has hit it until the recent announcement on January 9, of Adobe Lightroom, an integration of Adobe Bridge and Adobe Camera Raw. Formerly known as Shadowland, Adobe Lightroom looks to be a very interesting product for photographers.

Download Adobe Lightroom Beta For MAC (registration required)

New Adobe Lightroom Beta Overview Video by George Jardine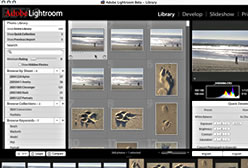 George Jardine has a 20-minute overview video of Adobe Lightroom Beta in the Lightroom Beta section of Adobe Labs' website. It's another great video of this soon-to-be very essential tool for photographers.






Adobe Lightroom Beta Versions
(February 13, 2006) Current Beta version is 2.0

Now supports Intel-based Mac computers
Past Beta Versions:
(January 17, 2006) Beta version 1.1

Removed possibility of file deletion after a duplicate file is imported into the Library using the "Move Files to Lightroom Library" option
Updated processing algorithms for the Panasonic DMC-LX1 and Panasonic DMC-FZ30 cameras
(January 10, 2006) Beta version 1.0b1
Adobe Lightroom Target Audience
Adobe Lightroom is a program mostly meant for professional photographers who have several folders of images, and need a streamlined approach to editing their photos. Lightroom currently (like it's big brother Aperture) does not accept layered images. It will flatten them. This could be a slight liability for wedding photographers (and Layer users), as their images consist of special presentations. But overall, I doubt this will be much of a problem. I haven't heard much about the layer issue, but thanks to Adobe's beta website, they will certainly hear from their beta users of any features which should be added.
Modules: Developer SDK Will Be Available
Adobe says they will be releasing a SDK in the future, so that third party developers can produce plugins and modules. This will probably secure the success of Lightroom. There are many talented software engineers who can present special plugins for individual users, as this was the success of Photoshop.
Why Lightroom Beta For Windows Was Delayed
One of the reasons for the delayed release of Lightroom for Windows users, is because Adobe says they are working extra hard for compatibility with the new Windows OS release later this year. Windows Vista (formerly Longhorn) will be a 64-bit operating system, becoming much more competitive with the familiar looks we see with MAC operating systems.
Adobe Lightroom Videos
As of mid-February, Adobe has added a Lightroom Video section where videos on Lightroom will be stored.
Recommended Websites Covering Adobe Lightroom
Currently, only the MAC Beta version of Lightroom is available, so I personally won't be reviewing it until it becomes available for Windows users. Until then, there is a nice collection of websites which have previewed its features for MAC users:
Luminous Landscape Lightroom Preview (by Michael Reichman)
Lightroom Tips & Tricks (by Michael Reichman)
Lightroom Blog Q&A By John Nack (Adobe Website Blog)
Adobe Lightoom Intro Movie (Adobe Website; 54.7MB File)
PhotoshopUser.com Lightroom Preview (NAPP Learning Center)
Computer-Darkroom Preview (by Ian Lyons)
GFX (T. Morris) Lightroom Information
Photoshop News Preview (by Jeff Schewe)
Layers Magazine Preview (indirect link to .MOV file - by Dave Cross)