Four Thirds
The Olympus E-System brought about a new standard, the Four Thirds Systen, where the lenses were matched to the size of its imager. In comparison, it was like a 35mm camera company making lenses to match their 35mm imaging plane, because in both cases, lenses were made to fit the imaging area. In the case of the Four Thirds system, the sensor is much smaller than a 35mm image plane (and to be more specific, the diagonal measurement of the sensor is half that of a 35mm diagonal). Below, is a scaled version of how the E-System lenses are matched to the sensor.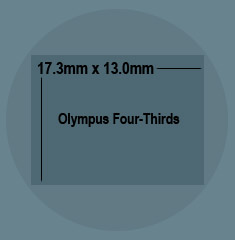 No FOV Crop & FOVEF
Yes, that's correct. There is no actual physical FOV Crop with the Olympus Four Thirds system. Now what? Since the imager is smaller than a 35mm image plane, but has no physical crop, what do we call it? Not fear, as we have something which will not only take care of this situation, but will take care of any situation, whether there is a physical crop...or not. This is where we get the term FOVEF. The letters stand for: Field Of View Equivalency Factor.
2 Image Circles: 2 Formats
And now let's take a look at the Olympus E-1 imager overlayed on the previous 35mm image size on Page 2, and see what they look like on a 35mm lens image circle.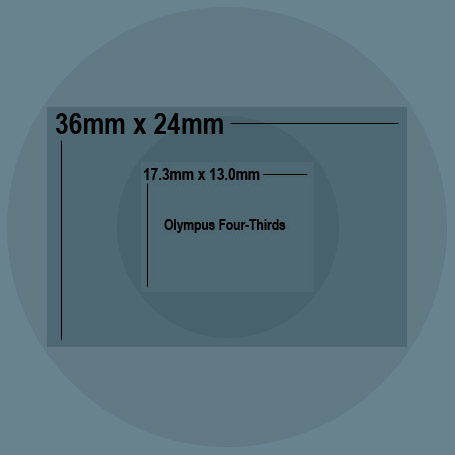 Notice the different sizes of the image circles in the illustration, above? The smaller the image circle, the smaller the size of the lens can be as well. However, the smaller the lenses and the imager, the larger the Depth Of Field. This is a characteristic of small imagers. The smaller the imager, the larger your DOF will be. Depending on your photography interests, this can be a good thing, or a not so-good-thing.