http://www.fitbrains.com
Features: An Online Cognitive Gaming ("OCG") website, created for users to improve on their cognitive levels. A massive collection of games is offered, and membership is optional, however encouraged to maximize the website's offering.
Membership Required: No
Membership Optional: Yes
Membership Fees: $79.95/year or $9.95/month
Official Website: http://www.fitbrains.com

Believe it or not, using our brains is not one of the delightful processes we humans like to do. We like to sit on a couch, move as little as possible, and watch something move across our televisions. Buttons and colors have become the replacement for many thought processes, and in the age of knowledge of any subject available at one's fingertips and a few mouse clicks without stepping one foot out the door, we ask ourselves if this is a good thing. Will our brains shrink over time due to the lack of interaction with our external environment? In the midst of all these questions we have a solution, or at the least, a very promising answer. Brain stimulation via online cognitive gaming.

Why Cognitive Gaming Can Work

It's no surprise the US Army and other military sectors prefer a person who can interact with buttons, joysticks, keypads, and pick out detailed info off a computer screen. Why? Well, it's because the world around us is becoming so technical and digital. Second, it demonstrates a high cognitive awareness and attention to detail, which some do not have if they haven't been involved with simulation games or interact with a computer on a regular basis. Third, our technical creations are now becoming similar to how we think overall. For example, look at how MP3 players are designed. It wasn't too long ago, we had several buttons on them, which were rather frustrating to use. They weren't designed intuitively...were not designed how we think. And then the Apple iPod was spawned, creating a revolutionary way to do multiple tasks with only a simple directional keypad. This design has now been transferred to many other digital devices which once had a confusing assortment of buttons for exclusive use.

Fitbrains.com

A while back, I reviewed Lumosity.com, which has a program to follow to enhance your cognitive abilities. Recently, I came across Fitbrains.com which is similar, and has some really nice games with exceptional graphics. One of the key criteria for my own personal enjoyment, is having a website which features rich graphics which pop on my computer monitor display. Most of us have fairly large monitors these days, and taking advantage of the space as well as the color palette, is a treat.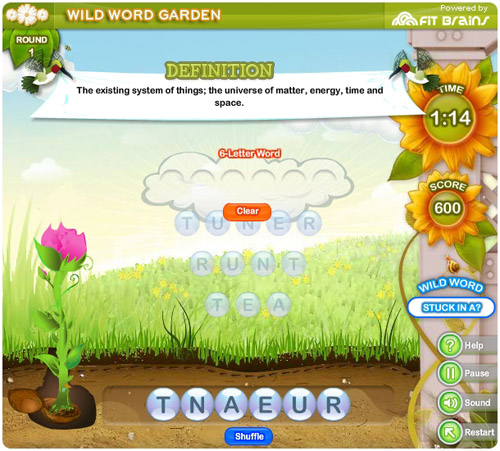 I played Wild Word Garden just last night for a few hours. I couldn't believe how the time went so fast. And my brain was sore from thinking about all the different words being created out of a mixed bunch of letters. This might seem trivial, but in my opinion, this type of cognitive reasoning skill is extremely beneficial in real life. Reasoning skills, in case you haven't noticed when you drive your car on the road, ride your bicycle in the park, or stand in line at a grocery store...are rather lacking.
Another very addicting game is Paradise Island, where parts of words are disconnected and you have to re-connect them as per the theme being displayed on the top of the screen.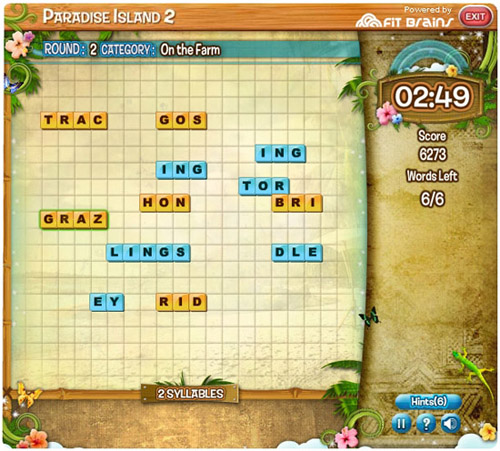 Pros
Improves cognitive awareness and more
A large selection of games
Excellent graphics
Quality of the games will bring you back for more
Membership fee is reasonable considering what is offered
Membership can be billed annually or monthly
Cons / Disadvantages
HIGHLY RECOMMENDED
Fitbrains.com is the second website I've come across which has a lot of quality content, and is very entertaining, as well as stimulating. There will always be critics who downplay the significance of websites such as this, but I can only speak from my own experience: it works. Sure, I can surf the net and read articles and gloss over the theories of conspiracy nutballs, but am I really learning anything? Not really.
I think of OCG websites as the progression of a crossword puzzle in a newspaper. I'm sure we all have parents and grandparents who regularly whip out a pen or pencil, and spend hours completing them. Hek, maybe you do them yourself. But the point is, we've progressed technologically, to the point where we can achieve a wide variety of cognitive stimulation with participation in online cognitive gaming. It's just so simple, it's no wonder there are those who raise their eyebrows. After all, would they rather you spend thousands of dollars on their couch or have you spend under $100 a year, clearing your mind and increasing your reasoning skills. I think the answer is obvious.
Checkout Fitbrains.com and find out for yourself if it works for you. I'd like to hear from you if it does (or if it doesn't). What's nice is the website is free to use, and if you want to get serious in tracking your progress and participate more in-depth with others, a reasonable annual fee ($79.95) or a monthly fee ($9.95) is offered.