Voyager II
Model # HCL-102
Features: Low-profile hard drive cooler with an all-aluminum housing heatsink design, 60mm fan, capable of cooling 3.5" hard drives.
Manufacturer: Vizo
Official Website: vizo.com.tw
MSRP: $19.99
Street Price: $6.99 and up


Hard drive coolers don't get much attention, but they are a part of an advanced cooling system inside your computer. Your hard drive does already have some type of heatsink as part of the housing, but this heat is often hovering around the housing itself on the surface, with nowhere to go. Installing larger fans inside the computer case, thereby creating a larger airflow, is a way to reduce the amount of heat collecting around the hard drive housing, however this may not be a preferred way, since this involves replacing and swapping out several fans. Vizo offers the Voyager II, which is attached to the hard drive, for active cooling.

The Vizo Voyager II not only acts as an active cooling solution for your hard drive, but also is housed in a heatsink for passive cooling as well. The best of both cooling worlds, in one slim package. Operating at 2900RPM, the Voyager II is rather quiet, and non-intrusive with a 22.5 dBA rating. Its 60mm fan produces 13CFM of airflow movement, which is fairly good considering it's size.

Shown below is the Voyager II attached to a Western Digital Caviar SE16 WD2500KS 250GB 7200 RPM 16MB Cache SATA 3 Hard Drive. Installation is really simple, and takes only a few minutes. Four typical PC hardware screws are included with the Voyager II's packaging, and with a few moments of adjusting the Voyager II to the hard drive's mounting holes, docking the hard drive to your PC bay, and attaching the 4-pin Molex connector to the power line inside your PC, you now have an advanced cooling system for your hard drive.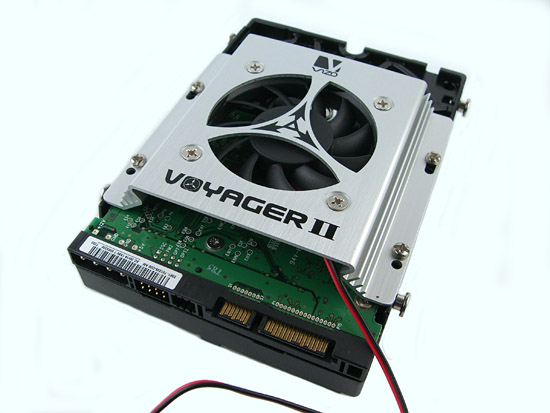 Shown below is a head-on view. The Voyager II has a slim and trim profile, so for those PC cases which don't have a lot of room, you're in luck.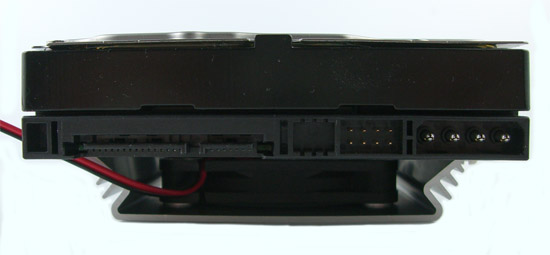 Pros
Inexpensive HDD cooling system
Slim profile for smaller PC cases
Quiet-running fan
Extends the life of your HDD
Reduces surface hard disk temperatures
Active and Passive cooling
Simple and easy installation
Aluminum cooling frame
Cons The Voyager II surprisingly does a good job for its size. The Voyager II is also not as permanent as some coolers, and can be removed just as easily as it was installed.

HIGHLY RECOMMENDED PLUS

The Voyager II hard drive cooler is an affordable alternative to purchasing more complicated setups, but should not replace a necessary upgrade if heat continues to be an issue. Providing an all-aluminum housing plus the 60mm fan, the Voyager II does a great job at keeping a hard drive cooler than what it normally would be without one.

Specifications
Dimensions : 90.0 x 101.6 x 15 mm
DC Fan Dimensions : 60 x 60 x 10.8 mm
Bearing Type : Sleeve Bearing
Speed : 2900 RPM
Noise Level : 22.5 dBA
Max Air Flow : 13 CFM
Rated Voltage : DC 12 V
Rated Current : 0.13 A
Compatibility : 3.5" Bay
Weight : 75g