Fluid Mask 3 has recently been released and DigitalDingus decided to take a look at it. Fluid Mask 3 is a specialized application which takes over where Adobe Photoshop's Magic Wand leaves off. Ever wished you could have more control over areas which needed a background, but couldn't do it properly because the image in the foreground was too complex? Vertus has created Fluid Mask 3, with even more improvements in this third version, to provide you with the tools for dealing with particularly difficult images.

Fluid Mask 3 is a special tool for photographers and graphics artists who need something more powerful and versatile to edit images which cannot be done with other applications. While Adobe Photoshop has competent tools to effectively deal with standard images, there are still images and techniques which Photoshop cannot accomplish without a laborious amount of work. Even the average photographer with a modest collection of images will soon learn there are some images which have the foreground subject so integrated with the background, there will be dozens of hours required for even a tolerable image. Fluid Mask 3 deals with difficult images by sectioning off areas within the image with a special algorithm, which is completely customizable by the user.

Some of the notable features of Fluid Mask 3:
Faster initial image processing when used with multi-core processors
Highly customizable settings
Preserves edge data from your original image
Fluid Mask 3 In Use
Below is a screenshot of using FM3. For this example, I'm using an image which has a lot of trees in the foreground, which makes for a difficult background switch.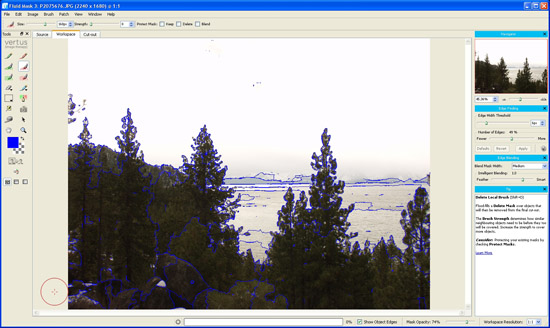 Seen below is a 200% cropped section of the above illustration image. Fluid Mask 3 is very meticulous and "edge smart", where it will find the edges and borders of an image's foreground and the background. Notice there are many sectioned-off areas with blue borders: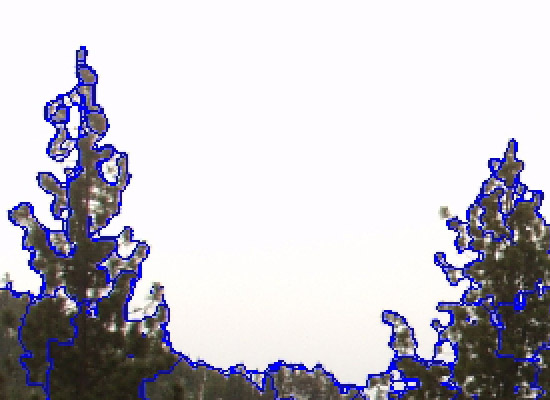 The sectioned-off areas are created for you to edit. These blue-bordered sections can be used to let Fluid Mask 3 know whether it should keep the area, or delete it. When you "delete" an area, you make it possible to add whatever background color you want without intruding on the foreground image. By using the corresponding masks (green is for keeping the area, red is for deleting the area, and blue is for blending the areas), you can quickly but at the same time succinctly, discard unwanted areas within the image: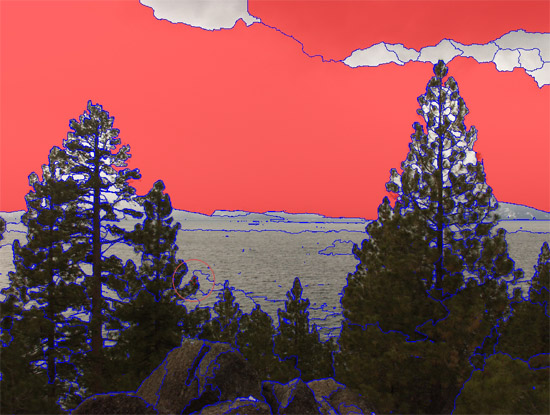 System Requirements
PowerPC® G4 or G5 or Intel® processor
Mac OS X v.10.3.9, or 10.4.9 or later
512MB of RAM
Product activation available via an Internet connection or e-mail
Photoshop CS2, CS3 if Fluid Mask is installed as a plug-in.
Installation as stand-alone software possible
Intel® Pentium® 4 class CPU or later or AMD Athlon XP or later
Dual-core processor recommended
Microsoft® Windows® XP with Service Pack 2 or Windows Vista™
320MB of RAM (1GB recommended)
Product activation available via an Internet connection or e-mail
Photoshop CS2, CS3 if Fluid Mask is installed as a plug-in.
Installation as stand-alone software possible
Pros
Highly intuitive edge recognition
Original image is left untouched
Photoshop-like feel so anyone who has used Photoshop should be ready to go
Save the image as a project, thereby keeping your edited image intact, ready to be worked on again at a time of your choosing
Online tutorials for some great tips on making Fluid Mask 3 work its best
Edge Blending is much better than using Photoshop
Cons
Observations
Very processor dependent, so if you can grab a dual-core PC of any type or flavor, do it.
Suggestions
The Navigator, Object Finding, and Edge Blending sections if FM3, which are located to the extreme right within the GUI, should be customized so you can place them OUTSIDE of the FM3 application main GUI window (like Adobe's Photoshop). Minor irritation, but I'm sure users would appreciate it.
Fluid Mask 3 is one of the best graphics editing programs I've used this year. It simply takes the labor out of editing images where a replacement background is needed. While Photoshop does an ok job at removing backgrounds with its Magic Wand tool, it is no match for Fluid Mask 3. In areas where Edge Blending has occurred, FM3 does a spectacular job of dealing with this very difficult issue.

I recommend a dual-core processor system for this application, however, I used FM3 on DD PC #1 just to see how it would run, and didn't experience any problems except for the predictable slower processing times. FM3 is very stable.

HIGHLY RECOMMENDED PLUS

Vertus has also created one of the best electronic manuals I've set my eyes on. Full color images, not the cheap black and white which I've experienced in several electronic manuals over the years. Color images are essential to a complete learning experience for a graphics program, and Vertus has impressed me.

Fluid Mask 3 also has a collection of recently uploaded tutorials which can not only be viewed online, but downloaded for later viewing at your own leisure.

One of the more difficult tasks in image editing has now been minimized, thanks to Vertus. Fluid Mask 3 welcomes the toughest images you have and will surprise you with its simple interface and will amaze you with its results.