There's not too much information about Trevoli's Photo Finale available online, so DigitalDingus decided to check it out. Originally, Photo Finale was featured exclusively on Lucidiom, Inc. Automated Photo Machines (APMs) in Spring 2004, and with every photo cd created, consumers would receive a complimentary copy of Photo Finale on the cd. Since then, it appears as if Photo Finale has branched out from being used exclusively by Lucidiom, and is now available to a much larger audience.

Photo Finale Premium

Photo Finale is an application which is dedicated exclusively to organizing your images in an efficient manner and distributing them in a variety of ways. The more images you have, the more you will benefit from Photo Finale. Having your images nicely organized is a good thing but what makes Photo Finale even better, is the ability to use features found in more expensive image editing software, as well as creating slideshows directly to CD or DVD. This is done all within Photo Finale.

Photo Finale Startup

When you complete the install of Photo Finale and start it for the first time, you're given a window with a few options. The first option is to let Photo Finale automatically look on your computer for images. By default, this option will search for anything (as shown below on the left image), so be aware this could take sometime if you have a lot of images on your computer--especially if you have more than one hard drive.

The second option (the image on the right above) is to tell Photo Finale which drive you want it to search for images and which image formats will be searched for.

The third option when starting up is to simply click the Cancel button and then click on File, then Get Photos. Once in this menu you will see a variet of options from where to retrieve your images:
Add Photos from Folder
From Camera, Card Reader, or CD
From Scanner
Find Photos Automatically
An even easier way would be to click the Get Photos button which is on the left side, about 3/4 of the way down. The same options as above come up when clicking on the button.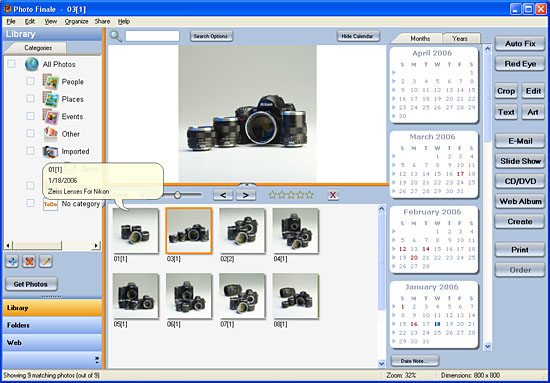 Photo Finale QS vs. Photo Finale Premium
The following table below shows some of the major differences between the QS and Premium versions of Photo Finale:
Features
Photo Finale QS
Photo Finale Premium
Organize photos into categories and folders
YES
YES
Organize, search & view photos by date
using on-screen calendar
YES
YES
Edit multiple photos in batches in 16 ways
-
YES
Drag & drop printing of Web album photos
at full resolution
-
YES
Slides shows with music
-
YES
Email directly from Photo Finale – automatic photo conversion and no additional email software required
-
YES
Create functions
-
YES
Detailed organizing and editing
-
YES
Price
Free
$49.95
Features
Photo Finale Premium Features:
Instant search finds photos as file name is typed
5-star rating system for images
Instant red eye removal
Lossless quality of flipping and rotating of images
500+ templates to choose from for printing (wallet size to 13" x 19")
Categorize images by event, places, people, dates and more
Convert images to black and white or sepia tones
Interactive print preview – zoom, pan, rotate photos on a page
Quick And Powerful Editing
One of the many nice features of Photo Finale is the image editing. Simply click on Edit (located on the panel to the right of the calendar display).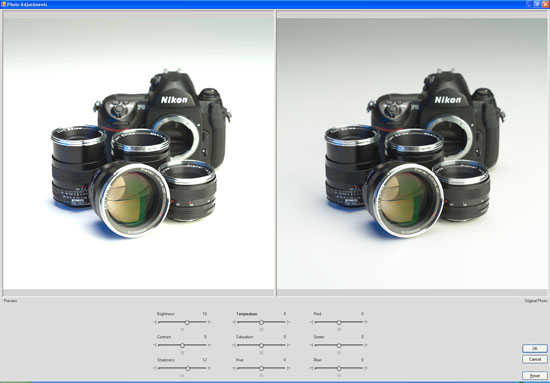 Templates For A Variety Of Events
Photo Finale also has a large selection of templates for just about any occasion or event. These templates are not only fun to use, but come in really handy when time is just not on your side and you need something to present in the very near future.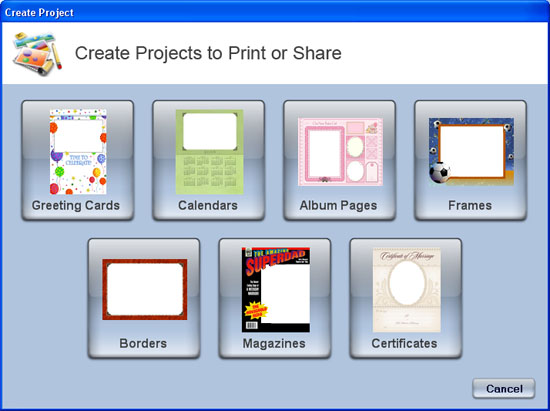 Web Albums
Before you begin creating your web album, you will need to register for an account to have your images hosted: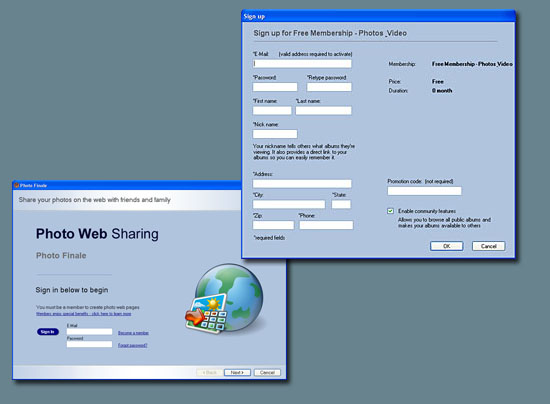 Trevoli offers two choices for your web album needs:
| | |
| --- | --- |
| Free Membership | Premium Membership |
| Archival quality (high-resolution downloads) | Archival quality (high-resolution downloads) |
| 100 Web Albums | 5000 Web Albums |
| Share images online with friends and family | Share images online with friends and family |
| 512MB of storage | 5GB of storage |
| Free | $19.99/year |
Web Albums are the best ways to share images with your friends and relatives. As most of us probably know, our relatives are spread out, and mailing prints is not often convenient or even feasible. It's also exciting to view to images which just took place. Imagine going for a hike, then uploading photos for that particular day and telling your friends and relatives who live across the US or even the world, to view the images. And just imagine if you had friends or relatives in another country who wanted to do the same and share images with you from their country. Web albums have unlimited uses and potential.
Pros
One of the best GUIs I've ever used
Simple layout yet very dynamic if needed
Web Albums
Pleasant layout of tools and buttons
Quick processing times
Large selection of templates
User has complete and utter control over the areas where Photo Finale searches for images
Efficient and fast image search engine
Easily add categories with few steps
Access to online printing services
Responsive application--even when processing several images
Categories and folders are conspicuously placed
Minimum recommended processor speed is amazingly low considering what the application does
Takes advantage of multi-processor motherboards
Reasonably priced
Cons
Observations
Uses at least 105MB so be aware when using Photo Finale with other imaging applications
Photo Finale appears to not create additional files within your image folders in order for quick viewing of images (this is a good thing)
Photo Finale Premium was a delight to use. The Graphical User Interface (GUI) made it easy to find images and process them without the need to resort to the user manual. To get the most out of Photo Finale Premium, I do recommend browsing the manual however, as it contains some helpful tips.

HIGHLY RECOMMENDED

One of the features I have to make note about is the ability to control just where Photo Finale searches for images. I've used other image programs in the past and some of them do not have a manual search for finding images. Seems strange, but nonetheless it happens. I'm excited to say Photo Finale is not one of these programs. You have complete control over where your images are to be searched and found.

The only Con I found was the limited EXIF info when displaying images. It would be nice to have additional EXIF info and hopefully it will be expanded in future versions of Photo Finale.

From the occasional photographer who likes to shoot a few images here and there to the image enthusiast, I highly recommend Photo Finale Premium. It's one of those programs which should be readily available on your desktop.

The free Photo Finale version, Photo Finale QS Version, can be downloaded on the Photo Finale QS Download page. Please note you DO NOT have to include your email for the download. However, if you're interested in the product, I think Trevoli values your privacy and your email would not be flooded with unrelated stuff.