Silverstone's FN82 is quite the innovative product. Ever wanted to upgrade your existing 80mm fan to something a little larger but realized the larger fan had mounts which didn't fit with your current 80mm case fan? Silverstone has a solution you'll be interested in.

Silverstone FN82

The FN82 is a 92mm fan which still resides in an 80mm form factor. Many computer cases still have the 80mm template etched into their design and if you've owned your computer for a while, this is probably what you've encountered when deciding on upgrading. With the FN82, Silverstone has produced a fan which increases the total air moved out of your case by 25-30% but still retaining the same 4-screw 80mm placement.

The FN82 moves 36.89CFM of air which is a considerable amount given the size of the fan. Yes you could purchase larger fans which move even more amounts of air, but the FN82 can be placed where few other fans can hold residence. Small and compact computer cases are becoming popular and finding a fan which can maximize the space is certainly a factor.

Silverstone FN82 Features
7 specially designed blades for maximum airflow
Ultra maglev oil protection bearing system
Rubber rings for vibration dampening
Rugged quality plastic case
Super-long power cable (24") for special custom cases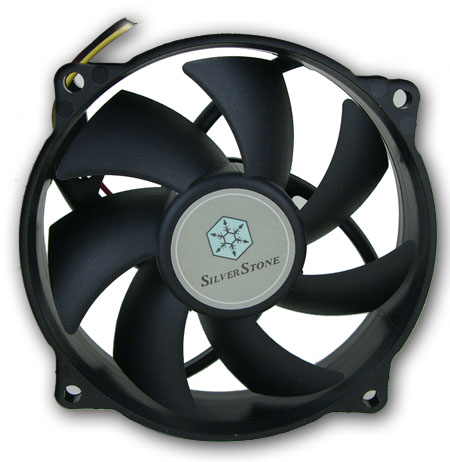 Silverstone FN82 Specifications
Accessories
• 4 Standard Computer Screws
• 4 Vibration Dampening Pads
• 24" 3-pin power cable
Rated Voltage
12V DC
Start Voltage
5V DC (Power On/Off
Operating Range
10.8V - 13.2V
Consuming Current
.22 Amp Max
Consuming Power
2.64W
Rated Speed
~2100RPM*
Fan Blades
7
Airflow (a)
36.89 CFM (At Rated Voltage)
Airflow (b)
1452m3/min (At Zero Static Pressure)
Static Pressure
2.49mmH2O*
Sound Level
26 dB(A)*
Notes
* In Free Air At Rated Voltage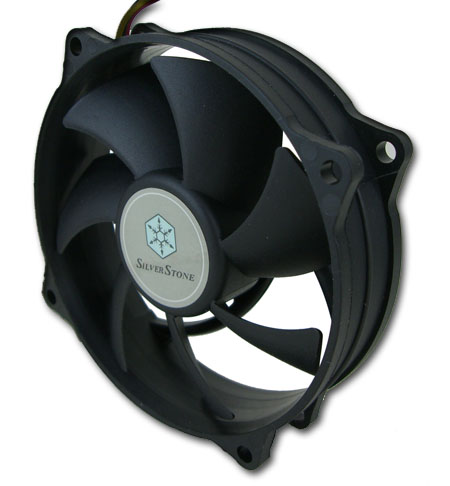 Before And After Installing The FN82
I personally have an old 3DCool PC case purchased many years ago. Just above the Power Supply Unit (PSU), there is another fan which is used to push out heat coming from the PSU and surrounding area within the top portion of the case (on a side note, as we take a look at a Lian Li PC-V2100B Plus II case, the PSU is at the very bottom).
After removing the standard 80mm fan and replacing it with the FN82, there is not only a visible difference, but a considerable amount of more air can be felt exiting the case. This is a good thing.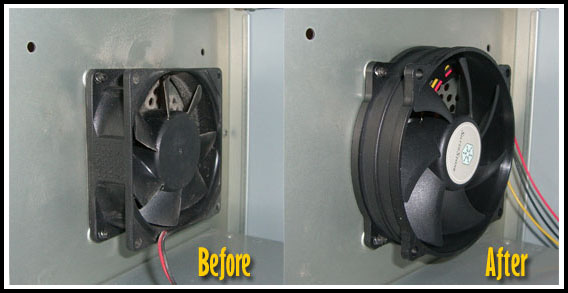 Pros
Fairly quiet fan for 37CFM of air being moved
About 25% more air travel versus an 80mm fan
Dampening pads improve not only the noise, but keep vibrations of the computer from affecting the fan mechanism itself.
An amazing 2 feet of 3-pin power cable length!
High-quality rugged casing
"In-line splitter" (4-pin--3-pin--4-pin) so you won't lose an extra 4-pin molex connector
Affordable for the amount of fan you get
Cons Silverstone's FN82 is a great solution for your typical 80mm fan replacement. Your only obstacle you might face when installing the FN82 is making sure the fan's outer ring has enough room in your computer case where the 80mm fan once was.

Compared to other 80mm fans which I currently own, the FN82 is less "noisy" which is a testament to Silverstone's design. I would also like to comment that your CPU and Graphics Card fans will be the most audible, so in most situations, if you purchase a fan which has a 30dB rating or thereabouts, don't worry too much. The sound will be drowned out by your other fans.

HIGHLY RECOMMENDED

Like the previous review of the Silverstone FN81, I highly recommend getting a fan controller and using it for your particular needs. Enthusiast gaming moments, summer weather, and whatever else comes along which does not require you to power all your fans all the time.

For as little as $25, you could have four FN82 fans in your computer case, moving 148CFM of air. That's a hell of a deal when you consider how much you paid for your other components.