SilverStone Technology is widely known for their innovative, sleak-designed professional computer products. In this review we're taking a look at the FN81.

Silverstone FN81

The FN81 is an 80mm fan which is meant to replace your typical 80mm fan you've been using for who knows how many years inside your computer case. The FN81 is a standard replacement but still has a few features which are certainly worth the few extra dollars compared to other fans.

Silverstone FN81 Features
Low acoustic performance (23.5dB)
Rubber rings for vibration dampening
High quality ball bearings
Rugged quality plastic case
Buying a new fan or two for your computer system is really a good idea. They're inexpensive, and if you've had your computer system for over 3 years, the fan is certainly behind the times as far as quality, and may not be performing as good as it could. One of the overlooked components of a computer system is...the fans. And possibly, the fans are the absolute last component you would think about replacing. Considering how cheap they are, they shouldn't be.

The FN81 In Use

Recently I purchased a Lian-Li PC-V2100B Plus II. It's one of the largest server (or workstation) cases available (other than looking on eBay and finding a 1980's server case which was recently unearthed from a retired IT tech) and offers a few options for adding fans. In this particular case (literally, come to think of it) you can add two 80mm fans above the area where a PSU (Power Supply Unit) would be located. Lian Li does a pretty good job of providing enough fans to move the air around and out of the case, but when dealing with cooling, you have several different situations which require different setups.

Summer months are quite warm (depending on where you are, quite hot) and will certainly put more of a demand on your computer system than it would during the winter and spring months. Almost all of us have only one solution of using our fans: run them all at the same time forever. With the help of a simple fan controller you can turn fans off and on, which can be only those fans you will need during the warmer temperatures of the year and/or during occasions where you'll be "extreme gaming". Initially in my own particular situation, two additional 80mm fans will be running on-demand: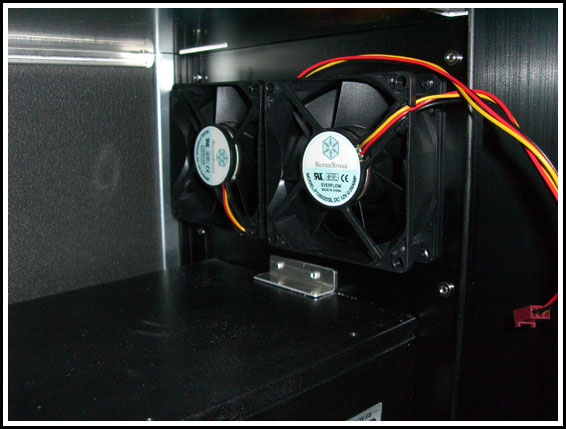 Silverstone FN81 Specifications
Accessories
• 4 Standard Computer Screws
• 4 Vibration Dampening Pads
Rated Voltage
12V DC
Start Voltage
5V DC (Power On/Off
Consuming Current
1.08 Amp (Max 1.20W)*
Rated Speed
2050 rpm +_ 10% rpm*
Airflow Voltage
25.46 CFM (0.72m3 / Min)
Static Pressure
1.64mmH2O*
Sound Level
23.5 dB(A)*
Notes
* In Free Air At Rated Voltage
Pros
Low-noise fan for 25CFM
Dampening pads improve not only the noise, but keep vibrations of the computer from affecting the fan mechanism itself.
Generous 12-inches of 3-pin power cable length
High-quality rugged casing
Very affordable
Cons Silverstone's FN81 can be purchased for as little as $2.49 on some online stores and mostly around $4-$5. The noise of two FN81's is barely noticeable, but this will of course depend on what kind of environment you're used to. It will also depend on the type of computer case as well. In my situation, the Lian Li PC-V2100B Plus II has a thin layer of foam on the side panels and other areas of the case so it greatly reduces any noise coming out of it.

One of the Pros I also noticed was the generous power cable length. I've installed many fans for my own computer systems and clients and in many cases the fan manufacturer has inferior length cables. The FN81 has 12" of cable which leaves a good amount of room for positioning.

HIGHLY RECOMMENDED

The Silverstone FN81 should be a required replacement for older and even current computer systems. Let's face it folks, we have computer manufacturers outsourcing their components for the cheapest price possible. Building your own computer system is the best way these days but many don't have the skills. The next best thing is buying aftermarket replacement parts. They are considerably better in quality. Companies like Silverstone specialize in making particular components for your computer and from my initial experience with their FN81, I am very pleased.