Siber Systems, Inc. has a very simple, easy-to-use, and convenient password program called RoboForm2Go. Formerly known as Pass2Go, RoboForm2Go is to be used on your USB Flash Drive. In case you haven't figured out just why you should buy one of these USB things, this is the time as prices for USB Flash Drive are very cheap and hold a considerable amount of information. If you do not have a USB Flash Drive of your own, you can conveniently order one along with RoboForm2Go ($39.95) on the website for a very reasonable price of $9.95*.

RoboForm2Go

RoboForm2Go is a one-click form-filler and password management application. What does that mean, exactly? Well, it means you can spend less time entering in your login IDs and password information, as well as being secure while you do it. It also means you can take your login information for as many websites as you could possibly be interacting with, and use your encrypted information on any computer with a USB2.0 or USB1.1 port.

Once RoboForm2Go is installed, a "browser bar" is installed within your internet browser. I have not installed RoboForm2Go on a MAC system or used it with FireFox, so I can't comment, but on Internet Explorer 6.0, I didn't have any problems. Note that once you unplug the USB Flash Drive from the USB port on a computer, the bar conveniently disappears, thereby leaving almost any trace of RoboForm2Go being installed on the computer. Since the passwords are all retrieved from the USB Flash Drive, there isn't any information to be stolen or hacked from temp files on the computer. The only thing a person would find if they searched hard enough would be few files indicating RoboForm2Go was used.

Living In A Password Society

In case you haven't noticed, you need a password and login ID for just about anything these days. Whether it be to simply view your email at home or logging into your email at work, passwords and login IDs are following us around wherever we go. The problem we face, is properly storing this important information and making sure inquisitive people will not have access to them. Most of us are using archaic methods for password retrieval. The pen and ripped paper from a piece of old junk mail, is currently the most popular method. While this is marginally safe at home, it just isn't safe at work and especially when visiting other places where internet browsing is possible.

Too Many Passwords, So Many Vulnerabilities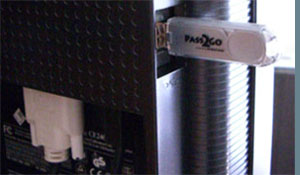 If you've been on the net for any amount of time, you probably have a nice little collection of snippets of paper with your passwords and login IDs on them scattered all over desktop. Obviously, this is not a preferred method of storing your login information. So, suppose you store your passwords in a text file on your computer. Well, this is somewhat better than having a paper-strewn desktop, but what about when you leave your home computer and go over to a friend's house or an internet cafe to browse the web? And what if, in the unfortunate event, your home computer gets stolen? Your insurance company can replace your computer, but most certainly cannot replace what is on it. If you're used to only getting the information from your computer and your computer is stolen, in addition to not having a backup, you're seriously screwed. You won't be able to remember all the login information anyway, so the tedius task of calling up all your credit card companies, utility companies, and even emailing particular websites you visit to change those passwords, will be necessary.
Ever heard of Keyloggers? These are very tiny programs who's job it is to record every single keystroke you make on the computer. They won't show up in Task Manager or in your typical Program Files folder. Keyloggers are special programs which are activated and deactivated by only the user who put it on the computer. The Keylogging user creates a set of special keys to type to open the program, close it, and starting it.
RoboForm2Go also gives phishers a very hard time. An email is sent you, informing you your password has been violated or some form of information is in jeopardy and you must re-login to the website immediately to change your login information. Well, once you click the link in the email you are transported to what you think is an official site, but the URL has been cloaked and redirected. RoboForm2Go records the URLs you visit and matches the login info with those URLs. So for example, if you received a fake PayPal email, and you go to the fake PayPal website, RoboForm2Go will not automatically fill in the information from your PayPal login info because the URLs (i.e., website links) do not match.
RoboForm2Go Major Features
One click logins
RoboForm enters in passwords and logins when you navigate to websites
Ultimate Security
Encrypts your data with AES (Advanced Encryption Standard), which is one of the strongest encryptions available
Computer Independent
No installation on the computer is required as the files and the executable is run from the USB Flash Drive
Only one password
Only a single Master Password is required as RoboForm2Go remembers all the other passwords and login IDs
Portability
By using your current USB Flash Drive or purchasing one along with RoboForm2Go, you can take all your important login IDs and password information with you, where ever you go.
Great For Online Contests, Web Product Samples, and More
Probably the best feature RoboForm2Go offers you is the convenience of filling out difficult and extremely long forms which can be required for online contests. Also, if you like to receive product samples from various companies (which yours truly does on a routine basis), you get frustrated by doing it manually so many times. While Google's Autofill feature works, it still isn't as intelligent as RoboForm2Go and also requires you to store your information on the computer. With RoboForm2Go, your online contest and product sample participation can increase significantly.
Pros
One-click login of passwords and login IDs
Keeps vital information off hard drives
Portable and powerful as RoboForm2Go can be used in areas which are known havens for identity thieves (universities, libraries, internet cafes) but still keeps you safe as you hold the information--not the computer you're on
Uses AES (Advanced Encryption Standard) encryption
Performs a series of sequences for elaborate online forums
Absolutely essential for online contests and sample products from websites
Defeats the infamous Keylogger
Thwarts Phishing
Reasonably priced
Cons If you've ever wondered just how convenient it is for a program to intelligently remember all your login information from the hundreds of websites you visit, I will say right here and now, RoboForm2Go is the most easiest application I've used. I am one of those people who download "free" password remembering apps frequently and they all just do not compare to Siber System's RoboForm. Many programs don't even offer encryption, and the ones that do, regularly enter in the wrong user IDs and passwords on the wrong sites.

HIGHLY RECOMMENDED PLUS

I almost feel like James Bond walking around with all this important information with me being stored on such a high-tech device. What makes me feel better though, is that I have a Master Password which must be entered when I'm on any computer. This is the only password I have to remember which is much less than the hundreds of passwords and login IDs I currently have stored. I recommend making the password a long string of characters and numbers.

For just under $50, you can finally throw away those passwords and login IDs you have written on every kind of piece of paper imaginable, and centralize that information to be readily available, anytime you need it.
---
* You can get a $10 discount if your 2005 income was less than $20K. You must provide documents to Siber Systems for verification. After the discount is applied and you qualify, you basically get the USB Flash Drive for free.