There are several "file-matching" programs available, but I decided to take a closer look at Salty Brine Software's FolderMatch because of a few features I don't commonly find with such a program: MD5 and SHA methods of comparing file sizes. Salty Brine also makes several more applications which you may find useful and I recommend their website, http://www.saltybrine.com.

For purposes of this review, there is a website dedicated exclusively to Foldermatch, and can be visited by going to http://www.foldermatch.com.

File-matching programs have become more useful year after year. Why? Well, it has to do with computer users buying larger hard drives, and storing more information on them than ever before. Personally I run into several gigabytes of data which are redundant by accident, and not by purposeful design. It just happens. In the age of too much information, a computer which will save anything at the touch of a mouse click, and the brain of a human which collects anything within its grasp, there are bound to be chunks of redundancy which really don't need to be there. This is where FolderMatch can help.

FolderMatch (version 3.4.8)

FolderMatch is a highy sophisticated yet easy to use file-matching application, designed to give you absolute confirmation of a duplicate file residing on your computer system. Not only does it provide a wealth of file comparison options, but can take your massive collection of files (spanned across several hard disks) a step further by showing which files are duplicates, delete the older duplicates at your command, and more.

Some Of The Features Of FolderMatch
Compare folders and sub-folders between hard drives, CD/DVD-ROM drives, floppy drives, Zip drives, and even Network drives.
Supports the following file systems: FAT, VFAT, FAT32, HPFS, NTFS, CDFS, and UDF
MD5
SHA (Secure Hash Algorithm)
Greater than 4GB file sizes supported
Include/Exclude and Hidden file options
Displays differences between two MS Word docs, ASCII text files, Excel spreadsheets, RTF docs and Adobe PDF docs
Rename multiple files and folders
9 auto-synchronization methods
User-defined synchronization methods
Results of Foldermatch can be printed and/or saved to a file for future investigation
The FolderMatch Main Menu Of Icons

Figure 1
Finding Duplicate Files
A really simple way to find duplicates of your files is to use the Duplicates icon displayed within FolderMatch.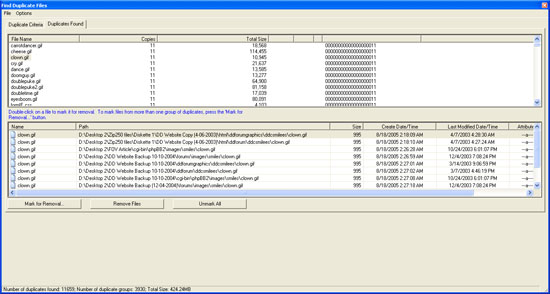 Figure 2
Comparing Two Files
After you've found a few duplicate files, there may be times when a more narrowed-down comparison of just a particular file is needed.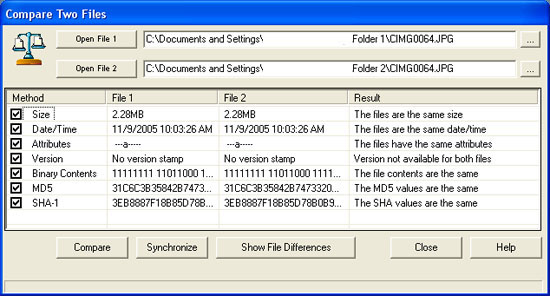 Figure 3
The Compare Graph
Another nice feature of FolderMatch is you can visually see the differences of the two folders with a few mouse clicks: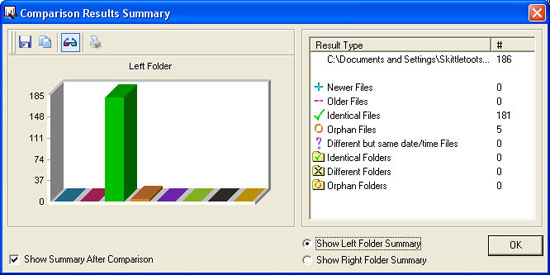 Figure 4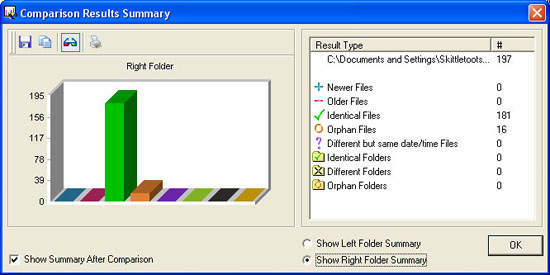 Figure 5
Pros
Great interface
Easy to-to-identify icons with appropriate colors
Quick processing of large amounts of files and sizes
Extensive amount of available information for your files
Extensive Help section which is very informative
Cons
Cannot expand folder path in Find Duplicates Files to show ALL paths of a duplicate file which resides in more than eight locations (see Figure 2 above).
Observations
In a very rare situation, you MIGHT encounter an error message like this:


Figure 6

What this means is that somewhere within the location you specified, there is a corrupt and/or invalid file. This is due to a Windows renaming issue or something else, and does not have to do with the integrity of FolderMatch itself.

Salty Brine Software informs me they are changing this error message to let you know which file is having the issue with FolderMatch, instead of this somewhat misleading error message--because it's really not an "error message" per se, it's merely letting you know there is a file which is improperly named and therefore cannot be read correctly by FolderMatch. Salty Brine is on top of this and I expect an update to FolderMatch in the near future.

I would like to repeat this is a very rare message I encountered. 99% of you won't encounter this message.
Conclusion
FolderMatch is a particularly useful application to have. You can simply want only the basic options of finding out which files are duplicates, or you can take the process a step further by fine-tuning the many additional options available in the very user-friendly interface, such as comparing two files, renaming multiple files or folders, setting the dates and times of multiple files, viewing hex dumps, and even synchronizing your system clock to keep your files consistent.
HIGHLY RECOMMENDED
I experienced only one particular Con with the program, which was being able to view all the file locations of where the duplicate files existed from within the Duplicate File application. The reason why I considered this more than just an observation was that the window should be expandable like the main window of FolderMatch.
Probably the best feature of FolderMatch is how fast it will process large amounts of files. I had dozens of gigabytes of just small files ranging from only 5KB up to 100KB, and FolderMatch did an excellent job of getting the required information, indexing it, and presenting it to me in a simple format which gave me choices of what to do next with the information.
For anyone who has a large amount of files and are trying to find a program to contain the redundancy of those files, FolderMatch should be on the top of your list. I wouldn't be surprised if some of those who purchase hard drives, just need to clean them and delete the duplicate files, without ever needing to purchase a hard drive in the first place.
FolderMatch is especially a great asset for photographers. Photographers have thousands of images on their drives, and very frequently edit those images. Well, what happens if you edit an image and don't rename it? This has happened to me personally, and it becomes a nightmare to find which image was the original or even if the original was deleted. Foldermatch can tell you the differences of a file down to the byte. When you include MD5 and SHA-1 for verifying the originality of the files, you can be certain you will know if a file is identical or not.
Salty Brine Software offers a 30-Day Trial of FolderMatch to make sure you can take full advantage of the program before you purchase it. I highly recommend you take a test drive of FolderMatch.