ReaSoft's ReaConverter Pro 4.0 is a powerful image converter application. Due to so many proprietary image formats in the software world, it's very difficult to convert images to one format without purchasing and installing several software programs. Not only is this very tedius, but it's also expensive. ReaConverter comes in three versions which give many options for the individual who needs a particular function of an image converter.

ReaConverter Pro 4.0

Not only is ReaConverter one of the most comprehensive image converters around, it also has features photographers will really come to enjoy. Batch processing of multiple image formats, batch processing of effects, batch processing of images with Action Sets, and the ability to batch process to a different image size are all part of ReaConverter's abilities.

3 Versions Of ReaConverter Pro 4.0

There are three versions of ReaConverter. This particular review covers the professional version, but you may not need all the features of the pro version
Features
Lite
Standard
Pro
340+ formats
-
YES
YES
Common formats support
YES
YES
YES
Additional formats support
(PDF, EPS, PS, DCR)
-
-
YES
Common image editing
YES
YES
YES
Advanced image editing
-
YES
YES
Digital camera RAW files
(NEF, CRW, ORF, etc.)
-
-
YES
System integration
-
-
YES
Command line interface
-
-
YES
Price
$24.95
$49.95
$99.00
Features & Price
ReaConverter Pro 4.0 Features:
Edit and modify images using Sharpen, Detail, Smooth, Blur, and contour effects
Over 340 image formats supported
Convert PDF files to images
Convert EPS files to images
Command line utility
Transparency effects
Create transparent PNG and GIF files
Create Action sets
ReaConverter Pro 4.0 sells for $99. If you do not deal with PDF and EPS files and do not need a command line utility, ReaConverter Lite and ReaConverter Standard should be just fine.

ReaConverter Pro 4.0 In Action

What I found helpful about ReaConverter was the separation of functions by steps. The steps of your image conversion are clearly laid out for you.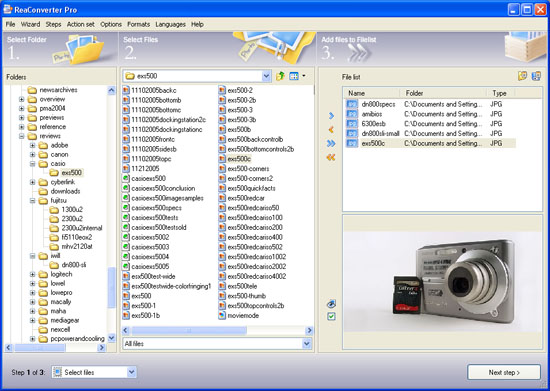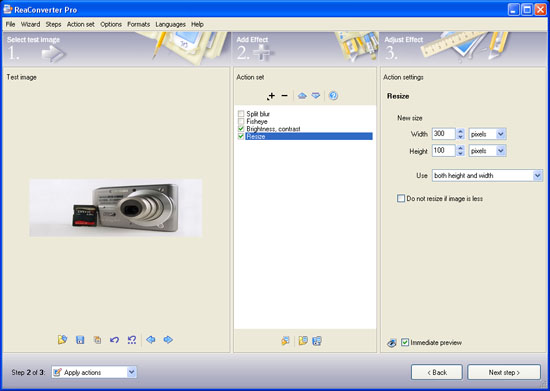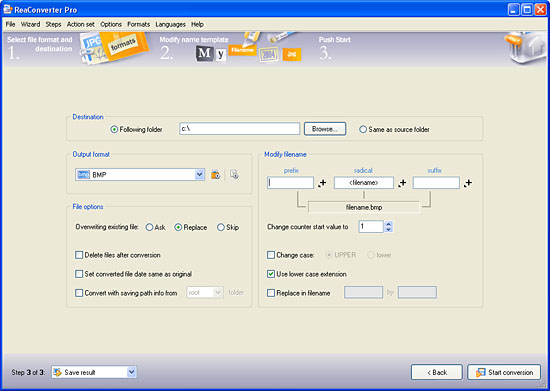 Pros
All-In-One image converter
"Drag & Drop" feature allows you to drag images outside of the main ReaConverter application window (i.e., from your desktop)
Hundreds of supported image formats (even WebShots images)
Fairly easy GUI
Quick processing times (even quicker on an above-average PC)
Pleasant interface
Re-sizable window which appropriately re-sizes the inner contents as well
Intuitive layout of buttons and controls
Watermarks can be easily implemented
Color resolution adjustments
Images with different extensions can be adjusted/edited at the same time
Cons
Observations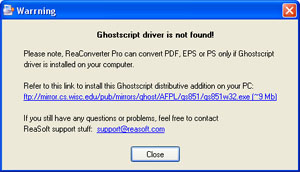 GhostScript driver is required for conversion of PDF, EPS, and PS files
ReaConverter Pro is one of the best image converter programs out there. Not only is it fast, but hundreds of image formats are supported. Over 95% of the image converters available only convert a handful, and one of the biggest problems with image conversion applications, is they lack a comprehensive selection. This is where ReaConverter Pro takes over.

HIGHLY RECOMMENDED

I didn't have any issues converting files. ReaSoft has done a great job and has minimized the application size while maximizing its performance and versatility. ReaConverter Pro does cost $99, but if you don't need the features indicated in the above table, the ReaConverter Standard should suffice at only $49.95. Of course, if you have multiple cameras and require a NEF, CRW, CR2, ORF, and more proprietary camera manufacturer image formats, then I strongly suggest the Pro version hands down.

It's nice to know your image conversion search is now over. No more searching the net for those "free" image converters which sometimes takeover your file associations and make a mess of your Windows operating system. By the time you're finished, you have dozens of different applications installed just to convert all the different images you have.

A 15-Day Trial Version of ReaConverter Pro 4.0 can be downloaded on the ReaSoft Downloads page.