Q3 Innovations, LLC specializes in personal safety and monitoring devices. Q3i is mostly known for its AlcoHAWK line of products, which are widley used by law enforcement, medical professionals, government agencies, and even employers in the private sector. However during this year's Consumer Electronics Show (CES 2006), Q3i introduced a brand new line of products to cover a much different area: heat. The ThermoHAWK series was designed to give not only the professional user, but the average consumer a way to quickly, accurately, and most of all, safely obtain the temperature reading of virtually any surface without even touching it.

The thermoHAWK 200

The ThermoHAWK series are the first ever pen-sized, no-touch infrared thermometers currently on the market. The ThermoHAWK 200 has a measuring range of -33 to 110°C (-27 to 230°F) with an accuracy of +/- 2.5% (2.5°C). Response time is about 1 second (less in some cases). Power requirement is only 2-LR44 batteries, which are conveniently provided.

The ThermoHAWK 200 measures 3.5-inches (not including the keychain loops) and only a half-inch in diameter. It can be easily mistaken for a modern pen with its brushed aluminum-like finish.

The benefits of having a compact, portable thermometer without having to touch the surface of the object itself are readily apparent. Not only can the source of the heat be dangerous to touch, but if the source of the heat is moved out of its natural environment, the heat measurements will be different and not reliable.

Having a compact measuring device means more temperature readings can be taken from a given area due to the smaller form factor such as the ThermoHAWK series. Getting an accurate reading from hard to reach places is also more feasible.

A Closer Look At The ThermoHAWK 200

Below you can see the infrared sensor which is about 1/3 of an inch recessed into the pen-sized module. As objects emit more heat, they emit more infrared energy. The ThermoHAWK is specifically designed to target infrared emissions, resulting in highly accurate measurements.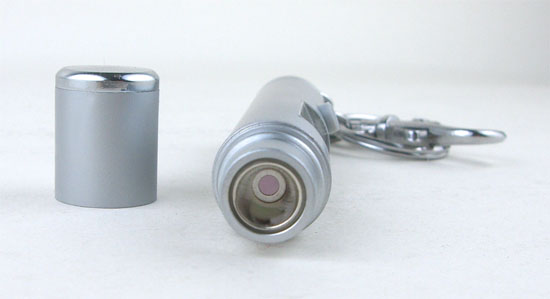 Shown here is the other end of the ThermoHAWK 200. Screw off the cap (it does take a little bit of effort so don't think you have the wrong end), and place the included LR44 batteries inside with the positive side facing outward. Q3i provides a simple instruction paper in case you haven't installed watch batteries in a while.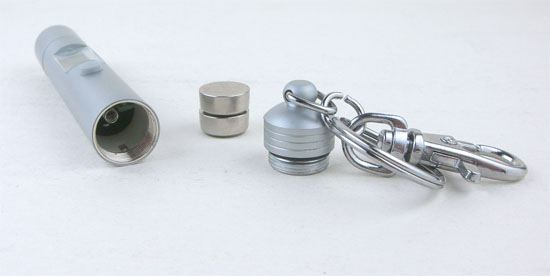 ThermoHAWK Series Specifications
ThermoHAWK 200
ThermoHAWK 400/400L
Measurement Range
-33 to 110°C (-27 to 230°F)
-33 to 220°C (-27 to 428°F)
Operating Range
0 to 50°C (32 to 122°F)
0 to 50°C (32 to 122°F)
Accuracy
+/- 2.5% (2.5°C)
+/- 2.5% (2.5°C)
Resolution
0.2°C (0.5°F)
0.2°C (0.5°F)
Response Time
1 second
1 second
Distant To Spot Ratio
(D:S)
1:1
1:1
Emissivity
.95 Fixed
.95 Fixed
Dimension
0.50 x 5 inches
0.50 x 5 inches
Weight
1.6 ounces
1.6 ounces (400 model)
Power
(2) LR44 batteries
(included)
(2) LR44 batteries
(included)
400L requires one AAA battery
MSRP
$49.99
$69.99 / $99.99
Pros
Compact & VERY Portable
Touchless measuring of temperatures
Accurate to within a few degrees
Measure the heat of a source without needing to move the source from its native environment
Professional results in an affordable package
Cons
Observations
Keychain end where you screw the cap off to insert two LR44 batteries is somewhat stiff. After a half-dozen times of screwing and unscrewing the cap, the "stiffness" goes away.
Distance-to-Spot (D:S) ratio of measuring temperatures is 1:1. This means if you want to measure the heat of a source that is 24-inches in diameter, you would hold the ThermoHAWK 24-inches from the source. If you had a heat source which had the diameter of a dime, you would need to position the ThermoHAWK respectively.
Q3i says the response time of measuring heat with the ThermoHAWK is about 1 second, but on some occasions, I found the ThermoHAWK to give a reading in less than a second.
The ThermoHAWK 200 is a very convenient, compact, and accurate tool for measuring heat from a wide variety of sources. The amount of different sources the ThermoHAWK 200 can be used for is basically left to your own imagination. While using the ThermoHAWK 200 for only a few days, I managed to measure the heat from several sources which included hardware within my computer case (PSU, processors, hard drives, video card, and memory modules), CRT monitor display, television, room temperatures, and even vehicle temperatures. In all cases, it was very interesting to see how different areas gave off different heat readings--especially within my computer case which made me re-think fan placement.

HIGHLY RECOMMENDED

The ThermoHAWK is one of those devices which is simply too inexpensive not to have around. If you're reading this review, you obviously have a computer system of your own and might be surprised at the temperature readings you receive from the ThermoHAWK. In fact, you might even second-think your fan placement like I did.

Using the ThermoHAWK touchless thermometers for your computer is just the beginning of the kinds of things you can use it for. Vehicles, boats, backpacking, hiking, household appliances, outdoor tools, and whatever else you can think of, the ThermoHAWK is ready to give you accurate readings within a second. I would certainly put this on your list of gadgets to get this year--sooner rather than later. By the time you finish this review, you probably will already have a few ideas of how a ThermoHAWK could make your life easier, as well as being a vital tool in preventative maintenance.