I Saw The Devil (Unrated)

Features
: 27-minute making of, many deleted scenes.
Codec / Resolution
: MPEG-4 AVC / 1080p
Studio
: Magnet
Distributor
: Magnolia Pictures
Theatrical Release
: March 4, 2011
This Release
: May 10, 2011
Region
: Region A/1
MPAA Rating
: Unrated
Aspect Ratio
: 1.85:1
Running Time
: 142mins
Number Of Discs
: 1
MSRP
: $19.99 USD
Current Price
:
Check Price / Purchase
Serial killers have been around much longer than the entertainment industry's presentations of them. The more famous movies which exposed the serial killer genre appears in the 70's and early 80's. Since then, we've had many new interpretations, and especially directors and writers who have dared take an even deeper look into the mind of a demented soul who has an apathy for human life.
I Saw The Devil is one of those films which is certainly not for the faint. If you can tolerate a CSI episode, that's nice, but ISTD is on a completely different level of a story of a man who seeks revenge on another for brutally killing his fiance. If you've seen Law Abiding Citizen, you're on track, but it's still nowhere near the level of intimacy you experience in this film.
I sometimes ask myself is there a line that should be drawn when creating a film like this, and my response is films like these are essential, but only if the amount of brutality and gore is balanced with the understanding of what's going on inside the head of the killer (and even the victims). When brutality is the only saving element in a movie, it diminishes into a more short-lived horror fix.
Director Kim Jee-woon and Screenplay Writer Hoon-jung Park offer a rather shocking view of a man who has no reservations about abducting young women and killing them. Due to the length of the film, we are pulled more closely into the actions of the killer, but additionally into the emotions of a man who's pregnant fiance was taken away in an instant.
The Plot
Kim Soo-hyeon (Lee Byung-hun) is a special agent in South Korea. His job is very demanding and taking up most of his time. His fiance Joo-yeon (Oh San-ha), is pregnant and the both of them are looking forward to the new addition to their future together.
On the other end of the human life spectrum, Kyung-chul (Choi Min-sik) is a well seasoned serial killer. His particular tastes are young women and even children. His lack of empathy for human beings allows him to ironically pass under the radar of anyone who assumes he is just an ordinary middle-aged man.
As destiny would have it, Kyung-chul discovers Joo-yeon on the side of the road. What happens next is somewhat predictable, but the actions of Kim Soo-hyeon certainly are not. Flying into a state of rage, hate, and revenge, Kim Soo-hyeon begins his dark journey into the underworld of criminals who prey on the weakness and innocence of others, seeking out the killer of his pregnant fiance.
Packaging
Packaging for I Saw The Devil was packaged in a standard Elite (non-snapper) single-disc case.
Screencaps
Video
The video for I Saw The Devil can be rather cool in some scenes, just a tad gritty in others, and then saturated towards the red spectrum (which is by design by the director). Overall, it's a sharp picture, and looks fabulous. There are many close-ups, and most of these are just pristine and crisp.
Additional Screencaps
Extras
Disc 1 (Blu-ray)
Raw and Rough (27:06) (720 x 480)

Deleted Scenes (24:51) (720 x 480)

Unrelated Movie Trailers (10:21) HD
Specifications
Aspect Ratio
Active Pixel Area: 1920 x 1038 pixels
Inactive Pixel Area: 1920 x 42 pixels
Aspect Ratio: 1.85:1
Audio
Audio for I Saw The Devil came across clear and since most of the film was dialogue, voices sounded full and easily understood. Of course, be advised this was due to the English dubbed audio track, but the original Korean soundtrack was just as crisp (possibly a little more than the English track).
Main Audio Track 1: DTS-HD Master 5.1 (Korean) @ 2596 Kbps (48kHz/24-bit)
Main Audio Track 2: DTS-HD Master 5.1 (English) @ 2595 Kbps (48kHz/24-bit)
Subtitles: English, English SDH, Spanish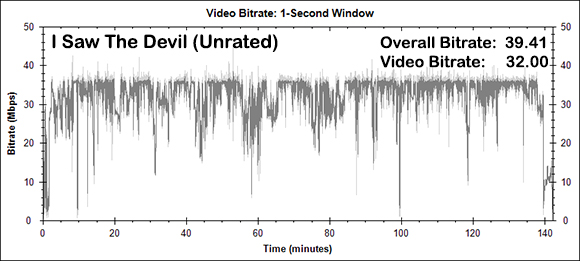 I Saw The Devil Bitrate Graph
I_SAW_THE_DEVIL
Codec: MPEG-4 AVC Video
Resolution: 1080p
Blu-ray BD-50
Disc Size: 46,923,421,210 bytes (43.70 GB)
Movie Size: 42,027,104,256 bytes (39.14 GB)
Overall Bitrate: 39.41 Mbps
Video Bitrate: 32.00 Mbps
Rating
| | |
| --- | --- |
| AUDIO | |
| VIDEO | |
| CONTENT | |
| EXTRAS | |
| PACKAGING | |
HIGHLY RECOMMENDED
Conclusion
If you're looking for a deeper look into the twisted mind of a serial killer but also want an in-depth view of a man who seeks revenge on the killer, I Saw The Devil is a perfect match. It's brutal, it's direct, and it's certainly a violent protrayal of two men who are at opposite ends of the human empathy spectrum, reaching a final ending with a somewhat bittersweet feeling.
One of the few modern serial killer films which manages to break into new territory and having a crisp presentation, I Saw The Devil (Unrated) gets a HIGHLY RECOMMENDED.
Director Kim Jee-woon does an exceptional job at pitting two men who may have the same need to kill, but for entirely different reasons. Due to the length of the movie, the viewer gets an extended view into the world and mind of somebody who just doesn't care about human life, and is more concerned with his own demented desires. As we look at the character of Kim Soo-hyeon, we realize he must become the manifestation of the person he hates in order to track him down and put a final ending on the killing madness.
I suppose I Saw The Devil could be categorized as more of a revenge thriller, but Kim Jee-woon manages to combine several genres to create something I've basically never seen before. We have a serial killer genre, criminal procedural aspect, as well an unpredictable revenge twist which solidifies itself and makes more sense as the movie progresses. First-time viewers might be put off within the first 20 minutes because of what they see, but watching the entire movie will present an understanding of what the director is conveying.
Kim Jee-woon's goal was to put an icy-cold and calculating killer against the fiery hot furnace of revenge. One of the other goals of the film was to ask the question if it's right to exact revenge, and just what the consequences of those actions might be.