The Car

Features
: ~30-minute Making-of documentary and 38-page booklet.
Codec / Resolution
: MPEG-4 AVC / 1080p
Studio
: Universal Pictures
Distributor
: Arrow Films (UK)
Theatrical Release
: May 13, 1977
This Release
: July 30, 2013
Region
: Region B/2
MPAA Rating
:
Aspect Ratio
: 2.35:1
Running Time
: 96mins
Number Of Discs
: 1
MSRP
: $29.99 USD
Current Price
:
Check Price / Purchase
I'm somewhat surprised The Car hasn't undergone a remake or at the least, a sequel. Demonic possession movies are rather plentiful these days and it is getting tiresome seeing young women being controlled by some demonic spirit, with an ending we're too familiar with. How many times does a person have to see a young girl bentover backwards, mumbling something not easily understood?
Over the last almost 40 years since the film's debut, The Car has been referenced many times, but alas...no word of anyone wanting to take on a remake project. I have three directors I know would do a great job: John Carpenter, Sam Raimi, and Wes Craven. I choose John Carpenter first because he would keep the same tone as the original. Sam Raimi would put a slightly different twist on it, but I think it would be well received. Finally, Wes Craven. He's proven to do some amazing work with relatively little resources, and Craven's interpretation would be interesting (although I would prefer the other two directors taking the job).
The Car can easily be positioned alongside today's films as we have a vehicle which is out of control, and on the hunt for innocent people that might be on the roadside. The initial scenes of two bicyclists probably strike at the heart of a lot of viewers these days and possibly more as our society finds different ways of transportation. In addition, when you're watching this film, setting aside all the bell bottom jeans and dated vehicles, you wouldn't notice much of a difference today. This, I believe, points to a timeless classic, which I think any avid movie collector would enjoy having on their shelf for impulsive viewing.
There were a few similar stories to The Car which came out within a short timespan. Duel (1971), which many movie fans should be familiar with, had a driver behind the wheel of the big rig and probably first introduced us to the term Road Rage. Killdozer (1974) had two fairly strong actors (Clint Walker and Robert Urich), but it was conveniently forgotten due to the plot: a meteor falling to earth and possessing a bulldozer.
The Plot
Wade Parent (James Brolin) is the sheriff of a local town in Utah. The most exciting thing happening in his world (and everyone else for that matter) is the upcoming town parade. His girlfriend, Lauren (Kathleen Lloyd), is a school teacher, who will be part of the exciting town event.
As the town gets prepared for the celebration, something has come its way which is certainly going to put a damper on waving flags and feasting on the town's best locally prepared foods. A mysterious car — a black car with dark windows and an unmistakably large front bumper and grille — is running over the town's residents.
The first victims are two bicyclists and then a quick-witted hitchhiker John Morris (John Rubinstein) in front of the home of Amos Clements (R.G. Armstrong). After Amos tells the sheriff and deputies what happened at the police station, he is about to go home when the car springs to life in the middle of the night and aims for Amos. Amos manages to dive out of its way, but Deputy Everett (John Marley) is then killed.
Wade is getting more frustrated with determining just who or possibly what, is terrorizing his small town. Theories are discussed, and even Deputy Denson (Eddie Little Sky) brings in a local Navajo woman who witnessed Everett's death, and says there was no driver of the car.
Packaging
Packaging for The Car is another exceptional example of Arrow Films. Shown above is the reversable art cover, as well as a 38-page booklet. These booklets are a wealth of information.
Screencaps
Video
The video for The Car looks rather sharp and crisp in most scenes, however there are scenes which can be distracting due to the 35mm film and type of lighting. Many films of this era used natural lighting, so the variances between scenes can be large. Being almost 40 years old, I'd say The Car looks darn good and I replaced my haggard DVD version which has been viewed many times over.
Additional Screencaps
Extras
Disc 1 (Blu-ray)
Making A Mechanical Monster: An Interview With William Aldridge (27:33) HD

Hitchhike To Hell: John Rubenstein Remembers The Car (10:17) HD

Easter Egg

Original Trailer (with John Landis) (2:49) HD (partial)

Original Trailer (2:04) (16x9) 480p
Specifications
Aspect Ratio
Active Pixel Area: 1920 x 818 pixels
Inactive Pixel Area: 1920 x 262 pixels
Aspect Ratio: 2.35:1
Audio
Audio for The Car is presented with its original PCM 2.0 sound.
Main Audio Track: LPCM 2.0 (English) @ 1536 Kbps (48kHz/16-bit)
Subtitles: English SDH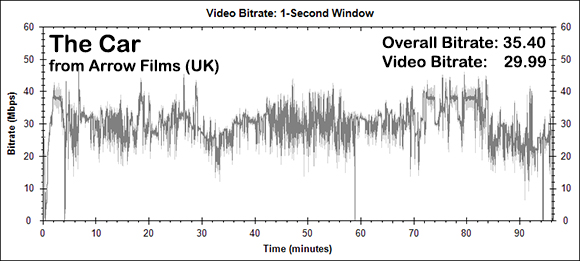 The Car Bitrate Graph
THE CAR
Codec: MPEG-4 AVC Video
Resolution: 1080p
Blu-ray BD-50
Disc Size: 31,811,758,095 bytes (29.63 GB)
Movie Size: 25,552,613,376 bytes (23.80 GB)
Overall Bitrate: 35.40 Mbps
Video Bitrate: 29.99 Mbps
Rating
| | |
| --- | --- |
| AUDIO | |
| VIDEO | |
| CONTENT | |
| EXTRAS | |
| PACKAGING | |
RECOMMENDED PLUS
Conclusion
The Car is not only a personal favorite of mine, but it also gets a really good treatment from Arrow Films via Arrow Video. Standing up against many current horror films today, it has a simple plot with no particular surprises, but still is very entertaining, and James Brolin delivers a very charismatic performance.
Having the best transfer I've seen as well a catchy plot, The Car gets a RECOMMENDED PLUS.
As noted earlier, there are some scenes which are rather grainy but this has to do with the film being used at the time mixed with the lack of lighting.
Region Warning (B/2)
For US viewers, please note this is a Region B/2 locked release, so you'll need a region-free Blu-ray player or some other method to view this film.