Homeland
The Complete Second Season
Features
: ~30 minutes of extras, with a prologue clip for the upcoming third season.
Codec / Resolution
: MPEG-4 AVC / 1080p
Studio
: Showtime
Distributor
: 20th Century Fox
Theatrical Release
: September, 2012
This Release
: September 10, 2013
Region
: Region A
MPAA Rating
: Not Rated
Aspect Ratio
: 1.78:1
Active Pixel Area
: 1920 x 1080 pixels
Inactive Pixel Area
: NA
Running Time
: 629mins
Number Of Discs
: 3
MSRP
: $69.99 USD
Current Price
:
Check Price / Purchase
The second season of Homeland was released about 13 months ago, but the prices on these seasons are rather cost prohibitive to my wallet, and thus, the reason for the review now. Season three is available for purchase already, but I will probably be waiting until it goes down in price a little more. However, if your priorities are this series, I'd be ordering not only the second season, but the third as well.
Homeland took a risk as a series, as it went deep into American value systems, Islamic value systems, and opened emotional doors that have been closed for over a decade. It demonstrated there are more muddy waters than just a black and white world, and a complicated belief system which could fit any culture of people, given a similar set of economic and political issues.
The Plot
The first season of Homeland left us with a rather interesting series of events. Nicolas Brody (Damian Lewis) was about to detonate himself along with a dozen or so high ranking US officials and politicians, but made a surprising decision to live. His decision to completely do an about face, was more than likely due to his daughter leaving him a voicemail, making him promise he was coming home.
Carrie Mathison (Claire Danes) was officially considered mentally disturbed and was expelled from the CIA for following Brody, convinced he was a terrorist and was about to conduct a domestic terrorist act. Up until now, her theories were treated with derision and even belittled as a touch of madness.
Going into the second season, there is finally evidence of Brody's activities, and Carrie is allowed to consult the CIA (however, she has not been officially reinstated). Another revelation which puts Carrie in the middle of all of this, is confirmed information Abu Nazir (Navid Negahban) is on United States soil, and there is only one reason he is making such a risky move of being on his enemy's turf: a major terrorist attack.
Packaging
Packaging for Homeland: The Complete Second Season came in an Elite 3-Disc case with a reversible art cover sleeve. It also had a slipcover, but as usual, having a slipcover will vary from online merchants.
Screencaps
Video
Homeland: The Complete Second Season looks superb, and quite possibly a tad crispier than the previous season, but I realize this depends on how many scenes are in the daylight vs. night scenes, etc. I also like the evenly distributed four episodes across three discs. This is the way a television series should be presented, instead of compressing a few discs to cram episodes on those, then freeing up the last disc for only one or two episodes.
Additional Screencaps
Extras
Disc 1 (Blu-ray)
Disc 2 (Blu-ray)
Disc 3 (Blu-ray)
Deeleted Scene HD

The Border: A Prologue To Season Three (1:43) HD

A "Super 8" Film Diary By Damien Lewis (10:35) HD

The Choice: The Making Of The Season Finale (15:42) HD
Specifications
Audio for Homeland: The Complete Second Season sounds great. Lows are fairly low without muddy residuals and like a television series, most of it is dialogue. I can say the dialogue comes through very well, and I didn't have to turn up the volume in some sections and down in others to hear what the characters are saying. Very nice.
Main Audio Track: DTS-HD Master 5.1 (English) @ 3664 Kbps (48kHz/24-bit)
Subtitles: English SDH, Spanish, French, Japanese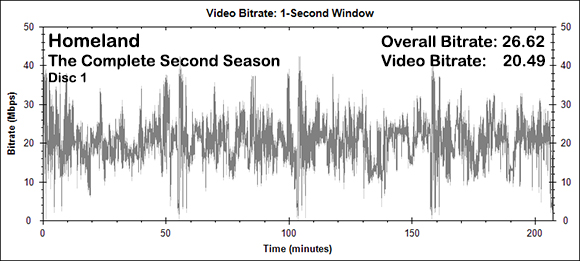 Homeland: The Complete Second Season Bitrate Graph
HOMELAND_S2_D1
Codec: MPEG-4 AVC Video
Resolution: 1080p
Blu-ray BD-50
Disc Size: 43,859,073,174 bytes (40.85 GB)
Episodes 1-4 Size: 41,351,694,336 bytes (38.51 GB)
Overall Bitrate: 26.62 Mbps
Video Bitrate: 20.49 Mbps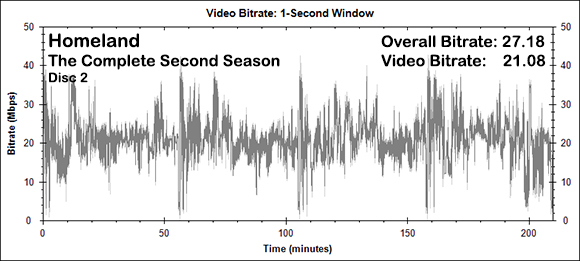 Homeland: The Complete Second Season Bitrate Graph
HOMELAND_S2_D2
Codec: MPEG-4 AVC Video
Resolution: 1080p
Blu-ray BD-50
Disc Size: 44,119,667,073 bytes (41.09 GB)
Episodes 5-8 Size: 42,728,239,104 bytes (39.79 GB)
Overall Bitrate: 27.18 Mbps
Video Bitrate: 21.08 Mbps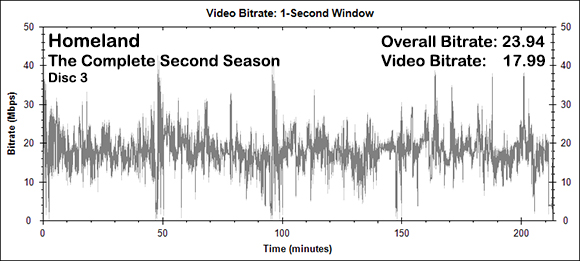 Homeland: The Complete Second Season Bitrate Graph
HOMELAND_S2_D3
Codec: MPEG-4 AVC Video
Resolution: 1080p
Blu-ray BD-50
Disc Size: 43,685,545,513 bytes (40.69 GB)
Episodes 9-12 Size: 38,263,664,640 bytes (35.64 GB)
Overall Bitrate: 23.94 Mbps
Video Bitrate: 17.99 Mbps
Rating
| | |
| --- | --- |
| AUDIO | |
| VIDEO | |
| CONTENT | |
| EXTRAS | |
HIGHLY RECOMMENDED
Conclusion
Homeland: S2 delivers just as much of a punch — and a little more — than its previous season. The thrilling drama continued to perk my interest all the way up to the last episode. Showtime has something special here, and I hope they don't let it get away from them in the following seasons.
With a story which is beoming even more thrilling than the first season, Homeland: Season 2 gets a HIGHLY RECOMMENDED, .
Due to the way the second season ended, and watching the short clip of the prologue to season three, I can't wait to watch the third season!