Attack On Titan (Part 2)
Limited Edition + Box

Features

:

Chibi Theatre

feature for episodes 14-25, AOT at the Expo, and a few audio commentaries.

Codec / Resolution

: MPEG-4 AVC / 1080p

Studio

: FUNimation

Distributor

: FUNimation

Theatrical Release

: April 6, 2013

This Release

: September 23, 2014

Region

: Region A

MPAA Rating

: TV-MA

Aspect Ratio

: 1.78:1

Active Pixel Area

: 1920 x 1080 pixels

Inactive Pixel Area

: NA

Running Time

: 300mins

Number Of Discs

: 4 (2 Blu-ray + 2 DVD)

MSRP

: $89.99 USD

Current Price

:

Check Price / Purchase

One of the more painful waiting periods of my anime fix, Attack On Titan - Part 2 is finally in my hands. I have to give a big THANK-YOU to FUNimation for making an in-between edition to allow for the inclusion of a collector's box for both parts of AOT. Instead of the Ender's Box only being available with their Collector's Edition, which was quite a hit to the wallet, for those who wanted to spend a little more than the baseline Blu-ray edition, they could get a nice addition to display their first season of AOT. Of course, $60 isn't cheap, but for those who have a dedication to AOT, this is certainly worth it. And yes, I did say the first season, as there is going to be a second installment of AOT. After you watch part 2, you'll come to understand it's not only a welcome surprise, but very necessary for this series.

There's a lot more going on with AOT than just the manga aspect. We have a few live action films being created and the first one is slated for this November. There's also a Subaru commercial with a live action Titan that was released in January 2014. The project, named "FORESTERLIVE", was a collaboration between Subaru and Masatsugu Higuchi (director of the live action movie who also directed the commercial) and if this is any indication on the effects we'll see in the upcoming live-action film, it's going to be outright exciting on the big screen.

The Plot

When we last left AOT, we observed Eren Jaeger (the voices of Yûki Kaji and Bryce Papenbrook) completely devoting himself and taking an unconditional vow in front of his military peers (who were at the moment keeping him behind bars), to do whatever it would cost to his own mortality, to destroy the Titans.

Now that Eren's ability to change into a Titan is known to the military and some of the public as well, it is hoped Eren can be a much-needed ally, putting the Titans on the defensive, and reclaiming land lost in the recent massacre. Of course, this isn't going to be easy. The Titans appear to be more intelligent than what was previously thought, and there are rumors of other forms of Titans lurking about. This brings up the opportunity for Eren to join the Scouts.

Where the Titans have an overwhelming advantage, the Scouts are an elite branch of the military which are the only ones allowed to venture outside the protective walls. Eren's loyalties are questioned by some of the military members, and this puts him in a very risky situation of being suspected of potential unleashing of his abilities on the general population. Fortunately, there's one ranking member who saves Eren from the witch hunt that's occurring, but has to treat Eren with utmost physical brutality in order for the other military members to allow Eren to be a part of the Scouts.

Once Eren is generally accepted within the Scouts, their entire group is ambushed, leading to the only conclusion there must be a Scout member who is a traitor. Since it's known Titans can change at will, there's a very real possibility they have a human Scout walking around, getting information about their planned attacks.

Packaging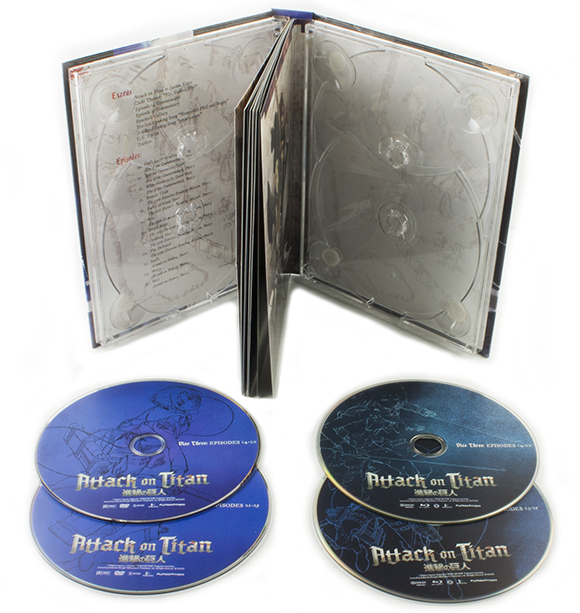 Attack On Titan (Part 2) - Limited Edition
Packaging for Attack On Titan (Part 2) (Limited Edition) arrived in a very thick chipboard, which contains both the Blu-ray and DVD formats, as well as the Ender's Box.

Attack On Titan (Part 2) - Limited Edition
You've read this before, but for the Notes From Beyond The Wall booklet in Part 2, like it's counterpart, it is permanently attached to the case itself, and you cannot remove it. I was hoping FUNimation would have perforated the booklet so a person could detach it. But this was not to be. Once again...not the brightest idea when it comes to packaging a "limited edition" such as this, and at a premium price.
Additional Packaging Images
Click on the links below for larger photos of the Ender Box I received. It's a fairly well-constructed box, but not of the quality of the density of the chipboard cases of the two AOT LE releases.
Screencaps
Video
Attack On Titan (Part 2) - Limited Edition is on par with the first presentation, and looks great.
Additional Screencaps
Extras
Like the last part, my favorite extra on this Part 2 set is Chibi Theatre. I was a little disappointed with less extras and featurettes about the series on Part 2. The 16-minute AOT at the Anime Expo was entertaining, but that was it. I would have welcomed more extras about this series, and more manga references to explain why the anime version flows like it does.
Disc 1 (Blu-ray)
Disc 2 (Blu-ray)
Attack On Titan At Anime Expo (16:21) HD

Episode 25 Audio Commentary

Chibi Theatre: Fly, Cadets, Fly! (Days 14-25) (47:15) HD

Eyecatch Gallery

Textless Opening Song "Jiyuu No Tsubasa" (1:31) HD

Textless Opening Song "Great Escape" (1:31) HD

U.S. Trailer (1:50) HD

Trailers HD
Specifications
Audio for AOT: Part 2 is pretty good like the first part, but I am a little surprised there is not a quality Japanese audio soundtrack. What we have for those interested, is a 2.0 soundtrack @ 828 Kbps, which is rather lacking. Like the previous release, most of the sounds and special effects come through rather clear and I didn't observe any issues, but providing an original Japanese soundtrack would have been nice.
Main Audio Track: Dolby True HD 5.1 (English) @ 2299 Kbps (48kHz/16-bit)
Subtitles: English, English SDH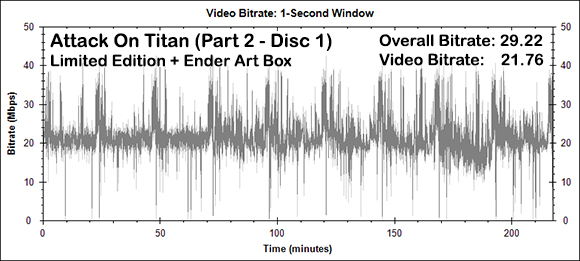 Attack On Titan (Part 2 - Disc 1) - Limited Edition Bitrate Graph
Attack_on_Titan_P2_D1
Codec: MPEG-4 AVC Video
Resolution: 1080p
Blu-ray BD-50
Disc Size: 48,375,365,620 bytes (45.05 GB)
Episodes 14-22 Size: 47,677,956,096 bytes (44.40 GB)
Overall Bitrate: 29.22 Mbps
Video Bitrate: 21.76 Mbps
Attack On Titan (Part 2 - Disc 2) - Limited Edition Bitrate Graph
Attack_on_Titan_P2_D2
Codec: MPEG-4 AVC Video
Resolution: 1080p
Blu-ray BD-50
Disc Size: 35,337,603,709 bytes (32.91 GB)
Episodes 23-25 Size: 20,691,929,088 bytes (19.27 GB)
Overall Bitrate: 38.12 Mbps
Video Bitrate: 29.87 Mbps
Rating
| | |
| --- | --- |
| AUDIO | |
| VIDEO | |
| CONTENT | |
| EXTRAS | |
HIGHLY RECOMMENDED
Conclusion
Attack On Titan (Part 2) - Limited Edition delivers the same thrilling content as the first part of the series. Viewers might notice the first half of the series may seem to drag a little, but this injects a little more drama and history — anime style.
One of the best anime presentations I've seen for quite a while which has a solid story, Attack On Titan (Part 2) - Limited Edition gets a HIGHLY RECOMMENDED, but a few points shaved off due to a few observations as noted.
A Second AOT Season?
According to io9.com we have a second season coming, and also from ChristianPost, a second season has already started (maybe even a month or more into production), but the premiere dates are still unknown.
Forced Trailers
One thing I frown on FUNimation for the AOT: LE (Part 2) release, is I'm forced to watch Street Fighter: Assassin's Fist, which is utterly terrible just from watching the trailer. I could understand if this trailer was forced on a RENTAL DISC, but I paid $60 for this edition, and I think I have a right to be able to at least fast-forward and skip the trailer. For those interested, user options have been negated entirely, except for pausing the trailer. You cannot skip or even fast-forward.