Runaway Train
Features
: 38-page booklet, over an hour of behind the scenes featurettes, and more.
Codec / Resolution
: MPEG-4 AVC / 1080p
Studio
: The Cannon Group, Inc.
Distributor
: Arrow Films
Theatrical Release
: December 6, 1985
This Release
: NA
Region
: B/2
BBFC Rating
: 15
Aspect Ratio
: 1.85:1
Running Time
: 111mins
Number Of Discs
: 2 (Blu-ray + DVD)
MSRP
: £19.99 USD
Current Price
:
Check Price / Purchase
I remember when I was around 16 years old when Runaway Train made its debut on a premium cable network (I can't remember if it was HBO, Showtime or Cinemax). I was very impressionable, and I learned to understand the meaning of an Action Thriller. At that age, I had no idea who the actors were, except for Jon Voight. His amazing performance, and of course, the final scene which I'll let you watch for yourself, stays with me to this day.
We're hovering in the territory of 30 years since Runaway Train was released in theaters, but it still is one of my favorite classics. It's interesting to note I had to import this from Arrow Films, and they have done a pretty good job on the overall presentation and packaging.
Runaway Train is based on a screenplay by Akira Kurosawa, but the location of the story was originally written to be in a location in Russia, instead of Alaska.
The Plot
Oscar 'Manny' Manheim (Jon Voight) and Buck McGeehy (Eric Roberts) are residents of the Stonehaven State Prison in Alaska. Stonehaven is a maximum security prison, and any dreams of escape are presented with a harsh reality of being in an unforgivably cold wilderness. There is no easy access to major roads, and the locals are used to living on their own for several months because of the long winters.
About the only the thing more cold than Stonehaven's location is the man who runs it himself, Warden Ranken (John P. Ryan). Ranken and Manny have been at odds for years, and now that Manny's appeals to be released out of solitary confinement have been approved (due to violating civil rights), Ranken wants to make sure this doesn't happen again, and is using the corrupt prison system he has coddled and nurtured, to silence Manny.
Buck has been an admirer of Manny ever since he was put in Stonehaven. Even though he's certainly not the brightest light bulb in a socket, he discovers Manny is going to attempt an escape (because the warden is eventually going to succeed in getting Manny killed), and wants to tag along at whatever the cost. Manny relunctantly agrees, and figures he could use the help, because the weather is extreme and survival probably has a better chance with two people.
After escaping the prison (via the sewer system), the two come across a railway station. By this time, I think Manny is about to kill his unconditional friend, as Buck needs SHOES! for his cold feet. The two have been crossing some extremely cold and treacherous terrain, and Buck is certainly expressing himself routinely about this when the two discover a train station.
After breaking into a few lockers and getting some clothes, the two hop a passing train. Unfortunately, they don't realize it has no conductor, and there's somebody else on the train, Sara (Rebecca De Mornay), who gives them a good idea of what the circumstances are...
Packaging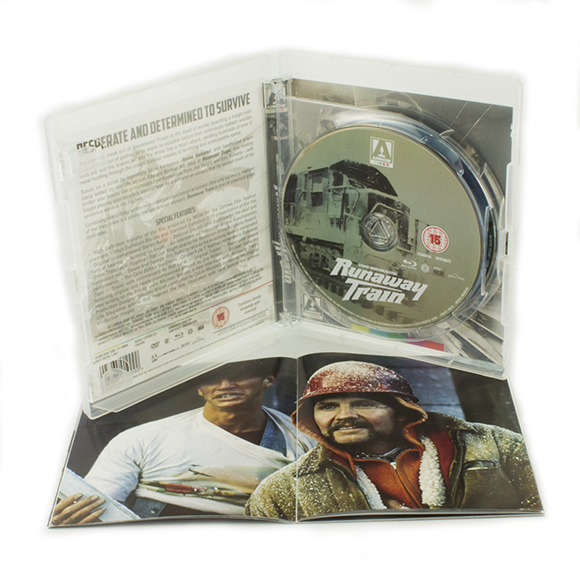 Runaway Train (Blu-Ray)
Packaging for Runaway Train arrived from Arrow Films in a nicely packed box with a few other films I ordered from them. Arrow Films uses the generic European thick Blu-ray cases, but for good reason, as this has a 38-page booklet. Simply awesome, and I'm flipping through it during this review. I wish all classic films had this type of attention. There is also a DVD version of the film along with the Blu-ray disc.
Screencaps
Runaway Train looks pretty good but there are instances of some odd grain structures, which are mostly observable in the light-brown and tan colors, and mostly when the subject/object is closer to the lens. I think this is mostly due to the type of film which was used and the aperture of the lens of the camera. Eric Roberts' biceps below look just fine for a film from the mid-80's, but in other instances, there's a slight "hazing" of a blend of almost-correct pixels, which make the image look like there's a digital dust storm. However, this is not to be of too much concern overall. This film looks great.
Additional Screencaps
Extras
The extras presented run almost 90-minutes total, and all features are worth a view. From Thespian To Fugitive is especially interesting and I watched it twice already.
Disc 1 (Blu-ray)
From Thespian To Fugitive: Jon Voight Remembers Runaway Train (37:50) HD

The Calm Before The Chaos: Kyle T. Heffner Reflects On Runaway Train (17:05) HD

Sweet And Savage: Eric Roberts On Runaway Train (16:02) HD

Running On Empty: An Interview With Andrei Konchalovsky (15:58) HD

Original Trailer (2:38) HD

Original Trailer (with commentary by Rod Lurie (2:47) HD
Disc 2 (DVD)
Specifications
Aspect Ratio
Active Pixel Area: 1920 x 1040 pixels
Inactive Pixel Area: 1920 x 40 pixels
Aspect Ratio: 1.85:1
Audio
Audio for Runaway Train has the original stereo soundtrack, and doesn't have any fluffy 5.1 channel split, which I admire. It's the original soundtrack. That's it. If a person wants to run it through their own DSP system, great. But I like the fact Arrow Films leaves that choice up to the viewer.
Main Audio Track: LPCM Stereo 2.0 (English) @ 2304 Kbps (48kHz/24-bit)
Subtitles: English SDH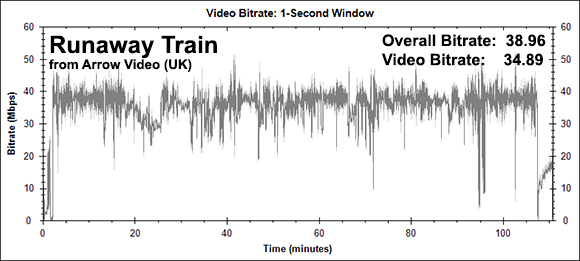 Runaway Train Bitrate Graph
RUNAWAY TRAIN
Codec: MPEG-4 AVC Video
Resolution: 1080p
Blu-ray BD-50
Disc Size: 44,412,216,832 bytes (41.36 GB)
Movie Size: 32,365,004,352 bytes (30.14 GB)
Overall Bitrate: 38.96 Mbps
Video Bitrate: 34.89 Mbps
Rating
| | |
| --- | --- |
| AUDIO | |
| VIDEO | |
| CONTENT | |
| EXTRAS | |
HIGHLY RECOMMENDED
Conclusion
It's interesting to note that Jon Voight was not immediately going to take on Runaway Train and his role as Manny. In the documentary he states he was in meditation and looking for a sign that this movie was meant to be. The 37-minute documentary is certainly worth viewing, and suffice it to say, Mr. Voight received the sign he was looking for. I cannot think of anyone else who could have played the role.
One of the great classics of the 80's and having an impressive video quality despite the 35mm film issues, Runaway Train gets a HIGHLY RECOMMENDED.
What I like about Runaway Train, is it does not immediately dive into the action and thrilling sequences, but builds a foundation for the viewer to get a good and solid story. Some might comment there wasn't much information about Buck in the movie, but this was because the story evolves entirely around Manny and his fate.
Region Warning (B/2)
For US viewers, please note this is a Region B/2 locked release, so you'll need a region-free Blu-ray player or some other method to view this film.