Drag Me To Hell
Unrated Director's Cut
Features
: 35-minute
Drag Me To Hell: The Production Diaries
feature, and that's it...
Codec / Resolution
: VC-1 / 1080p
Studio
: Ghost House Productions / Universal Studios
Distributor
: Universal Studios
Theatrical Release
: July 31, 2009
This Release
: October 13, 2009
Region
: Region A
MPAA Rating
: Unrated
Aspect Ratio
: 2.40:1
Running Time
: 109mins
Number Of Discs
: 2 (Blu-ray + DVD / Digital Copy)
MSRP
: $14.99 USD
Current Price
:
Check Price / Purchase
I was searching through my Blu-ray collection a few days ago, and came across another Sam Raimi favorite of mine, Drag Me To Hell. As usual (which is a good thing), Sam Raimi takes a typical average day event, focusing on the average person, and then just totally goes crazy with it — taking the viewer along for a rather terrifying (but horrifically humorous) ride.
Raimi tends to selectively choose his actors for definitive performances. Justin Long is one of my favorite horror movie actors, and seeing David Paymer was also a treat, as he adds that Raimi Humor.
I suppose the reason why I like Raimi's films so much is because they have the storytelling quality of Edgar Allan Poe, H.P. Lovecraft, and Montague Rhodes James. These authors have a way of pulling the reader into the story with the character, provide a terrifying experience, but also suggest some sick humor in the thick of it all. Some might criticize me for comparing Raimi to these authors, but he does have a very unique way of presenting a horror movie, which none can match (and if they try, it's too obvious).
The Plot
Christine Brown (Alison Lohman) is a loan officer who is up for an assistant manager promotion, but in order to prove her worthiness to the bank, she's gonna have to make some tough decisions. Competing with her for the promotion, is Stu Rubin (Reggie Lee), who is already becoming friends with Wilshire Pacific's Bank Manager, Mr. Jacks (David Paymer).
Mrs. Ganush (Lorna Raver) is about to lose her home. She's behind on payments, and begs Christine to give her another extension. The bank has already given several extensions in the past, and it is time to tell Mrs. Ganush she must come up with the money today, or find another place to live. Dropping to her knees and making a scene in the bank in front of Christine, she doesn't take no for an answer, and is reluctantly dragged out of the bank.
At first, the situation may have appear to be resolved, but Mrs. Ganush follows Christine to the parking structure, and a violent confrontation ensues. Christine gets the upper hand, but not without the rather angry Gypsie putting a curse on Christine as she holds a button ripped from her coat. Apparently, this button is key to connecting the curse with its owner.
Eventually, Christine discovers she has only three days to have this rather wicked curse taken away, and seeks the help of Rham Jas (Dileep Rao). After a little bit of research, this particular curse raises a demon from hell to come after the person to whom the curse is put on...and to take their soul.
Packaging
Packaging for Drag Me To Hell (Unrated Director's Cut) came to me with a slipcover (with reflective elements in the artwork), and may not be available for everyone who purchase this movie. So, if you want the slipcover, you better buy this in-person. The Blu-ray case itself is a nice Elite 2-Discer, which holds the Blu-ray and DVD + Digital Copy disc. This particular Elite version does NOT have the very annoying flap on the right side which only closes partially, so this is a good thing.
Screencaps
Video
Drag Me To Hell (Unrated Director's Cut) looks very good, and only in some scenes where the director purposely manipulates images does the image quality vary. Still, a very sharp picture.
Additional Screencaps
Extras
Drag Me To Hell: The Production Diaries (35:08) HD
A worthy extra on this disc is the 35-minute featurette, which is divided into the following sections:
Intro
The Bloody Nose
Inside The Psychic World
Makeup Effects
Alison In Mud
The Nightmare
Alison's Wirework
Justin Long Profile
The Parking Lot Fight
The Goat
Set Tour: The Great Room
Puzzle Car
Dragging Her To Hell
Sound Design
Specifications
Aspect Ratio
Active Pixel Area: 1920 x 800 pixels
Inactive Pixel Area: 1920 x 280 pixels
Aspect Ratio: 2.40:1
Audio
Audio for Drag Me To Hell: Unrated Director's Cut is rather solid, and where horror scenes require that extra SCREAM!, the sounds come through on the 5.1 channels fairly well.
Main Audio Track: DTS-HD Master Audio 5.1 (English) @ 3905 Kbps (48kHz/24-bit)
Subtitles: English SDH, Spanish, French
Bitrate Graph
It appears as if the PG-13 (Theatrical Version) and the Unrated Director's Cut versions are completely separate from each other on the Blu-ray disc. This is interesting as the Director's Cut adds maybe 30-seconds to the movie. However, I actually prefer non-branched versions on Blu-ray discs so there aren't any hiccups in scenes. The only reason I took note of this, was because this is a BD-50 disc, and after looking at the structure of the disc, I found each version is independent, with about 4GB for the 35-minute featurette.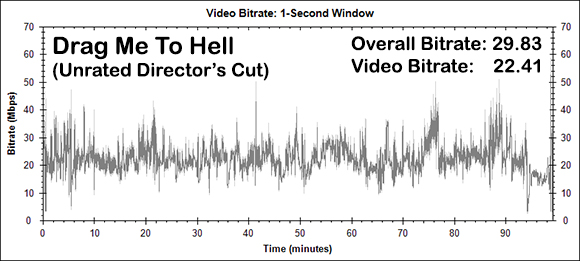 Drag Me To Hell (Unrated Director's Cut) Bitrate Graph
DRAG_ME_TO_HELL
Codec: VC-1
Resolution: 1080p
Blu-ray BD-50
Disc Size: 49,046,305,215 bytes (45.68 GB)
Movie Size: 22,169,892,864 bytes (20.65 GB)
Overall Bitrate: 29.83 Mbps
Video Bitrate: 22.41 Mbps
Rating
| | |
| --- | --- |
| AUDIO | |
| VIDEO | |
| CONTENT | |
| EXTRAS | |
RECOMMENDED PLUS
Conclusion
Drag Me To Hell (Unrated Director's Cut) is yet another successful Raimi release which does not fail to entertain. If you're a fan of Raimi, be sure to settle-in on the couch and especially take notice of The Parking Lot Fight, which is also featured in the making-of featurette. It's absolutely enjoyable to watch, and had to skip back a few times to watch it again. If we were still in the days of VHS, my tape would have been worn out by now.
With Sam Raimi writing/directing and having the additional writing talent of his brother Ivan as well, Drag Me To Hell (Unrated Director's Cut) gets a RECOMMENDED PLUS.
I almost expected a sequel to DMTH because it's such a solid presentation and has a lot of room for extending the horror, but haven't seen anything yet, so it does appear as if there won't be anything. More than likely, Sam Raimi has his hands full with his most recent releases. In any case, this is a film you shouldn't miss and should add it to your horror collection.