Attack On Titan (Part 1)
Limited Edition
Features: Chibi Theatre feature, ~1-hour making-of featurette, and a few audio commentaries.
Codec / Resolution: MPEG-4 AVC / 1080p
Studio: FUNimation
Distributor: FUNimation
Theatrical Release: April 6, 2013
This Release: July 3, 2014
Region: Region A
MPAA Rating: TV-MA
Aspect Ratio: 1.78:1
Active Pixel Area: 1920 x 1080 pixels
Inactive Pixel Area: NA
Running Time: 325mins
Number Of Discs: 4 (2 Blu-ray + 2 DVD)
MSRP: $89.99 USD
Current Price: Check Price / Purchase

Attack On Titan is a peculiar anime title which has been accumulating an ever-increasing fanbase since its creation as a manga by Hajime Isayama. The initial start wasn't so popular until (like most Anime productions) viewers began talking about it, and what really helped this series, was the loyal fans from the previous manga novels.
AOT is now well known in the US, and viewers can't wait for the second installment (i.e., Part 2) which is due for release on September 23, 2014. Some might ask how this particular series became so popular, and my response is part of what Anime is all about and why it's such a dynamic genre which no other can compete with. What exactly will become a popular series where fans will continually demand more...is something which cannot be determined at the beginning, and is only measured after the series has begun. Consequently, we have creators who derive a formula from this after the fact, and attempt to make a series popular from its initial release. Most often, this results in failure.
The Plot
The Titans are an unrelenting species which have mysterious origins. Their resemblance to human beings is more than likely a key to their beginnings, and could be a potential weakness for eventual destruction. A Titan size will vary (the smallest ranging about 15ft in height to the tallest of around 18 0ft), but their destruction is certain and their appetite for human flesh is unrestrained. Animals are overlooked and are not of any interest to a Titan.
Where Titans come from is not so important as to how to stay alive and being very far away from their desire for human snacks. Ever since their first appearance in the early 700's, various ways have been attempted to prevent Titans from literally consuming villages and towns. One of the best methods seemed too simple, but worked: A wall. A multi-layered wall — designed to protect the most important people in the center — was constructed. At 150ft in height and around 100ft thick, this kept out the Titans for almost 100 years, and allowed those inside the wall, to live a relatively peaceful life.
In the year 845 A.D., the Titans have returned, and this time...the walls that used to keep them out, are coming down. Eren Yeager (Yuki Kaji (Japanese), Bryce Papenbrook (English), Mikasa Ackermann (Yui Ishikawa (Japanese), Trina Nishimura (English)), and Armin Arlert (Marina Inoue (Japanese), Josh Grelle (English)) are now becoming of age and are to be trained in hunting down these beasts. Of course, the training isn't easy, and each person's destiny may not be the obvious one.
Packaging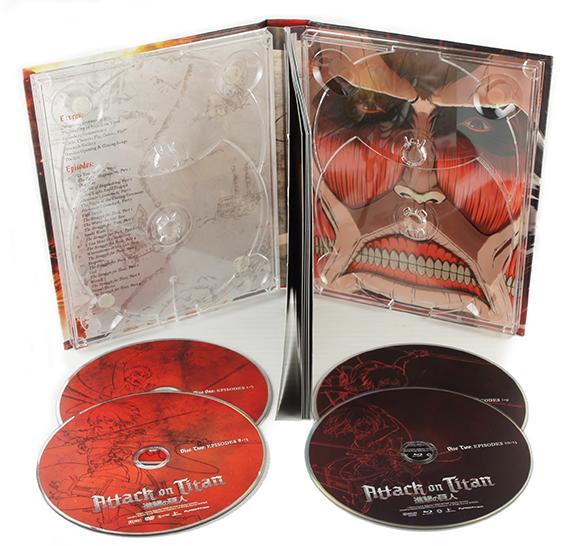 Attack On Titan (Part 1) - Limited Edition
Packaging for Attack On Titan (Part 1) (Limited Edition) arrived in a very thick chipboard, which contains both the Blu-ray and DVD formats. This packaging is to be used exclusively with the AOT (Part 2) Limited Edition + Artbox packaging, which will have the Ender Artbox to hold both chipboard editions (Parts 1 and 2). FUNimation listened to fans who didn't want to particularly buy the more expensive and exclusive FUNimation Collector's Edition, however, the lower-priced (~$60) Ender's Artbox Edition is currently sold out from a few anime websites, and if you want the box, you'll be forced to buy from major online retailers.

Attack On Titan (Part 1) - Limited Edition
Another note I'd like to mention, is the 24-page Notes From Beyond The Wall booklet, is permanently attached to the case itself, and you cannot remove it. Not the brightest idea when it comes to packaging a "limited edition" such as this, and at a premium price.
Screencaps
Video
Attack On Titan (Part 1) - Limited Edition has a standard look and style, but there are several fixed objects in the series that have much more detail. This is certainly not a bad thing, and AOT (Part 1) is destined to be a classic and favorite title for anime fans. A few scenes, if you're paying attention, have characters doing repetitive movements that make no sense — like a Titan picking up a human and is about to eat the person, then putting the person down, repeat, repeat. No blood or graphical indications the human is being eaten, and kind of looks like the Titan is using the person as a hammer.
Additional Screencaps
Extras
Probably my favorite extra on this set is the Chibi Theatre interpretation of AOT and it's hilarious. This is a must-see! The making-of featurette is interesting and worth a look as well. A few commentaries are on a few episodes, but nothing spectacular. I would imagine we'll see more commentaries on the second part of AOT, which will be released in late September.
Disc 1 (Blu-ray)
Disc 2 (Blu-ray)
The Making of Attack On Titan (52:34) HD

Chibi Theatre: Fly, Cadets, Fly! Days 1-13 (47:11) HD

Episode 3 Audio Commentary
Specifications
Audio for AOT: Part 1 is pretty good, but does seem a little lacking. Most of the sounds and special effects come through rather clear, but I do wish there was a little more separation.
Main Audio Track: Dolby True HD 5.1 (English) @ 2247 Kbps (48kHz/16-bit)
Subtitles: English, English SDH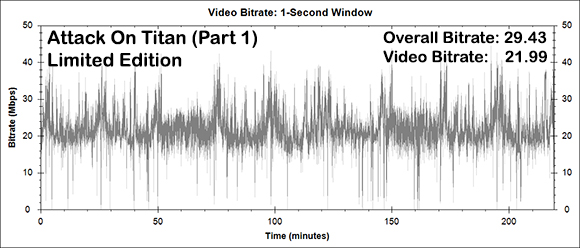 Attack On Titan (Part 1) - Limited Edition Bitrate Graph
Attack_on_Titan_P1_D1
Codec: MPEG-4 AVC Video
Resolution: 1080p
Blu-ray BD-50
Disc Size: 48,882,649,186 bytes (45.53 GB)
Episodes 1-9 Size: 48,390,801,408 bytes (45.07 GB)
Overall Bitrate: 29.43 Mbps
Video Bitrate: 21.99 Mbps
Rating
| | |
| --- | --- |
| AUDIO | |
| VIDEO | |
| CONTENT | |
| EXTRAS | |
HIGHLY RECOMMENDED
Conclusion
Attack On Titan (Part 1) - Limited Edition is a series which has a classic anime feel to it but yet offers a new twist on a story of creatures eating humans. Watching part one of the series, it's rather clear the presentation has been done with creative talent. Some may not like the series, but once again, this is part of the anime mystery. Either you like it, or you don't. My Blu-ray (and HD DVD) collection has maybe 1% of anime titles in it, so I hope this conveys something to you.
Having a very interesting plot that only gets better with each episode, Attack On Titan (Part 1) - Limited Edition gets a HIGHLY RECOMMENDED.
A Trend In Releasing Anime Titles In Sections
I can't wait for part two of this series, but I am starting to question the way anime titles are being released these days. 300mins of material are easily being sold for $40, and if you're into a limited release, add another $20 to it. I may write something on the issue at a later time, but I seem to observe many titles being throttled over a period of months, instead of releasing a final set.