Evil Dead (2013)
Features: Evil Dead: The Reboot (BD Exclusive), Unleashing The Evil Force (BD Exclusive), audio commentaries, and more.
Codec / Resolution: MPEG-4 AVC / 1080p
Studio: Film District
Distributor: Sony Pictures Home Entertainment
Theatrical Release: April 5, 2013
This Release: July 16, 2013
Region: Region A
MPAA Rating: R
Aspect Ratio: 2.40:1
Active Pixel Area: 1920 x 800 pixels
Inactive Pixel Area: 1920 x 280 pixels
Running Time: 91mins
Number Of Discs: 1 (Blu-ray + Digital UV Copy)
MSRP: $26.99 USD
Current Price: Check Price / Purchase


Ever since I saw the Evil Dead (2013) teasers at the local theater, I eagerly awaited its release. The credits are an interesting look at just where this movie is headed. Directed by Fede Alvarez and Produced by Rob Tapert, Sam Raimi, and Bruce Campbell, you know there's going to be some very interesting moments.

Speaking of interesting moments, isn't it coincidentally terrific that in order for a truly horrific adventure to occur...there must be a cabin? If you think back to Friday The 13th, since then, we have quite a few truly scary horror films successfully using the cabin as the great medium for a story.

The Plot

Mia (Jane Levy) and her brother David (Shiloh Fernandez), along with three other friends, are taking a trip up to a remote cabin. But this is a little more than just having some summer fun. It's about removing David's sister from her drug habit, and hopefully giving her the geographic distance she will need in order to break her heroin habit.

One of the friends, Olivia (Jessica Lucas), informs David the plan this time to keep Mia at the cabin — even if she doesn't have the willpower to break her habit. Mia cannot be repeating her cycles of coming on and off drugs, and she'll get nowhere. This is an intervention that has to stick.

As if this wasn't enough to keep things a bit tense around the campfire, there's a discovered trap door with some rather horrific items and smells. Eric (Lou Taylor Pucci) finds wrapped in a garbage bag...a book. And as we know, this isn't just an ordinary book. After unknowingly reading a few passages from the book, the being which was once put to rest...is now back and wants everyone's souls.

Packaging

Packaging for Evil Dead (2013) arrived in an eco-LITE Vortex case, containing the Blu-ray and Digital UV Copy, which expires 12-31-2016. The slipcover is also dual-sided, displaying cover art on the inside.

Screencaps

Video

Evil Dead (2013) looks pretty darn good. Scenes are especially crisp and vibrant in daylight settings, but of course, this not a family hiking trip movie, so most scenes are composed in limited lighting at night. In any case, the night scenes are done well.

Additional Screencaps

Extras

Very little extras on this disc, but there is a Blu-ray exclusive.

Evil Dead (2013) Blu-ray Disc
Evil Dead: The Reboot (9:51) HD
Evil Dead: Being Mia (9:14) HD
Evil Dead: Making Life Difficult (8:13) HD
Evil Dead: Directing The Dead (7:25) HD
Evil Dead: Unleashing The Evil Force (5:07) HD
HDTV Video Test/Calibration Samples (4:47))HD
Specifications
I don't have any complaints of the audio for Evil Dead (2013). There's a full-feeling to this audio track, and you will jump out of your comfortable couch or chair if you want to turn the volume up on your home theater system.
Main Audio Track: DTS-HD Master 5.1 (English) @ 3956 Kbps (48kHz/24-bit)
Subtitles: English, English SDH, Chinese, French, Indonesian, Korean, Portuguese, Spanish, Thai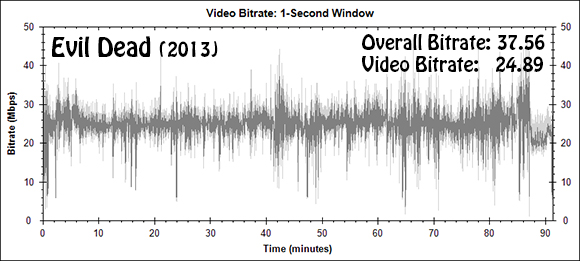 Evil Dead (2013) Bitrate Graph
EVIL_DEAD_2013
Codec: MPEG-4 AVC Video
Resolution: 1080p
Blu-ray BD-50
Disc Size: 34,237,744,038 bytes (31.89 GB)
Movie Size: 25,722,083,328 bytes (25.96 GB)
Overall Bitrate: 37.56 Mbps
Video Bitrate: 24.89 Mbps
Rating
| | |
| --- | --- |
| AUDIO | |
| VIDEO | |
| CONTENT | |
| EXTRAS | |
RECOMMENDED PLUS
Conclusion
Evil Dead (2013) does not fail to scare. It's a different take on a horror classic for sure, but I'm hoping there's a sequel in the works.
One of the very few re-visions which manages to retain key elements of the story but is a solid presentation on its own, Evil Dead (2013) gets a RECOMMENDED PLUS.
For Evil Dead fans, you have to wade through the entire closing credits until around the 1hr 30mins mark. Wait for your favorite character of the series to give his signature approval...