Magic City
The Complete Series
Features: Starz Studios: MAGIC CITY, The Cars of MAGIC CITY, The Style of MAGIC CITY, and several more featurettes.
Codec / Resolution: MPEG-4 AVC / 1080p
Studio: Starz
Distributor: Anchor Bay Entertainment
Theatrical Release: March 30, 2012
This Release: May 13, 2014
Region: Region A
MPAA Rating: TV-MA
Aspect Ratio: 1.78:1
Active Pixel Area: 1920 x 1080 pixels
Inactive Pixel Area: Not Applicable
Running Time: 830mins
Number Of Discs: 6 Blu-ray Discs
MSRP: $ 59.99 USD
Current Price: Check Price / Purchase


Magic City is going to be one of those classics which will go down with a lot of question marks, of which, the biggest one standing out in my mind being — Why was this show given the axe?

For those of us who have a fairly good-sized collection of movies, we probably already know, so we'll avoid that discussion. What will be discussed here, is my impressions of Magic City, and my oh my, I was impressed. The wardrobe and stage settings are done meticulously, and I really cannot recall such a series paying so much attention to time period and detail (except for Madmen).

For those who are not aware, Mitch Glazer is the writer and producer. Being born in Key Biscayne, Florida, just south of Miami Beach, he's very familiar with area during the 50's and 60's. This is why Magic City fits so well, and it's too bad the series was another victim of those who didn't want it to survive past a few seasons. On a trivial note, Meg Bannock (Kelly Lynch) is in real life, Mitch Glazer's wife. I haven't seen her in films lately, and the last time I honestly remember her was in Road House and Drugstore Cowboy. Regardless of my short memory, she's a real treat to see in this series.

The Plot

Ike Evans (Jeffrey Dean Morgan) runs (and owns) the Miramar Playa in Miami, Florida. Facing the beautiful ocean and just a short walk to the beach, those who have appetite for the best, come to this resort. Ike loves the operations of a hotel and the club scene. In fact, his beautiful wife, Vera Evans (Olga Kurylenko) was discovered at a club in Cuba. Miramar is Ike's dream come true.

Like most honest businessmen, it's becoming very difficult to avoid financial ruin when you're trying to make a clean profit without relying on those who prey on small wallets with big dreams. It is this need which takes Ike to an associate he is all too familiar with: Ben Diamond (Danny Huston). Ben is the local mafia boss who is never content with what he has, and always wants more. Ben will lend money to anyone who is dumb enough to accept his terms. Ike is well aware of the terms if he asks for a desperate amount of cash to keep the Miramar Playa open for business. And he's also aware money is not the only issue here. Ben will want certain illegal activities overlooked and will even require participation.

Packaging

Packaging for Magic City: The Complete Series arrived in a thin cardboard case, which housed two Digipaks with their own slipcovers of each season inside. Each Digipak contains 3 Blu-ray discs, and the seasons are spread out on those discs very nicely, giving plenty of room for maximum resolution. The Complete Series appears to be a direct repacking of the individually sold seasons, which is fine with me, and I prefer it this way. Too many times I've seen a repackaging done with cheaper housing for the entire series, but this is not the case.

Screencaps

Video

Magic City: The Complete Series looks absolutely stunning. The colors throughout the series are done so well, I don't think there is any room for improvement.

Additional Screencaps

Extras

Disc 3 of the second season is dedicated to special features. This is a good idea to put the features on one disc to leave more room for the episodes to be fully exploited on other discs. However, I was expecting at least an hour's worth of extras, and was surprised to discover only around 25-minutes. It's really too bad, because I'm sure there were a lot of stories behind the making of Magic City.

Season 2, Disc 3
The Gamble For Havana (3:05) HD
The Criminal Element (4:47) HD
Tales From The Underbelly (4:59) HD
The Music That Makes Magic (5:52) HD
Magic City Style (1:52) HD
Specifications
Audio for Magic City has been done rather well. In both seasons, some solid sounds. At the same time, it's too bad there wasn't more music. Vehicle sounds actually perked my interest, as a lot of these cars are collectibles. They sounded fabulous in this series. Vocals were also clear and easily understood.
Main Audio Track: Dolby True HD 5.1 (English) @ 3390 Kbps (48kHz/24-bit)
Subtitles: English, English SDH,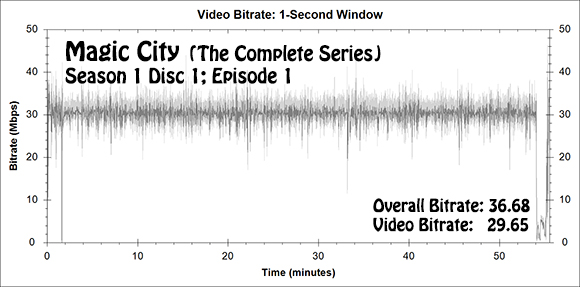 Magic City: The Complete Series Bitrate Graph
MAGIC_CITY_SEASON1_DISC1
Codec: MPEG-4 AVC Video
Resolution: 1080p
Blu-ray BD-50
Disc Size: 44,229,568,101 bytes (41.19 GB)
S1 EP 1 Size: 15,285,878,784 bytes (14.24 GB)
Overall Bitrate: 36.68 Mbps
Video Bitrate: 29.65 Mbps
Rating
| | |
| --- | --- |
| AUDIO | |
| VIDEO | |
| CONTENT | |
| EXTRAS | |
HIGHLY RECOMMENDED
Conclusion
Magic City: The Complete Series is a series where the viewer is transported back to the days of a new way of enjoying life, as World War II was not that long ago. Miami Beach was THE place to hang out and have fun. If you had money, it was paradise. Fidel Castro and US relations at the time were at interesting moments, and the mafia had a firm grip on anything related to pleasure.
Mitch Glazer has done an excellent representation and with his writing and producing, made a short-lived series something to be desired. For this, Magic City: The Complete Series gets a HIGHLY RECOMMENDED.
Again, I am really going to miss this series. The cast was delicately chosen and I encourage viewers to seek out any of the actors in the series as they will be very welcome and fitting for other television productions (not to mention feature films). Stars such as Steven Strait, Jessica Marais, Catalina Rodriguez, Dominik Garcνa-Lorido, Christian Cooke, Elena Satine and many many more have created some amazing performances.