Little House On The Prairie
Season Two
Features: 22 episodes, Part 2 of The Little House Phenomenon.
Codec / Resolution: MPEG-4 AVC / 1080p
Studio: NBC
Distributor: LIONSGATE
Television Air Date: September 10, 1975
This Release: May 6, 2014
Digital Copy Expires: September 9, 2015
Region: A
MPAA Rating: Not Rated
Aspect Ratio: 1.33:1
Active Pixel Area: 1466 x 1080 pixels
Inactive Pixel Area: 454 x 1080 pixels
Running Time: 18 Hours
Number Of Discs: 5
MSRP: $38.99
Current Price: Check Price / Purchase


Little House On The Prairie: Season Two became available about a month after the first season's released date. The third season release date hasn't been announced just yet, which is odd, since it seemed only days after the first season we had the second season release date. But regardless, it's nice to see Lionsgate is giving a good treatment of this series, and the second season is up to the same standard (and maybe more) as the first season.

The first episode of Little House On The Prairie: Season Two aired on September 10, 1975, and the last episode of the season aired March 31, 1976. Just like the previous season, we have uncut epsisodes which most viewers will see for the first time — outside some of us older folks who might be able to remember the original broadcasts.

The Plot

The first season of Little House On The Prairie focused on the Ingalls family finding a place to call home. In this season, there is a clear financial strain on Charles (Michael Landon), and he realizes he must find creative ways to get some money to pay for the necessities of his own household. This is a very small town, and jobs aren't going to knock on his door. So, he goes knocking on doors throughout Walnut Grove, hoping to get some work.

Mary (Melissa Sue Anderson) begins to have trouble with her eyesight and goes to the nearest optometrist (a 3 days travel by wagon) to get a pair of glasses. Charles is concerned but is reassured this pair of glasses is all that is necessary, and instructs Mary to wear her glasses for one month to correct her eyes. She'll have to use them for reading most of the time, but for other activities her eyes should be back to normal.

We see more conflict with Laura (Melissa Gilbert), and Nellie Oleson (Alison Arngrim) which deal with several issues many children deal with today, and always will. These are concrete issues which may seem simple enough on the surface, but have a much more complicated resolution.

Packaging

Packaging for Little House On The Prairie: Season Two arrived in an Elite multi-disc Blu-ray case (housing the 5 discs) and has a nice slipcover — just like the first season. There is also a Digital HD / Ultraviolet copy available which expires September 9, 2015.

Screencaps

Video

From my first impressions, it seems Little House On The Prairie: Season Two looks just a tad better than the first season. In the last episode, towards the end, I managed to see a brief scene where it appears as if the camera was shooting through something (maybe a screen?), resulting in a net pattern. You can see this in Screencap #9.

Additional Screencaps

Extras
The Little House Phenomenon — 15:59

Part Two: In The Beginning (Disc 5)
Specifications
Main Audio Track: DTS-HD Master Audio 2.0 (English) @ 2152 Kbps (48kHz/24-bit)
Subtitles: English SDH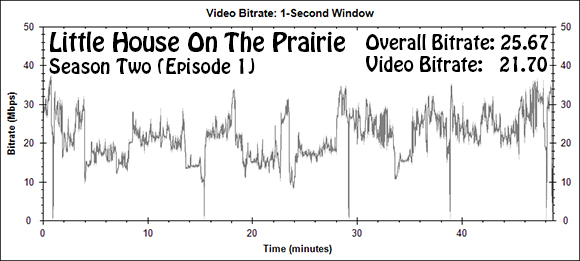 Little House On The Prairie: Season Two (Episode 1) Bitrate Graph
LITTLE_HOUSE_S2_DISC1
Codec: MPEG-4 AVC Video
Resolution: 1080p
Blu-ray BD-50
Disc Size: 47,390,029,430 bytes (44.14 GB)
Episode 1 Size: 9,370,349,568 bytes (8.73 GB)
Overall Bitrate: 25.67 Mbps
Video Bitrate: 21.70 Mbps
Download: LITTLE_HOUSE_S2_DISC1 BD Info File
Rating
| | |
| --- | --- |
| AUDIO | |
| VIDEO | |
| CONTENT | |
| EXTRAS | |
HIGHLY RECOMMENDED
Conclusion
I think Little House On The Prairie: Season Two was more enjoyable than the first season. By this I mean the first season was still a treat to watch, but in the second season, we have more character development, and we're noticing some themes that continue on from the first season. While each episode is pretty much summed up at the end, we still observe Charles having financial concerns and troubles. Of course, something amazing happens at the end of season two, and you'll just have to watch it to find out.
With some really sharp images and memorable moments that I will always appreciate over and over again, Little House On The Prairie: Season Two (Blu-ray) gets a HIGHLY RECOMMENDED.
Once again, I haven't heard of the third season release date, and I might be contacting LIONSGATE themselves to find out anything. In any case, the third season is going to be another automatic purchase from me.