Dead Man Down
Features: Revenge and Redemption: Crafting Dead Man Down (BD Exclusive), and a little more.
Codec / Resolution: MPEG-4 AVC / 1080p
Studio: Film District
Distributor: Sony Pictures Home Entertainment
Theatrical Release: March 8, 2013
This Release: July 9, 2013
Region: Region A
MPAA Rating: R
Aspect Ratio: 2.40:1
Active Pixel Area: 1920 x 800 pixels
Inactive Pixel Area: 1920 x 280 pixels
Running Time: mins
Number Of Discs: 2 (Blu-ray + DVD/UV)
MSRP: $35.99 USD
Current Price: Check Price / Purchase


Dead Man Down is another production from Film District, and what's interesting, is we have quite a few well-known actors delivering some good performances but the movie itself hasn't received too much attention. Not sure why. I will admit, I didn't come across this movie until I saw it for cheap online and decided to do a Blind Buy purchase. In this case, I'm glad I did. Noomi Rapace, Colin Farrell, and Terrence Howard present some very good performances that have been basically overlooked. This isn't some simple linear action movie where the lead star gets revenge. This is something more complicated and has realistic multiple layers of retribution. In fact, due to the complexed and intertwined characters, I was looking for an Asian country director. Instead, I discovered this was the directing work of Niels Arden Oplev and the writing talent of J.H. Wyman (mostly known from the Fringe television series). Wow, is what I told myself. How could such a solid production receive mediocre reviews (at best), and go quietly into the 2013 abyss of films released? Not sure, but I hope to bring a little light back to Dead Man Down in this review.

The Plot

Victor (Colin Farrell) seems to be a relunctant member of a rather vicious crime organization. We get this impression from his conversations and even his simple body language when he deals with his peers. Alphonse (Terrence Howard) is the local ruling hand, and doesn't particularly notice Victor from any other of his workers until one night when his life is saved by him.

Beatrice (Noomi Rapace) happens to be living with her mother in an adjacent apartment building, and she routinely can see into Victor's window. At the urging of her mother Valentine Louzon (Isabelle Huppert), Beatrice leaves a note in Victor's mailbox with her phone number.

Darcy (Dominic Cooper) is one of Victor's "co-workers", and cannot figure out exactly what's been going on lately. The boss is being manipulated by a shadow figure who is slowly taking out members of the crew, and to top it off...another member has mysteriously disappeared and is thought to be held captive.

Somebody is taking well-thought revenge on various crime members, but nobody knows why.

Packaging

Packaging for Dead Man Down arrived in an eco-LITE Vortex case, containing the Blu-ray, DVD, and Digital UV Copy.

Screencaps

Video

Dead Man Down looks fabulous on Blu-ray, even where most of the movie is mostly in low-lit environments. There are many scenes which are dim, but the definition comes through just fine. Somebody was certainly at the helm of this presention.

Additional Screencaps

Extras

Very little extras on this disc, but there is a Blu-ray exclusive.

Disc 1 (Blu-ray)
Revenge And Redemption: Crafting Dead Man Down (11:31) HD
Revenge Technique: The Cinematography (6:31) HD
Staging The Action: The Firefights (5:44) HD
HDTV Video Test/Calibration Samples (4:47) HD
Disc 2 (DVD + Digital UV)
Specifications
Audio for Dead Man Down delivered and I'd say was a little above average. A few scenes which took advantage of the DTS-HD 5.1 surround. Most of the film was more dialogue, but the dialogue came through rather well.
Main Audio Track: DTS-HD Master 5.1 (English) @ 3497 Kbps (48kHz/24-bit)
Subtitles: English, Spanish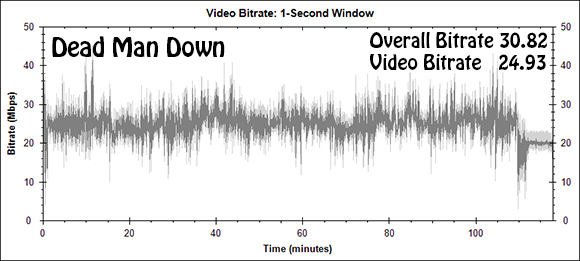 Dead Man Down Bitrate Graph
DEAD_MAN_DOWN
Codec: MPEG-4 AVC Video
Resolution: 1080p
Blu-ray BD-50
Disc Size: 33,500,401,578 bytes (31.20 GB)
Movie Size: 27,225,188,352 bytes (25.36 GB)
Overall Bitrate: 30.82 Mbps
Video Bitrate: 24.93 Mbps
Rating
| | |
| --- | --- |
| AUDIO | |
| VIDEO | |
| CONTENT | |
| EXTRAS | |
RECOMMENDED PLUS
Conclusion
Dead Man Down isn't just another crimelord film, but is more of an unfolding mystery as the viewer progresses. There is a solid set of actors and each one performs very well. Why this movie received such a low rating is also a mystery. A few actors might seem to be cookie-cutter placements in such movies like these, but I think this couldn't be further from the truth. If you're a fan of any of the actors in this movie, this will be a great addition to your movie collection.
Having an interesting twist with several famous actors who manage to not distract from their characters, as well having a video presention which is very sharp, Dead Man Down gets a RECOMMENDED PLUS.
I have to admit, when I saw the character Lon Gordon played by Armand Assante the entire film just made another step up in validation. I've always enjoyed Armand Assante performances in any capacity, and he always commands a performance and atmosphere to scenes that need it.