Soul Surfer
Features: 30-minute making of documentary, deleted scenes, and more.
Codec / Resolution: MPEG-4 AVC / 1080p
Studio: Film District
Distributor: Sony Pictures Home Entertainment
Theatrical Release: July 15, 2011
This Release: August 2, 2011
Region: Region A/B
MPAA Rating: PG
Aspect Ratio: 2.40:1
Active Pixel Area: 1920 x 800 pixels
Inactive Pixel Area: 1920 x 280 pixels
Running Time: 106mins
Number Of Discs: 2 (Blu-ray + DVD)
MSRP: $19.99 USD
Current Price: Check Price / Purchase


Film District is a relatively new independent distribution and co-production company, and many of the titles released have been solid and well-acted.

Soul Surfer is the true story of Hawaiian surfer Bethany Hamilton, who was bitten by a 14-foot Tiger shark in the morning hours while practing in the area of Tunnels Beach, Kauai. On October 31, 2003, Hamilton's left arm was completely torn off, just below the shoulder, and by the time she arrive at Wilcox Memorial Hospital, she lost at least 60% of her blood. She was very fortunate to have been with friends and family members at the time, or she would not have survived.

Only a month after her injury, she was back on the water, ready to compete. Bethany is also a Christian, which puts an interesting twist in the story of her life, and puts her faith to the test.

The Plot

Bethany Hamilton (AnnaSophia Robb) and friend Alana Blanchard (Lorraine Nicholson) are having a routine morning surf on the waves of northern Kauai's gorgeous beach, Tunnels.

Tunnels Beach got its name from surfers who have often remarked about seeing the Tube. A Tube is when a surfer has the wave wrapped around them, and they are inside a "tube", where they can see out the other side. Tunnels also gets its name from the laval tube formations in the underwater caverns, so depending on who you're talking to, they might refer to one or the other. Tunnels is a very popular area for beginners to advanced surfers, and is also a favorite place for divers.

Before she knows how to even react, a good-sized Tiger shark grabs on to her left arm and rips it from her body. Holt Blanchard (Kevin Sorbo), who is also surfing with Bethany and his daughter, helps bring her to shore and does his best to stop the blood from racing out of her body and races her to the hospital.

Tom Hamilton (Dennis Quaid) is about to have knee surgery at the same hospital Bethany is being transported. Tom is completely unaware his daughter is about to take priority over his knee surgery, and will be flying through the ER doors any minute.

Packaging

Packaging for Soul Surfer arrived in an eco-LITE Vortex case, containing the Blu-ray and DVD Digital Copy.

Screencaps

Video

I have mixed comments on Soul Surfer. Some scenes look pretty good, but others actually seem out of focus. It's like the camera should be a foot closer to the actors and/or the aperture isn't set correctly. It appears as if Super 35 was used (this is an independent film production so this would be a logical choice), and it's wideley popular for television shows due to the easy conversion to broadcast, but I've seen sharper Super 35 films.

Even with a few concerns, there are many scenes which have close-ups of the actors' faces, and the images are crisp. There's especially a scene around 1hr 8mins, which has Bethany Hamilton sitting with her father (Dennis Quaid) on the beach during a sunset. The images were inspiring.

Additional Screencaps

Extras

There's a good chunk of extras with this release. The documentary is a companion supplement to the movie.

Disc 1 (Blu-ray)
The Making Of Soul Surfer (12:47) HD
Surfing For The Screen: Inside The Action (5:28) HD
Becoming Bethany (3:42) HD
Heart Of A Soul Surfer Documentary (30:31) HD
Bethany Hamilton On Professional Surfing (4:54) HD
Deleted Scenes (3:49) HD
Specifications
Audio for Soul Surfer sounds ok, but seems a little restrained in a few scenes.
Main Audio Track: DTS-HD Master 5.1 (English) @ 3105 Kbps (48kHz/24-bit)
Subtitles: English, English SDH, French, Spanish, Portuguese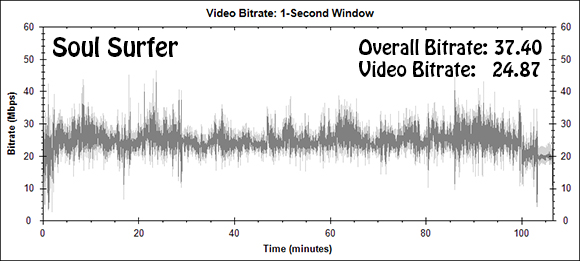 Soul Surfer Bitrate Graph
SOUL_SURFER
Codec: MPEG-4 AVC Video
Resolution: 1080p
Blu-ray BD-50
Disc Size: 37,896,652,593 bytes (35.29 GB)
Movie Size: 29,862,211,584 bytes (27.81 GB)
Overall Bitrate: 37.40 Mbps
Video Bitrate: 24.87 Mbps
Rating
| | |
| --- | --- |
| AUDIO | |
| VIDEO | |
| CONTENT | |
| EXTRAS | |
RECOMMENDED PLUS
Conclusion
Soul Surfer would probably not have been made and brought to the public if it wasn't for Film District's decision to take it on. So, kudos to this new company. Overall the acting was pretty good, and probably could have been better, but I think the overall story is rather courageous, especially from the perspective of a faith-based person who had something literally taken away. And the fact we have Bethany Hamilton getting back on her board in less than a month speaks of her resilience and determination.
With some beautiful shots of northern Kauai and a true story of faith and perserverance, Soul Surfer gets a RECOMMENDED PLUS.
If you'd like to learn more about the person who this movie was based on, as well as reading some very inspiring passages, please visit Bethany Hamilton's Website.